2010 European Conference - Early Bird Registration Expires September 17, 2010
Attendance at the ITechLaw conferences continues to grow each year, and ITechLaw is looking forward to welcoming nearly 300 attendees at the
2010 European Conference
in Berlin, Germany, taking place October 28-29, 2010 at the Hotel Adlon Kempinski.
The Early Bird Registration deadline for the 2010 European Conference expires
September 17, 2010.
Register
by that date to save more than €200.
A block of guestrooms has been set aside at the Hotel Adlon Kempinski at a discounted rate. To book your room at the discounted rates, you must book by
October 4, 2010
. Please use the online booking form and email it to
reservation.adlon@kempinski.com
or call the hotel's reservation phone number +49 30 2261 1111. Make sure to reference the
ITechLaw Conference
in order to ensure you receive the group rate.
Roundtables and Webinars -

Oracle America, Inc. Managing Counsel to be Featured Speaker at September 23 Boston Networking Roundtable
ITechLaw invites you to meet Ameen Haddad, Managing Counsel, Oracle America, Inc. on September 23 at a
Boston Networking Roundtable
for a discussion on Software as a Service (SaaS)
from a commercial lawyer's perspective. Mr. Haddad will discuss how SaaS fits into the growing world of cloud computing, how SaaS differs from traditional perpetual licensing models, the pros and cons SaaS presents from the vendor's and customer's standpoints, and contractual considerations for both vendor and customer when negotiating SaaS agreements.
Agenda
5:00 p.m. - Registration and Networking Reception
6:00 p.m. - Presentation
Speaker
Ameen Haddad is Managing Counsel for Oracle America, Inc. in the Burlington, Massachusetts office. Mr. Haddad received his J.D. from Boston University School of Law, where he served as an executive editor on the International Law Journal and received honors in dispute resolution. Following law school, Mr. Haddad joined the Boston office of Skadden, Arps, Slate, Meagher & Flom LLP, where he advised both private and public companies on corporate formation and compliance, financing transactions, and mergers and acquisitions.
To register for this roundtable, please contact
Webinar: Virtual Worlds, Virtual Goods & Virtual Currency
Tuesday, September 28, 2010
12:00 p.m. ET
Join ITechLaw and Global Sponsor Pillsbury Winthrop Shaw Pittman LLP for an interactive discussion about why businesses of all shapes and sizes should care about virtual worlds and their use of virtual goods and currency.
Our featured presenter will be James Gatto, a partner at Pillsbury and co-chair of the ITechLaw Virtual Worlds/Video Games Working Group. The discussion will be moderated Alexander Blumrosen, Vice President of ITechLaw.
This informative one-hour webinar will offer critical insight into:
How to recognize and understand where the media landscape is headed in the near future and how it's going to get there;
How well-known companies such as Coca-Cola, IBM, and Kentucky Fried Chicken are leveraging the power and promise of virtual worlds to create new sources of revenue and goodwill; and
How companies can protect themselves and their brands from numerous pitfalls that have emerged with the growing popularity of virtual worlds.
Webinar: Sustainability Obligations in IT Infrastructure Outsourcing
Tuesday, October 5, 2010
11:00 a.m. ET
What's the latest buzz about sustainability, green IT, and CO2 efficiency? The ITechLaw Outsourcing Committee is pleased to present a webinar that will explore green commercial practices that are developing in the IT industry. Specifically, we will discuss the impact of these practices on vendor obligations and service levels in IT infrastructure and data center outsourcing transactions.
Roger Bickerstaff, a partner in Bird & Bird's London office, will present a case covering a number of sustainability items, and

Ian Stevens, a partner in Cameron McKenna's London office, will discuss service levels and the impact of sustainability obligations on vendors' pricing.
The webinar will be moderated by Ole Horsfeldt, chairman of ITechLaw's Outsourcing committee and a partner in Gorrissen Federspiel in Copenhagen.
Microsoft AGC to Speak at September 16
Brussels Networking Roundtable
By Steven De Schrijver
Lorenz, Brussels
Ronald Zink, Associate General Counsel for Microsoft, will be the featured speaker at an upcoming ITechLaw Networking Roundtable to be held on September 16, 2010 in Brussels, Belgium. Mr. Zink will speak on the topic "Navigating the Regulatory and Contractual Challenges of Cloud Computing" at the Stanhope Hotel at 17:30. Immediate Past President of ITechLaw, Ursula Widmer, Dr. Widmer & Partners, will provide introductory remarks.
Cloud com
puting has changed and will continue to change the way that companies and governments do business. The borderless nature of cloud computing poses new challenges for regulation and contracting practices in the IT area. As cloud computing becomes more and more common, it is important for you and your clients to understand it and stay on top of recent developments in managing the legal challenges it poses.
Although this event is at capacity, if you would like to attend this ITechLaw Networking Roundtable, please contact
ITechLaw Member Services
to be placed on the waiting list.
Steven De Schrijver, an ITechLaw Local Representative in Belgium, will moderate this Networking Roundtable. For more information on ITechLaw activities in Belgium, please contact Steven De Schrijver at
s.deschrijver@lorenz-law.com
.
Chinese ccTLDs: .cn Brand Owners Protect Their Rights? Hong Kong Roundtable Update
By Gabriela Kennedy
Hogan Lovells, Hong Kong
ITechLaw welcomed nearly 20 ITechLaw members and colleagues to a recent Networking Breakfast seminar in Hong Kong, held at the Hogan Lovells office on September 9, 2010.
Dennis
Cai, Assistant Secretary General of the Hong Kong Arbitration Centre, discussed the challenges and recent trends in relation to the recovery of Chinese (.cn) domain names through alternative dispute resolution proceedings, including procedural tips and the challenges faced by complainants who file .cn complaints, especially in light of 2006 changes to the .cn DRP.
Gabriela Kennedy is an ITechLaw Local Representative in Hong Kong. For more information on ITechLaw activities in Hong Kong, please contact Gabriela Kennedy at
Gabriela.Kennedy@hoganlovells.com
.
E-Commerce Committee Update
By Don McAleese
Chair, E-Commerce Committee
Matheson Ormsby Prentice, Dublin
The EU Council recently adopted a Directive that will simplify the requirements for electronic invoicing. The Directive is due to be transposed by December 31, 2012.
The new Directive sets out to ensure the acceptance by tax authorities of e-invoices under the same conditions as for paper invoices, and to remove legal obstacles to the transmission and storage of e-invoices.

The Directive provides that the authenticity of the origin, integrity of the content and legibility of the invoice, whether in paper or electronic form, shall be ensured from the point in time of issue until the end of the period for storage of the invoice. However, it will be left to each taxable person to determine the way to ensure such authenticity, integrity, and legibility of the invoice. This may be achieved by any business controls that create a reliable audit trail between an invoice and a supply of goods or services.

Rather than mandate the use of advanced electronic signatures and electronic data interchange (EDI), the Directive instead states that advanced electronic signatures and EDI are just examples of technologies that ensure the authenticity of the origin and the integrity of the content of an electronic invoice.

Member States may require that invoices be stored in the original form in which they were sent or made available, whether paper or electronic. In the case of invoices stored by electronic means, the Member State may require that the data guaranteeing the authenticity of the origin of the invoices and the integrity of their content also be stored by electronic means.

For control purposes, where a taxable person stores invoices the taxable person issues or receives by electronic means and offers online access to the data concerned, competent authorities of the Member State in which the taxable person is established and of the Member States where VAT is due shall have the right to access, download, and use those invoices.

Global Industry Briefs
Going Global: How Canadian Companies View Intellectual Property

By John Beardwood, Fasken Martineau, Toronto and Mark Penner, Fasken Martineau, Toronto
Recognizing, protecting, and exploiting intellectual property ("IP") assets has never been more important to businesses. A recent survey undertaken by Fasken Martineau of a number of Canadian companies offered numerous insights as to how companies view the importance, value, and role of IP in their businesses.
A number of themes emerge from the 2009 survey results. First, Canadian companies continue to view IP as driving their business model, and when considering IP protection and enforcement, a high percentage of respondents are adopting a more global outlook. Second, there is often a potential for a significant disconnect between the respondents' general understanding of the importance of IP and their more specific understanding of the nature of each IP asset in their businesses and how best to leverage those assets. Third, a surprising number of respondents polled indicated they had already been involved in a legal dispute involving IP. Finally, despite this litigation risk, respondents have been slow to adopt the appropriate risk mitigation strategies. It remains to be seen whether in tough economic times this was the right choice - the results of the 2010 survey will be revealing in this regard.
In addition to ITechLaw's quarterly online law journal for members, the eBulletin, ITechLaw often provides 1-2 short articles in eNews each month.
eNews articles cover not only short legal updates but also give members an opportunity to share their unique professional experiences as they relate to ITechLaw.
ITechLaw encourages members to contribute to its publications. For more information or to submit your articles, please contact us. Submissions are subject to editorial discretion. Articles not used in eNews may be used in the eBulletin and vice versa.
Please submit articles for the eNews by the
8th
of each month to
memberservices@itechlaw.org
.
ITechLaw Member Spotlight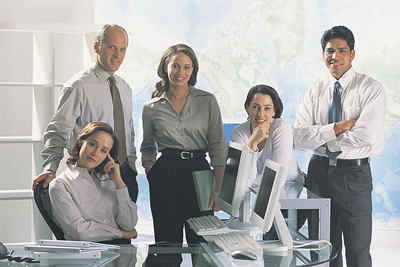 your member news today!
Please send all submissions by the 8th of each month for inclusion in that month's eNews.
ITechLaw Welcomes Its Newest Members!

Name
Organization
City, State
Stephane Coulaux
Coulaux-Maricot-Georganta (CMG LEGAL)
Paris, France
Daniel Fabiano
Fasken Martineau DuMoulin LLP
Toronto, Canada
Bruce Fox
Neal Gerber & Eisenberg LLP
Chicago, IL, United States
Jessica Franken
Quarles & Brady LLP
Phoenix, AZ, United States
Tobias Frevert
Noerr LLP
Berlin, Germany
Ernest Kwong
Southwestern Law School
Los Angeles, CA, United States
Claas Oehler
IHDE & Partner
Berlin, Germany
Giedre Rimkunaite
Bernotas & Dominas Glimstedt
Vilnius, Lithuania
President's Column
By Sandra A. Jeskie
Dear ITechLaw Members and Colleagues,

As many ITechLaw members are wrapping up their summer holidays, I would like to take this opportunity to update you on the numerous projects our Association undertook over our summer holiday.

ITechLaw recently wrapped up a call for nominations for co-chairs and vice-chairs for each of our 21

committees

. We had a tremendous response from so many qualified ITechLaw members. We will announce the newly appointed co- and vice-chairs in the near future. Additionally, the substantive law committees and working groups are actively involved in many interesting projects in which all members are encouraged to participate.

September is packed with educational and networking offerings from ITechLaw, with

roundtables

around the globe - from Hong Kong to Brussels to Boston - shortly followed by the 2010 European Conference in Berlin, Germany. We hope to see you at one of these upcoming events, and we sincerely thank our Local Representatives and dedicated members for these interesting sessions.

For those of you unable to attend upcoming face-to-face events, ITechLaw has recently launched free monthly

webinars

on hot topics in IT law for members only. Starting this month, you will see an extensive program of webinars, beginning with a webinar on Virtual Worlds, Virtual Goods and Virtual Currency on September 28, followed closely by an Outsourcing Committee webinar on Sustainability Obligations in IT Infrastructure Outsourcing on October 5.

ITechLaw also recently launched a social media initiative with daily substantive technology law comments on LinkedIn, Facebook and Twitter. Of course, we still offer our daily IT news law feeds from Lexology as well. We invite you to stay in touch with ITechLaw online by

becoming a fan

of ITechLaw on Facebook, joining our

Facebook ITechLaw group

, following

@itechlaw_assn

on Twitter, and remaining active on our exclusive network of ITechLaw members on

LinkedIn

. Also, don't forget to sign up for ITechLaw Connect on our

ITechLaw Member Center

, which offers comprehensive member searches, committee discussions and documents, and more.

For those of you who have an opportunity to attend our premier legal conferences in Europe, U.S. and India, we are pleased to tell you that we are introducing four new interactive working group sessions on substantive IT topics at our upcoming conferences in Berlin and San Francisco.

ITechLaw designed these projects to let you network with your colleagues from around the world either face-to-face, or without leaving the comfort of your office. I hope that you have an opportunity to participate in these new offerings and I look forward to your feedback.

Best regards,

Sandra A. Jeskie
President, ITechLaw

president@itechlaw.org



Upcoming ITechLaw
Events
ITechLaw Networking Roundtable: Navigating the Regulatory and Contractual Challenges of Cloud Computing
September 16, 2010
Brussels, Belgium
September 23, 2010
Boston, MA
ITechLaw 2010 European Conference
October 28-29, 2010
Berlin, Germany
Early Bird Registration Ends September 17!
February 3-4, 2011
Bangalore, India
Find Us on Facebook, Twitter and LinkedIn!

Become a fan
of ITechLaw on Facebook and join the
ITechLaw Association group
on Facebook for ITechLaw members only.

Follow
@itechlaw_assn
for the latest on our Association updates and tech law developments.

Join our exclusive
LinkedIn group
for ITechLaw members only to network, If you are not yet a member of this group, join us today!
Contact Us!
For more information on
ITechLaw and its activities,
please visit us at:
www.itechlaw.org
The contents of this newsletter are not intended, and cannot be considered, as legal advice or opinion. ITechLaw eNews is best viewed as HTML. Please adjust your email software settings to view HTML and images.

©2010 International Technology Law Association· All rights reserved.
To opt-out of future mailings, please contact
memberservices@itechlaw.org
.
Continued Thanks
to ITechLaw's
Global Sponsors