BISD exceeds state in all areas of SAT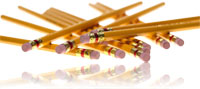 BISD's 2011 SAT composite score of 1,002 for critical reading and mathematics is considerably higher than the state average of 981. Individual campus composite scores were 1,035 for Birdville High, 947 for Haltom High, and 1,020 for Richland High. In 2006, SAT added a writing component to the test. Individual campus scores on the writing portion were 489 for Birdville High, 451 for Haltom High, and 488 for Richland High. Both Birdville and Richland high schools scored above the state average of 465. Birdville High School scored the same as the national average of 489, and Richland High School scored 488, which is one percentage point below the national average. Overall, national, state and local scores were slightly lower in 2011. A total of 695 BISD students took the test this year.
BISD's 2011 ACT composite score of 22.0 is higher than the state and national averages. Individual campus scores were 22.5 for Birdville High, 19.8 for Haltom High, and 23.3 for Richland High. A total of 390 BISD students took the test this year, which is a 21% increase over the number tested in 2010.
"BISD is proud of the students who continue to excel on the SAT and ACT tests," said Superintendent Darrell G. Brown. "The district will continue to review the progress of our students and will address areas that need additional focus. I am also proud of our staff for the role they play in preparing our students for these rigorous tests."
In order to help prepare students for the SAT test, BISD will continue to require sophomores and juniors take the PSAT test in October at district expense. The PSAT test helps the district identify areas where students need additional assistance. In addition, it helps identify potential National Merit Scholars.