NOW exhibiting in the CCC ArtSpace for May:
We Are Individuals,
Not Stereotypes
Photo campaign by AS Diversity Affairs. For more info contact asdiversity @ucsd.edu.

Photos by AS Graphic Studio
Nominate Now!


All Peeps is right around the corner and the deadline for nominating folks is this Friday, May 18th!
What are you waiting for?
Go there now!
http://tinyurl.com/allpeeps2012

All People's Recognition Ceremony and Community Celebration
Thursday, May 24, 5-8pm
Cross-Cultural Center
Meet a Candidate for the Women's Center
Director position!
Monday, May 21, 2012

9:45-10:15am: LGBTRC
Open community & conversation

1:45-2:45pm: CCC Comunidad
Candidate presentation and Q&A
Israel Solidarity Week 2012


May 14-17
UC San Diego
View flyer here
California DREAM Act Application Now Available

AB131 allows for AB540 students to be eligible for state funds as of January, 2013. Students may use this Dream App to apply for State University Grant funds for Spring 2013 enrollment. The priority filing date is May 10, 2012. The Dream App will also be used for Cal Grant fund beginning January 1, 2013, for 2013-14 funding.
Visit the website for more information.
FOLLOW US ON
TUMBLR & TWITTER!
The latest information on CCC events, lectures, art, poetry, classes, special guests, & announcements!
The Cross-Cultural Center is committed to being accessible to all who frequent our space, participate in our programs, and attend our events. Our physical location is accessible to anyone who utilizes assisted mobility. If you require specific accommodations to fully access any of our programs or events, please contact Victor Betts vbetts@ucsd.edu or call 858.534.9689.
WANT TO UNSUBSCRIBE?
To safely unsubscribe, please click on SafeUnsubscribe at the bottom of this page. Thank you!
Joy de la Cruz Art & Activism 2012-2013 Internship Re-Opened!
The CCC has re-opened the Joy de la Cruz Art & Activism internship position for the 2012-2013 academic year. Applications are due in person by Wednesday, May 23, 2012 by 4 pm. Please hand in your application to a CCC staff member. We are looking for individuals who carry the qualitties this unique position calls for and highly encourage those interested to read about the makings of the Joy position at the Cross-Cultural Center - Read more
Spotlight Feature Disclaimer:
The Spotlight Feature is a space where we invite the entire community to reflect & provide thoughts on topics that we at the Cross-Cultural Center are currently thinking & talking about. The CCC strives for meaningful, productive dialogue and context with one another. Please provide your insights on our Tumblr site and follow us for future uploads! peace. love. JOY. always!
WERQ!
This art piece is the end product to my Student Initiated Project (SIP): WERQin It! Chubby Queers of Color. Through this art canvas, I asked the folks who participated to reflect about themselves something they personally identify with, something that gives them strength, anything that they want to share with the community. This was a way to Queer normative views of what it means to identify as a Big, thick, chubby, Fat person of color by having folks identify themselves and find new ways and methods to explore what these identities mean to them. This is only the beginning of this process of, hopefully, future conversations. For more information please contact: Anthony Del Real apdelreal@gmail.com
Findings on the Tomb of Genghis Khan w/ Dr. Albert Lin

Thursday | May 17 | 12-1:30pm
CCC Comunidad


A presentation on the current research of Professor Albert Lin and the use of non-invasive technology in the search for Genghis Khan's Tomb. For more info contact Nancy at nmagpusao@ucsd.edu. View event page
"The Decolonized Eye: Filipino American Art & Performance" w/ Prof. Sarita See
Friday | May 25 | 3pm
CCC Comunidad
From the late 1980s to the present, artists of Filipino descent in the United States have produced a challenging and creative movement. In The Decolonized Eye, Sarita Echavez See shows how these artists have engaged with the complex aftermath of U.S. colonialism in the Philippines.Focusing on artists working in New York and California, See examines the overlapping artistic and aesthetic practices and concerns of filmmaker Angel Shaw, painter Manuel Ocampo, installation artist Paul Pfeiffer, comedian Rex Navarrete, performance artist Nicky Paraiso, and sculptor Reanne Estrada to explain the reasons for their strangely shadowy presence in American culture and scholarship. Offering an interpretation of their creations that accounts for their queer, decolonizing strategies of camp, mimesis, and humor, See reveals the conditions of possibility that constitute this contemporary archive. By analyzing art, performance, and visual culture, The Decolonized Eye illuminates the unexpected consequences of America's amnesia over its imperial history. View the flyer
Breather Series: Grad Gift Away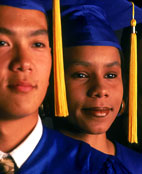 Thursday | May 31 | 12-2pm
CCC ArtSpace


The years come and go, and as we approach spring, the seniors of UCSD will be graduating! If you have a cherished one that will be graduating this year, send them off with a home-made gift from our Breather Series. We will be providing all the arts and crafts to make graduation gifts such as candy leis, picture frames, and money origami (Please provide your own dollar bills)! Come enjoy the munchies and drinks that we will have as we create lasting memories for the seniors. For more information please contact Violeta Gonzales at violetag@ucsd.edu.
"Naked Spaces: Living is Round" Film

Thursday | May 31 |6:30pm
CCC Comunidad


"Explores the rhythm and ritual life in the rural environment of six West African countries. The nonlinear structure of NAKED SPACES challenges the traditions of ethnographic filmmaking, while sensuous sights and sounds lead the viewer on a poetic journey to the most inaccessible parts of the African continent, the private interaction of people in their living spaces". For more information please contact Gail M. Gutierrez at gmg.gailmail@gmail.com. View flyer
Rainbow Graduation
Saturday | June 9 | 4-6pm
The Great Hall at ERC
Attention all graduating undergraduate and graduate students! Please join the UC San Diego LGBT community as we come together to honor the students who are graduating, our volunteers, our scholarship recipients and all who have impacted our community over the last year. The event serves as the formal induction of the graduates into the family of the UC San Diego LGBT Alumni. If you are graduating, contact Shaun Travers at stravers@ucsd.edu so you are on the list!