UNIDAS: Support Group for Latina/Chicana/
Hispanic UCSD Students


This therapy group is designed to provide a safe and supportive place for Latina women to gather and empower one another. We will be discussing issues related to the unique experience of being a Latina student at UCSD. Some of the topics that will be explored include career and academic success, family pressures, cultural identity, and relationships.
JOIN THE UCSD HATE-FREE WEEK STUDENT PLANNING COMMITTEE
UCSD's Intergroup Relations Program is currently planning the 10th Annual UCSD Hate Free Campus Week! This campus-wide event will be held during the fourth week of spring quarter (April 20th -24th), and we need your help to make it a success!
Join us for our first committee meeting on the Tuesday of week 3 (January 20th) from 5-7pm in the Contemplative Room on the 3rd floor of PC East. Light refreshments will be provided. Our committee will meet during weeks 3, 5, 7, and 9 of winter quarter, with spring quarter meetings TBA leading up to the event.
Please contact Melissa Henry (
mhenry@ucsd.edu
) for more information or to RSVP.
INTERN OPPORTUNITY AT INTERNATIONAL NONPROFIT
The Center for Creative Leadership (CCL) is seeking a current undergraduate (or graduate student) to assist with the 2009 Young Women's Leadership Program. The intern will collaborate with CCL staff and community members to prepare for a week-long summer leadership program specially designed for high school women. If you are interested, please apply on the UCSD Port Triton on the Career Services Center website:
http://career.ucsd.edu
24th Annual Empowering Women of Color Conference Feb. 14 | 9:30AM-5:30PM at UC Berkeley


revolutionary love: from "me" to "we" redefining intimacy and activism
The purpose of the Empowering Women of Color Conference (EWOCC) is to build bridges between academic and community women of color in an effort to assist them in sharing resources, strategies, and visions that will empower them at all levels of society. The Conference also strives to build networks among different generations, ethnic and racial groups, socioeconomic levels, sexual orientations, and physical abilities.
Check out the
Facebook page
REGISTER FOR ETS
Want to improve your confidence in public speaking and interpersonal communication? Looking for a fun way to connect with other students on campus and build your resume?ETS is a non-credit program open to all UCSD students and serves as a supplement to your academic coursework! The program provides an opportunity for selected students to develop their understanding and application of communication, public speaking and leadership skills and make new friends. A certificate is awarded to each student that successfully completes any of the ETS programs!
Register Online
by Friday, Jan. 9th at 4PM. For more information visit the UCSD Express to Success Programs website at http://ets.ucsd.edu or call (858) 822-0181.
JOIN SD WOMEN OF COLOR COLLECTIVE
San Diego's Women of Color Collective is inviting all women of color, people of color, all ethnicities, backgrounds, genders, races, cultures, and allies to women of color to come together to create a safe space to share, dialogue, connect, build, inspire, enlighten and challenge. If you are interested in joining San Diego's Women of Color Collective's Discussions, please feel free to email
kuttinkandi@gmail.com
Scholarship Opportunity: Gates Millennium Scholars Program


The goal of GMS is to promote academic excellence and to provide an opportunity for outstanding underrepresented students with significant financial need to reach their highest potential.
NEW ANTI-RACISM DISCUSSION GROUP FOR LGBTQ WHITE FOLKS
Wednesdays |1-2pm | the LGBT Resource Center heritage room Starting week 2
Please join Lea Burgess-Carland and Shaun Travers as we engage white LGBTQ people in a discussion around racism, white privilege, and anti-racist practice. The group will support each other's learning and growth, build trust to rake risks,and move theory into action around white anti-racist practice. The group is open to all white identified LGBT community members. For more information contact Lea (
lcarland@ucsd.edu
) or Shaun (
stravers@ucsd.edu
). The group begins Wednesday, January 14, 2009.
SUBMIT YOUR WORK FOR "REVERSING THE LENS: REPRESENTATIONS OF WOMEN IN ART"
Paola Rodelas, CCC Diversity Peer Educator, is organizing an art exhibition titled "Reversing the Lens: Representations of Women in Art." Throughout history, women have been objectified, commodified, and hypersexualized in art works, rendered as objects to be gazed at by typically male viewers. The purpose of this exhibition is to give women artists the opportunity to "reverse the lens," and give them the opportunity to represent themselves.
Paola is seeking art works in all forms of media, though space for sculptures and performance art is limited. Everyone is welcome to submit, but each work does have to embody the theme of female empowerment. The works will be displayed from February 16th - 27th (Weeks 7-8) in the Cross Cultural Center. The closing exhibit will be on Friday, February 27th from 5:00p - 6:30p.
If you are interested in submitting a piece, please contact Paola Rodelas at
paolarodelas@gmail.com
. Please send include the title, size, media, and how it relates to the exhibition's theme. If the piece has yet to be created, please send me a proposal of what you are going to create and how it will relate to the exhibition's theme.
The last day to submit works is Wednesday, February 11th (Week 6).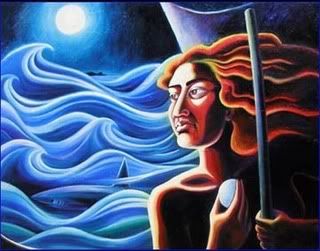 CAUSE THE BIBLE TELLS ME SO...
Thurs., Jan. 22 | 4:00PM | CCC Comunidad Room
Kari Hong, a lawyer and adjunct professor at the University of San Francisco Law School, presents "Cause the Bible Tells Me So: A Legal History of Religion and the Institution of Marriage." In this talk, Ms. Hong will look at the legal history of marriage and examine the ways in which religion has shaped social and legal restrictions over who may enter and exit the institution of marriage. From early Christianity's emphasis on celibacy to the Protestant Reformation's rejection of the Church's restrictions, legal definitions have been tied to religious views over who may and may not be married. In the United States, the concepts of coverature, anti-miscegenation laws, no-fault divorce were rooted in religious views and subsequently were altered as social views changed. Viewed from the modern fight over same-sex marriage, the role of religion and the law intersect in ways that show that history truly is prologue.
The Cross-Cultural Center is located on the 2 Fl. of Price Center East
. For more information call 858.534.9689 or email
cccenter@ucsd.edu
. To request reasonable accommodations necessary to enable your participation in any of our events, please call (858) 534-6744 or email areardon@ucsd.edu. Requests must be made no later than two weeks before the event to ensure adequate time to arrange for the accommodation.
CALLING ALL QUEER WOMYN OF COLOR!
Tues., Jan. 13 | 7PM | LGBT Resource Center
Join Brianna Marquez and Michelle Strange and come together to:
-establish our own space!
-acknowledge our intersectionalities!
-create visibility and community!
-discuss possible ways to move forward!
This is a new organization for queer womyn of color and our allies. Let's decide what we want to do with our space! Light refreshments will be provided.
WINTER Q CAMP WELCOME BACK
Wed., Jan 7 | 5-6:30PM | LGBT RC
Winter Q Camp is around the corner, so mark your calendars! Winter Q Camp rings in the new quarter by welcoming new members to the community and welcoming back old ones. This is a time for ALL of us to (re)connect and to hear about this quarter's upcoming events. Bring back the spirit of Fall Q Camp's potluck, only this time, food will be provided! Please contact Jan Estrellado (
jeestrellado@ucsd.edu
) for more information.
UCSD LGBT UNDERGRADUATE SCHOLARSHIP NOW AVAILABLE!

The LGBT Undergraduate Scholarship Program encourages gay, lesbian, bisexual, and transgender UCSD students to apply for the six scholarships made possible by generous contributions from many people, including Chris Arrott, Michael Marx and Donald Marshall, Russ Ty, and from funds in memory of Tracee Parsons and Stephen P. L'Italien, Jr. The objective of the undergraduate scholarship program is to recognize and encourage academic excellence and to offer financial support to meritorious students.
All 2009-2010 LGBT Scholarship applications will be submitted to the Lesbian Gay Bisexual Transgender Resource Center (LGBTRC) and are
due on March 13, 2009 at 4:00pm
. For more information, please go to
http://lgbt.ucsd.edu
or e-mail Jan Estrellado
jeestrellado@ucsd.edu
WHO TOOK THIS PHOTOGRAPH?
Jan. 16 | 6PM | UCSD Center Hall 105

Learn more about the man who took one of the most famous photos of the 20th century - ALberto Korda. Chincao director Hector Cruz Sandoval will preesnt his documentary Kordavision. Presented by CLAH, CILAS, and the Latino Studies Research Initiative
DVDs of the film signed by the director will be on sale for $20 each and will include a 8.5" x 11" copy of the original contact sheet of the images taken by Korda. The sheet includes two images of Che. Original photos printed in Cuba for the film will be available for between $200 to $300. They are printed on galley matt multi-grade Ilford paper with the seal of authenticity and the director's signature.
CORO FELLOWSHIP RECRUIMENT
Mon, Jan. 12 | 1:30-3:30PM | Student Services Center 5th floor, suite 510
Thinking about Going to Law School? Running for office? Graduate School? The CORO fellowship is recruiting their next class! Learn more about Public Policy in an experiential leadership. For more info email
asotelosolis@ucsd.edu
or call 858-822-4972.
RESOLVE TO MAKE A DIFFERENCE
If there is one thing that Obama's election has reminded us it is that the people do have the power to make positive change. It is up to each of us to step up, take action, and be the change.
This year you can resolve to make a difference. Here are some ways to get started:
Volunteer!
Volunteers give back to their communities and provide essential support for nonprofits. There are all types of volunteer opportunities available at a wide range of organizations. Find places that need your help through
AS Volunteer Connection
,
Volunteer San Diego
, or
Idealist
.
Do activism
. Activism comes in many different forms, from
DigiActivism
to art to protests and demonstratations. Check out
Activist San Diego
for some ideas on how to get involved with a San Diego activist community, or check out the
CCC links page
for a wealth of tools and information.