Connect with BACnet International

Platinum Members
Gold Members
Corporate Affiliate Members

Connect With Success

O2 World Arena
Berlin, Germany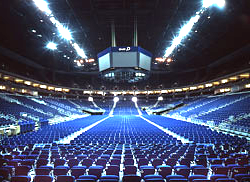 At the O2 World Arena in Berlin, BACnet based building automation and facility management ensure that the location can be quickly configured to meet the demands of a broad spectrum of events. ABB standard drives for HVAC ensure high flexibility of its facilities.

World Arena from a concert venue to a sporting arena in only a few hours ensures that it can be used with maximum efficiency. The facts and figures are impressive: 17,000 seats, 59 entertainment lounges, more than 100 shops, and a total indoor air volume of 230,000 m³ to be controlled. The building automation and building management systems were designed and implemented by GFR Gesellschaft für Regelungstechnik und Energieeinsparung mbH.

Click here to read the full Success Story

BACnet Manufacturers: ABB

Click here to view all BACnet Success Stories, or to submit your company's for publication.


Connect With Excellence

Nominations for the 2012 Leaders of the Pack Awards Now Open
Join BACnet International in recognizing outstanding achievements of individuals and companies in the BACnet International community. These awards are intended to allow BACnet International members to recognize and celebrate the hard work, commitment and accomplishments of its members.
Click here
for more information, including details on award categories, timeline and the link to submit your nomination.
All nominations are due by 5 PM on September 7.
Connect With Education

Deadline Extended to Friday, September 7
BACnet International's newest educational (no ads, no product features) publication is looking for quality articles to educate about the latest BACnet trends and emerging best practices.

Authors will have a brief biography included with their article, including company logo.

Please
click here
to submit author and topic information.
Full text of articles due Friday, September 28
BACnet International will again have a dedicated education track at AHR Expo 2013, January 28-20 in Dallas, TX, and is now accepting proposals for sessions.

All content must be BACnet related. Please note that BACnet International does not provide funding for speakers to attend this event.

Please
click here
to submit presenter and topic information
Click here
to view previous trade show presentations.
Final presentations (full PPT) are due Thursday, December 13

Connect With Events

Register Now (for free!) for NFMT Vegas to Attend the BACnet International Education Sessions

Tuesday, October 2
Building Sustainability through Building Automation
Ben Dorsey, KMC Controls
When to use a Gateway
Steven Jones, The S4 Group, Inc.
What BACnet Means To Me
Dominic Eorio, Carrier
BACnet - The Best Choice for Designing and Specifying Building Automation Systems Successfully
Grant Wichenko, Appin Associates
Tuesday, October 3
Distributed BACnet Lighting Controls
Ron Poskevich, Blue Ridge Technologies
Free LEED Credits with every BACnet connected VFD
Mike Olson, ABB
When Interoperability Isn't
Ben Dorsey, KMC Controls
BACnet Success Stories
Michael R Wilson, OEMCtrl
Steve Tom, Automated Logic Corporation
Which Points Should I Use and Why?
Mike Olson, ABB
Click here
for more information on the education sessions
-------------------------------------------------
Registration now available. Click here for details.
Connect With BACnet Community News

News Releases
Click here for more information on American Auto-Matrix
American Auto-Matrix® Puts Building Automation in the Palm of Your Hand
American Auto-Matrix introduces vSTAT-Virtual Zone Control for iOS® and Android™ devices. vSTAT, in conjunction with the award winning AspectFT® Building Automation and Energy Control System, allows users to control lighting, fan speed, temperature setpoints and more right from their mobile devices, literally putting Building Automation in the palm of your hand.

Click here for more information
-------------------------
Click here for more information on Distech Controls
Distech Controls and Samsung Techwin Enter Strategic Partnership
Samsung Techwin strengthens its offering in Building Management Solutions and Energy Efficiency Consulting
Montreal, Canada and Seongnam, South Korea - Distech Controls, an innovation leader in building automation and energy management solutions, and Samsung Techwin, a global leader in energy and safety solutions, today announced a strategic partnership to enhance Samsung Techwin's Smart Building Management Solution offering.

Under the terms of the agreement, Samsung Techwin will leverage Distech Controls' leading-edge technology - based on open standards - to provide a complete, fully integrated building management solution to its customers. Distech Controls' HVAC control products are based on a robust common hardware platform and share the same programming toolset, providing increased efficiency and options for system design, installation, service, and maintenance.


"Distech Controls' line of feature-rich HVAC control products was selected based on our stringent requirements for quality and performance" said HS Park, General Manager of Quality Assurance Team, Samsung Techwin "This partnership contributes to the differentiation of our total building solutions and to our commitment to technologies that promote energy efficiency."

"We are very pleased to enter this agreement with Samsung Techwin, and to have been selected as a partner in their delivery of building energy efficiency consulting and solutions" added Etienne Veilleux, President and CEO of Distech Controls "We look forward to continued collaboration with a company that shares our vision of performance, innovation and sustainability."
For further information, please contact:
Caroline Cadieux
Director of Marketing and Communications, Distech Controls
ccadieux@distech-controls.com
1-450-444-9898
Connect Globally
Call for Sponsors
BACnet Forums in Chengdu and Singapore

Click here to download the call for sponsors

Connect With Volunteers


Brad Hill, Global Technical Manager, Honeywell International
BACnet International Board of Directors



Brad Hill is a Global Technical Manager for Honeywell's Automation and Control Solutions business group, where he presides over software development projects. He joined Honeywell in 1990 where he was involved in the design and programming of complex integrated control solutions for large projects. He began involvement with BACnet in 1996 through the need to integrate BACnet devices into BMS systems. In 1999, he progressed onto product development activities which included the development of a BACnet Operator Workstation, where he acquired a deep knowledge of the BACnet standard, after which time he then continued on to lead Building Management product developments. He holds an MBA, BCompSc (Hons), DipElecEng, and is a certified Six Sigma Black Belt and Project Management Professional®.



Interested in volunteering with BACnet International? Contact us by email or by phone: 770 971 6003.

Connect With Opportunity



BACnet International Success Stories

BACnet International Success Stories is a free resource that provides a place to promote your successful projects that use BACnet in order to further knowledge and understanding of the BACnet protocol - essentially, mini case studies. Posters utilize a web form to upload the content, (narratives, photos, etc...) which is then reviewed by editors from BACnet International (primarily for errors) prior to public posting.

Once the BACnet Success Story is posted, it becomes a permanent, linkable record of the successful project.
Further, Success Stories:
Are automatically eligible for additional public recognition via BACnet International's Leader of the Pack Awards
Are featured in Cornerstones - BACnet International's monthly eNewsletter that goes out to 15,000+ members / subscribers
Are candidates for articles in the BACnet International Journal - BACnet International's printed / digital periodical
Click here to submit your company's BACnet Success Story and take advantage of the free press!

New to this process? Don't know what you'll need?
Download the Success Stories Word Document.


Connect in Cornerstones

BACnet International followers benefit from an electronic monthly publication called Cornerstones. This publication will go to members of the BACnet community, connecting corporate, integrator, site, student and individual end-users (current distribution list over 15,000). Cornerstones is a unique publication in that we speak not only to engineering and contractor communities, but also to the facility professionals, managers, owners and beyond.

This is where you come in. Connect.
If there is a best practice article, company news, product news or BACnet Success Stories you want to share, please send them to us. And don't leave out the photos! All submissions should be sent to info@bacnetinternational.org.