Connect with BACnet International

Platinum Members
Gold Members
Silver Members










Corporate Affiliate Members
Integrator Members
Connect With Success

The Salvation Army Western Territory Headquarters
Long Beach, California, United States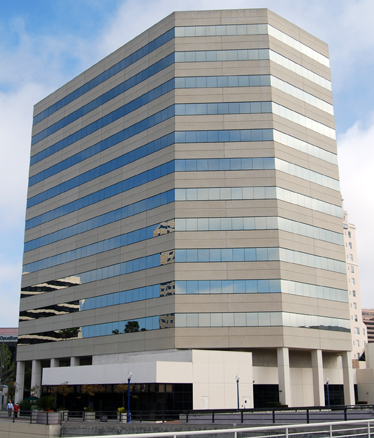 The customer wanted enhanced visibility of their control systems, to monitor and react to real time conditions. IAS proposed to replace the legacy supervisory controls with Delta ORCAview. The challenge was to keep the Johnson Supervisory Conrollers operational in parallel with Delta Controls ORCAview. Because of the size and complexity of the project, the S4 Open: BACnet-N2 Router was the only viable option for integrating to the legacy Metasys system. The migration went smoothly and the
customer is very satisfied.
Click here to read the full Success Story
Click here to view all BACnet Success Stories, or to submit your company's for publication.
Connect With New BACnet International Members

BACnet International welcomed the following new members this month:
Connect With Education


Did you miss the May 17 webinar? Click here to view the archived presentation on our web site.


Attend this webcast to learn about the growing relationship between mobile phones and BACnet standard-based building automation systems (BAS). Presented by Chris Hollinger, Senior Product Manager for Integrated Systems at Siemens Building Technologies, this presentation will discuss the features and benefits of a completely mobile, BACnet-based BAS application.
Connect With BACnet Community News

News/Product Release

Click here for more information on Carrier
Carrier Controls are READY for You!
BAS Ready: Easy connectivity to any Building Automation System with open protocol capabilities, documented points lists, and documented control sequences.
Run Ready: Easy start-up and commissioning with factory engineered, factory programmed, and factory tested control sequences.
System Ready: Built-in intelligent data sharing
routines and system strategies like linkage, demand limiting, and demand controlled ventilation.

GUI Ready: Powerful building management with the i-Vu« Graphical User Interface! Discover controllers, view equipment graphics, monitor trends and alarms, and much more.


-------------------------------------------------
Click here for more information on KMC Controls

KMC's TotalControl Earns BTL
TotalControl is the premier, web-based building management and operator workstation software from KMC Controls. The latest version (3.3) has recently earned BTL certification as an Advanced Operator Workstation (B-AWS).
There are three core components to the TotalControl package: "TotalControl Design Studio" enables system designers to set up the automation system and design the pages that operators will use in building management. "TotalControl Building Services" gathers all the necessary data from the automaton system to populate the operator's web pages. And, "TotalControl Web Portal" serves up the web pages via intranet or internet connectivity.
Flexible purchasing options allow for a custom "fit" to the particular needs of each facility.
-------------------------------------------------
Click here for more information on OEMCtrl

Compact, Stand-Alone BACnet Controller


Whether its heat pumps, fan coils, or small rooftop units, the I/O Zone family of controllers provides a lot of power in a small footprint.
OEMCtrl's I/O Zone 8112 advanced controller delivers powerful control and communications features all in a compact, economical package. Highly flexible, yet easy-to-use programming tools allow customization for a wide variety of small equipment applications enabling OEMs to achieve optimum performance and energy efficiency. Fully capable of operating in a 100% stand-alone control mode, the I/O Zone 8112 can connect to a Building Automation System (BAS) using any of today's most popular protocols, such as BACnet, Modbus, N2, and LonWorks.


-------------------------------------------------
Click here
for more information on PcVue Solutions
PcVue Solutions: ARC Informatique's BACnet-Supported Supervisory Software
ARC Informatique was founded in 1981 by Pierre De Bailliencourt who is its current President as well the head of PcVue in the US. As a leading European company specializing in industrial IT and building automation solutions, ARC Informatique has dedicated more than 30 years to providing solutions for monitoring and control. PcVue is dedicated to providing superior customer service to support its customers, distributors and system integrators. PcVue delivers advanced, highly flexible and scalable HMI and SCADA software automation solutions that are easy to configure, quick to deploy and deliver a lower total cost of ownership.
Click here
to read the full article
-------------------------------------------------
Click here for more information on Reliable Controls
End-of-Line Terminator
Reliable Controls« is pleased to announce a new product called the "End Of Line Terminator". Many third-party BACnet« integrations require a connection to Reliable Controls« MS/TP devices, and it has become increasingly evident that many of these third-party devices do not come with built-in end-of-line terminators. As a result, these third-party devices sometimes function as the physical end; but have no means to terminate.
After listening to its Authorized Dealer network, Reliable Controls« has created a solution to this growing problem. The Reliable Controls« End- Of-Line (EOL) Terminator provides the ability to properly terminate EIA-485 twisted pair networks. The EOL has 24VAC input power and is a biased terminator similar to those found on all of Reliable Controls« controllers. The device has a red power LED to indicate the device is powered correctly and comes with convenient mounting screws and removable 5mm rising cage terminal blocks.
-------------------------------------------------
Click here for more information on the S4 Group
S4 Open: BACnet-EnOcean« Gateway Open Systems and Best Practices
The S4 Group's initial products integrated legacy building automation systems and published them to open protocols such as OPC and BACnet. Therefore, we have been following the discussion on automated buildings about Open Systems with great interest. We look at our products as being the enablers of open environments. This experience leads us to the belief that Open should not only refer to the implementation of technology but to the philosophy driving the way that a company conducts its business. That is you not only need to talk the talk but you need to walk the walk to offer a truly open system.
Click here
to read the full article
-------------------------------------------------
Connect Globally
BACnet Stays on Course for Success
The BACnet Interest Group Europe (BIG-EU) set new standards at light+building 2012. 17 exhibitors presented their innovations and proven BACnet solutions at the BIG-EU joint booth. 900 guests attended the booth's lecture series on BACnet developments and reference projects.

BIG-EU President Volker R÷hl pointed out the continued success of open communication standards in building automation at the press conference: "From the numerous expansions to the standard, one can see that BACnet is always on the cutting edge of technology." The latest expansions include the Internet Protocol version 6 (IPv6), lighting and elevator control.

"BACnet.Live@light+building"

The motto for this year's booth, "Scalable solutions for every need," also framed the lecture program at the BIG-EU joint booth. In 35 presentations from prominent speakers such as BACnet inventor Mike Newman, the audience learned more about the history, development and applications of BACnet, as well as its potential. The focus was on applications in cloud computing, smart grids and public sector construction projects. Users, integrators and manufacturers all reported on their experiences in BACnet projects.

The biggest BACnet booth ever

Mike Newman summarized the success of the BACnet trade fair appearance: "The growth of the BACnet standard is reflected in the size of this booth." At 200 square meters, the biggest-ever BIG-EU joint booth was the meeting place for the building automation industry, opening new perspectives beyond proprietary solutions.

Prominent visitors at the BIG-EU joint booth - BACnet inventor Mike Newman (front left) listens to the presentation by Dr. Bernhard Hall of AMEV

About the BIG-EU:

The BACnet Interest Group Europe (BIG-EU) promotes the application of the worldwide BACnet communication standard ISO 16484-5 in European building automation and safety engineering. It was founded in 1998 by 18 companies dealing with building automation, and today has over 95 members from Austria, Belgium, Canada, Czech Republic, Denmark, England, Finland, France, Germany, Ireland, Italy, the Netherlands, Norway, Poland, Sweden, Switzerland and the USA. Goals of the BIG-EU include representing European interests in the development of BACnet standards and the exchange of information with the permanent BACnet committee SSPC 135 of ASHRAE and with the American BACnet Manufacturer Association (BMA). Additional goals include common marketing, qualification offers and the collective formulation of technical guidelines. For further information please visit:
www.big-eu.org
.
Press contact: MarDirect, Dortmund,

Connect With Opportunity



BACnet International Success Stories

BACnet International Success Stories is a free resource that provides a place to promote your successful projects that use BACnet in order to further knowledge and understanding of the BACnet protocol - essentially, mini case studies. Posters utilize a web form to upload the content, (narratives, photos, etc...) which is then reviewed by editors from BACnet International (primarily for errors) prior to public posting.

Once the BACnet Success Story is posted, it becomes a permanent, linkable record of the successful project.
Further, Success Stories:
Are automatically eligible for additional public recognition via BACnet International's Leader of the Pack Awards
Are featured in Cornerstones - BACnet International's monthly eNewsletter that goes out to 15,000+ members / subscribers
Are candidates for articles in the BACnet International Journal - BACnet International's printed / digital periodical
Click here to submit your company's BACnet Success Story and take advantage of the free press!

New to this process? Don't know what you'll need?
Download the Success Stories Word Document.


Connect in Cornerstones

BACnet International followers benefit from a new electronic monthly publication called Cornerstones. This publication will go to members of the BACnet community, connecting corporate, integrator, site, student and individual end-users (current distribution list over 15,000). Cornerstones is a unique publication in that we speak not only to engineering and contractor communities, but also to the facility professionals, managers, owners and beyond.

This is where you come in. Connect.
If there is a best practice article, company news, product news or BACnet Success Stories you want to share, please send them to us. And don't leave out the photos! All submissions should be sent to info@bacnetinternational.org.