Connect with BACnet International

Platinum Members
Gold Members
Silver Members










Corporate Affiliate Members
Integrator Members
Connect With Success

River Rock Casino Resort
Richmond, BC, Canada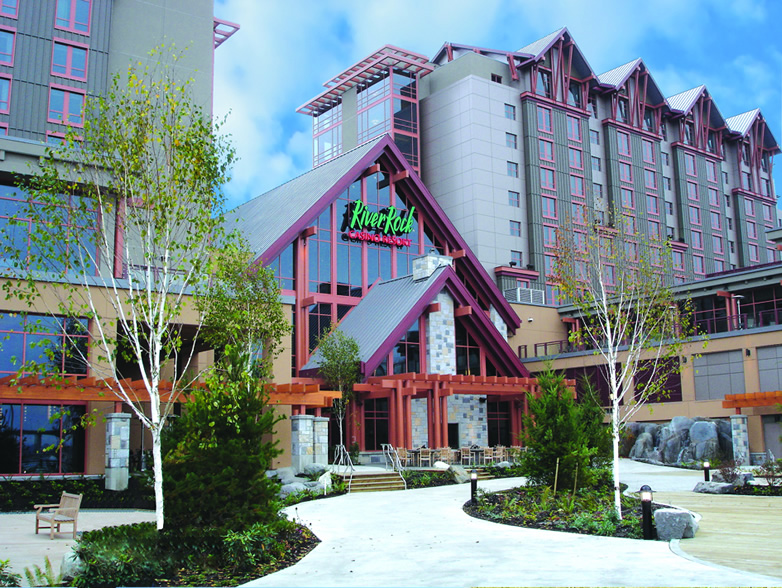 The River Rock Casino Resort complex was completed in August of 2005 and runs entirely on the BACnet® protocol. All MACH-Global™ controllers communicate over IP via a LAN belonging to the parent company, Great Canadian Casinos. BACnet IP is employed to communicate with a Trane BCU for chiller control.

The Reliable Control® MACH-System system coordinates cooling for a large chiller plant that consists of four chillers and a single heat harvester. There are 20 large, built-up AHUs dedicated to serve the casino and convention centre. The hotel suites are heated and cooled by 250 fan coils with independent control and adjustable guest setpoint using SMART-Sensor™ technology. Office and tenant space within the hotel is served by fan coils and VAV boxes.

Click here to read the full Success Story

BACnet Manufacturers: Reliable Controls, Trane

Click here to view all BACnet Success Stories, or to submit your company's for publication.


Connect With New BACnet International Members

BACnet International welcomed the following new members this month:
Connect With Education

BACnet and Mobile: Benefits and Best Practices
Attend this webcast to learn about the growing relationship between mobile phones and BACnet standard-based building automation systems (BAS). Presented by Chris Hollinger, Senior Product Manager for Integrated Systems at Siemens Building Technologies, this presentation will discuss the features and benefits of a completely mobile, BACnet-based BAS application.

Presenter: Chris Hollinger, Siemens

Click here
to register or for more information

Sponsored by:


Connect With BACnet Community News

News/Product Release


Click here for more information on Blue Ridge Technologies

Distributed BACnet Zone Control for Daylight Harvesting and More

Blue Ridge Technologies' innovative Zone Control (ZC) is an open architecture platform offering advanced lighting control applications including; daylight harvesting, integrated sensing/control, and equipment optimization. Built for integration with BACnet Building Automation Systems (BAS), ZC operates on the same BACnet network as BACnet HVAC controls eliminating option cards, gateways, and separate networks. ZC offers a variety of other features like; separated line and low voltage compartments, compact package which mounts to any 4" or 4 11/16"square junction box, Bluetooth wireless port for programming and control, and much more.

-------------------------------------------------



Click here for more information on Control Solutions, Inc.


Control Solutions' BB2-3010 BACnet MS/TP to Modbus RTU gateway is now formally BTL Listed. In addition to BTL Listed, this economical gateway is UL-916 Listed and CE Marked. The BB2-3010 will map up to 315 Modbus registers into BACnet objects. Data flow can be bi-directional. The BB2-3010 can function as Modbus RTU master or slave, and also includes a BACnet client for querying other BACnet MS/TP devices.
Control Solutions recently updated the configuration tool software for BB2-3010. Users can now remotely configure the BB2-3010 anywhere in the world via any available BACnet IP router. The configuration tool connects to BACnet IP, or to Control Solutions' USB to MS/TP smart adapter. The configuration tool is intuitive and easy to use. Not only is the BB2-3010 the most economical MS/TP to Modbus RTU gateway available, it is the easiest to use.
The BB2-3010 is ideal for connecting industrial equipment to building management networks. Examples include VFDs and power analyzers that often come equipped with Modbus RTU but not BACnet. The BB2-3010 will automatically poll Modbus devices and store a copy of Modbus registers for the BMS to query via BACnet. The BB2-3010 also supports COV subscriptions, and will initiate a COV notification upon change of Modbus register values.
For more information about Control Solutions BB2-3010 gateway and other products, visit www.csimn.com
-------------------------------------------------

Click here for more information on Honeywell

HONEYWELL SMART GRID PROGRAM IN CALIFORNIA
RECEIVES ENERGY PROJECT OF THE YEAR AWARD

Southern California Chapter of Association of Energy Engineers
Honors Demand Response Project for Significant Energy Savings



Honeywell announced that the company's smart grid project with Custom Building Products won the "

Energy Project of the Year

" award from the Southern California Chapter of the Association for Energy Engineers (AEE). The Honeywell project provides Custom Building Products with precise control over how its Bell, Calif., manufacturing facility uses energy, enabling it to automatically respond to changing peak electricity prices and trim utility bills.




The award recognizes the project for its high level of substantiated savings, which will enable the work to pay for itself within an estimated five months. Custom Building Products, a manufacturer of supplies for the construction industry, offset the $80,000 total project cost with rebates from Southern California Edison (SCE) and support from a

Smart Grid Investment Grant

Honeywell received from the Department of Energy in late 2009. Those funds lowered the out-of-pocket expenses to less than $3,000. And Custom Building Products expects to realize $6,000 in annual energy savings due to the upgrades and the resulting enhanced control.





-------------------------------------------------
Click here for more information on Reliable Controls
New Sales Office in Singapore
Reliable Controls Corporation is very pleased to announce the opening of a new sales office in Singapore, and the arrival of Mr. Jimmy Wong as the corporation's new Regional Sales Manager for Southeast Asia.
Jimmy started his career at AT&T Bell Labs in Homdel, New Jersey working as a telecommunications R&D engineer throughout the eighties. He entered the controls industry in the late eighties, developing an in-house building automation system for Singapore Technologies as their R&D and project manager, then was hired on as Regional Sales Manager - Asia Pacific for Honeywell during the late nineties, and finally accepted a position as CEO of Infotel Technologies, a leading service provider/dealer of Advantech building automation systems in Singapore and Asia Pacific. Jimmy earned his BaSc in Electrical/Computer Engineering at State University New York (Stony Brook), and a Masters in Electrical/Computer Engineering at Cornell University.
As Regional Sales Manager-Southeast Asia, Jimmy will be responsible for growing and supporting the Corporation's Authorized Dealer network from Korea to India. The arrival of the Singapore sales office is a welcomed addition to the Corporation's existing offices in China and Australia.
-------------------------------------------------
Connect with Education

White Papers and Articles



Click here to view white papers and articles



Journal Issue 4
Click here to view this and archived editions of the journal


Downloadable Presentations
AHR Expo 2012 Education Presentations available online
Click here to view and download
Connect With BACnet International Volunteers

Ron Sharpe
BACnet International Education Committee
Ron Sharpe was bestowed the BACnet® Director Emeritus award in 2008 for dedicated service to the advancement of the BACnet® Protocol used with all types of Building Control & Automation Systems. Recognition for his involvement starting with the first gathering at the University of Cincinnati in 1998. Served as the first Chair of BACnet® Interest Group (BIG) which later became BIG-NA (North America). The organization continued to grow and combined with BACnet® Manufacturers Association (BMA) to become BACnet® International serving all countries - all continents.
Connect With Opportunity



BACnet International Success Stories

BACnet International Success Stories is a free resource that provides a place to promote your successful projects that use BACnet in order to further knowledge and understanding of the BACnet protocol - essentially, mini case studies. Posters utilize a web form to upload the content, (narratives, photos, etc...) which is then reviewed by editors from BACnet International (primarily for errors) prior to public posting.

Once the BACnet Success Story is posted, it becomes a permanent, linkable record of the successful project.
Further, Success Stories:
Are automatically eligible for additional public recognition via BACnet International's Leader of the Pack Awards
Are featured in Cornerstones - BACnet International's monthly eNewsletter that goes out to 15,000+ members / subscribers
Are candidates for articles in the BACnet International Journal - BACnet International's printed / digital periodical
Click here to submit your company's BACnet Success Story and take advantage of the free press!

New to this process? Don't know what you'll need?
Download the Success Stories Word Document.


Connect in Cornerstones

BACnet International followers benefit from a new electronic monthly publication called Cornerstones. This publication will go to members of the BACnet community, connecting corporate, integrator, site, student and individual end-users (current distribution list over 15,000). Cornerstones is a unique publication in that we speak not only to engineering and contractor communities, but also to the facility professionals, managers, owners and beyond.

This is where you come in. Connect.
If there is a best practice article, company news, product news or BACnet Success Stories you want to share, please send them to us. And don't leave out the photos! All submissions should be sent to info@bacnetinternational.org.