Connect with BACnet International

Platinum Members
Gold Members
Silver Members












Corporate Affiliate Members
Integrator Members
Connect With Success

Greenway Middle School
Phoenix, AZ, United States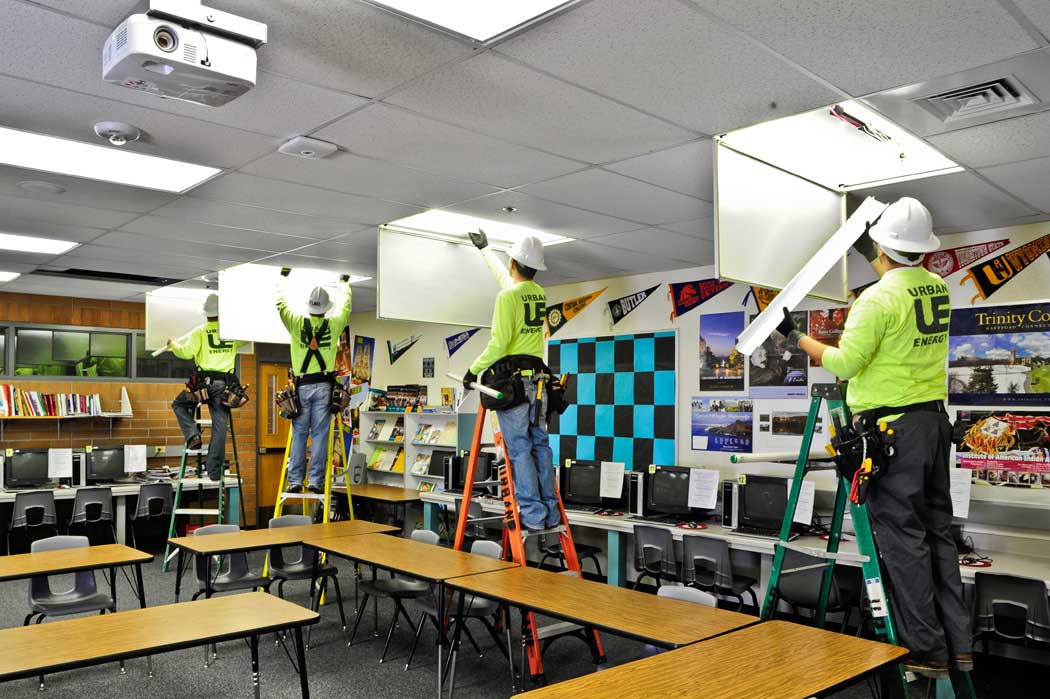 Greenway Middle School has a proud history dating back to 1912. What began as a one room schoolhouse in northeast Phoenix has evolved into a district serving 33,000+ students in grades K-12. Originally named Sunnyside School, it was the first within what is now known as the Paradise Valley School District. The middle school is recognized as one of the top educational institutions in the nation and serves as a model for other secondary schools across North America.

Like many other schools in its district, Greenway faced a number of energy challenges in 2008. In dealing with both rising energy costs and increased budget constraints, the school also had an inefficient energy management system. Personnel struggled with inconsistent cooling and poor ventilation, inadequate and insufficient lighting, as well as the lack of centralized control.

Click here to read the full Success Story

BACnet Manufacturers: KMC Controls, Tridium, Veris Industries

Click here to view all BACnet Success Stories, or to submit your company's for publication.


Connect with Opportunity

We're looking for standouts in the industry to participate in the BACnet International education track at NFMT Vegas 2012 (formerly Facility Decisions). If you have a presentation (or an idea for a presentation!) in which you can share your BACnet expertise, please complete the online form by Wednesday, April 11, 2012.





Please note that all content must be BACnet related and that BACnet International does not provide funding for presenters to attend this event.





--------------------------------------------

BACnet International will soon be launching a new publication targeted to integrators/installers/appliers and specifiers/consultants. If you have a relevant BACnet topic to share, please

click here

to complete the call for proposals form by Wednesday, April 11, 2012.
Connect BACnet International News

BACnet International Announces Board Election Results
BACnet International, the industry association that facilitates the successful use of the BACnet protocol in building automation and control systems today announced the results of its recent board of directors nomination and voting process. The board will be comprised of seven executives, including: Brad Hill, Paul Jordan, Roland Laird, Andy McMillan, Raymond Rae, David Robin, and Nancy Stein. The board of BACnet International will continue to focus on expanding the use of the BACnet building automation protocol.
"It's an honor for me to join the board of BACnet International," said Roland Laird, newly elected board member and founder and President of Reliable Controls Corporation. He added, "I've been part of the adoption of the BACnet protocol for years, and am excited to help advance building interoperability in this new role."
Andy McMillan, General Manager of Philips Teletrol and BACnet International President commented on the results of the board elections, "We have a great team of leaders on the board of directors for BACnet International. This group has experience in all areas of building technology and automation." McMillan added, "As the industry continues to evolve, BACnet International remains committed to providing educational programs and opportunities to help building owners/operators, building engineers and facility managers take full advantage of the BACnet protocol."
Connect With New BACnet International Members

BACnet International welcomed the following new members in the first quarter of 2012:
Connect With BACnet Community News

News/Product Release
Click here
for more information on KMC Controls
KMC Controls, a standout in BACnet building automation, and Titus HVAC, the leader in air management, have announced a joint collaboration to simplify air distribution through the introduction of the Titus Alpha Controller line.
Through the collaboration, select digital variable air volume (VAV) terminal units from Titus are now available with integrated and Titus-branded BACnet Applications Specific Controllers designed and manufactured by KMC Controls. As a result, the new Alpha line advances air distribution using VAV by lowering installation costs and increasing ease of installation, startup and commissioning.
"Among other trends, we are seeing increased activity for small and medium tenant improvement projects," says Keith Glasch, vice president of sales and marketing at Titus HVAC. "Key factors here are speed to market, custom solutions and, of course, cost-effective solutions. Titus terminal units, equipped with the Alpha controller, help us satisfy all of these demands."
Far beyond simple factory-mounted controls, these new integrated boxes go to field fully configured and programmed for their intended use. As a result, no software or PC is needed in the field as a related human interface device provides for complete configuration and system setup.
The Alpha controllers are among the only on the market to be listed by BACnet Testing Laboratory. Alpha controllers are also Underwriters Laboratory (UL) and European Conformity Listed. Smoke control models or those compliant with the UUKL rating of UL 864 are also available.
"Interestingly," says Jim Herdeman, vice president of product Management for KMC, "we entered the VAV realm in 1977 by producing a pneumatic VAV controller designed specifically for Titus. In 2012, we celebrate 35 years of collaborative partnership with Titus. It is only fitting that we help them continue to innovate and advance the science of air distribution with our latest BACnet technology."
For more information about the new Alpha Controller line, KMC Controls, or Titus HVAC, visit
www.kmccontrols.com
or
www.titus-hvac.com
.
-------------------------------------------------
Click here for more information on Reliable Controls
BACnet Appointments
Reliable Controls Corporation is pleased to announce the following new BACnet appointments.
Reliable Controls® President and Founder, Roland Laird, has accepted a nomination to the Board of Directors of BACnet International for a three year term. BACnet International (BI) is the organization committed to the promotion of the BACnet Protocol and protection of the brand. The BACnet Testing Labs is part of BI which ensures compliance to the standard. As one of seven directors, Roland will be responsible for guiding the organization's technical and marketing activities, policies, and finances.
At the end of the ASHRAE 2012 summer meeting, Reliable Controls® Firmware Manager, Michael Osborne, will assume the position of Secretary of the Standing Standard Project Committee (SSPC) 135 (BACnet). Michael was appointed for the secretary position by the Chair of the Committee and is expected to perform his BACnet duties for four years, after which, he will be appointed to the position of Vice Chair of the Committee for an additional four years. After serving as Vice-Chair, Michael will assume the Chairman position for an additional four years, for a total of a 12-year commitment.
-------------------------------------------------
Click here for more information on Siemens



Siemens Point Pick-up Module
The Point Pickup Module (PPM) from Siemens lowers product installation and commissioning costs with cost effective I/O (Input/Output) available for installation anywhere there is a BACnet MS/TP network. The operational savings and reduced hardware requirements makes the PPM the ideal choice for expanding an existing system to meet monitoring and control needs in a wide variety of building control and monitoring applications.
Point Pickup Modules from Siemens allow for incorporation of a small cluster of remote I/O points into the building automation system. The PPM family leverages the BACnet MS/TP network to extend the reach of any BTL-listed BACnet Building Controllers application program.
Special features of the PPM include:
Wide range of I/O signal type support for flexible I/O solutions.
Fast start-up with auto-populated device name and device ID eliminates need for a special tool.
Highly-visible LEDs indicate the power, communication and point status.
Plenum rated enclosure providing lower installation costs, as no additional enclosure is required.
Flexible mounting options including DIN rail, surface mounting, and on 4" x 4" junction box.
For more information, please visit
www.usa.siemens.com
.
-------------------------------------------------
Click here for more information on The S4 Group
BACnet-N2 Router Enhancement
Expanded System-91 Device Support
Our original implementation of the S4 Open Appliances included support for all Metasys® N2 devices. The N2 Router design followed the various N2 protocol specifications available, supplemented by our own reverse engineering efforts to understand parts of the protocol not publically documented. N2 is actually a series of sub-protocols co-existing on the same serial bus, sharing a common framing, and with a common addressing strategy. Within the data frames, the N2 Open, VMA (N2B), and System-91 protocols are completely separate and unique implementations. The N2 Open and N2B standards are unique but share a common trait in that they reflect the data organization and user experience that a Metasys® operator would have from the Metasys® Operator Workstation.
Connect with Education

White Papers and Articles



Click here to view newly added white papers and articles



Journal Issue 4
Click here to view this and archived editions of the journal


Downloadable Presentations
AHR Expo 2012 Education Presentations available online
Click here to view and download
Connect With the Global Community


The BACnet Academy offers a unique introduction to BACnet in Vienna! We would like to invite users and prospect users from Austria, but also from Switzerland, Germany, Italy and from the central European countries like Czech Republic, Slovakia, Hungary and Croatia. The training will take place on May 31, 2012 at the Westbahn Hotel, Vienna, Austria. For more details please see the attached agenda. Deadline for registration at www.bacnetacademy.org is April 23, 2012.

We invite you, your colleagues and your customers to join this BACnet Academy Europe in English - supervised by the BIG-EU and conducted by Frank Schubert, BIG-EU Advisory Board member, member of the BTL working group and the most experienced BACnet trainer in Europe.

Expert knowledge about BACnet is increasingly becoming a factor of success - for enterprises and individuals. With the growing number of BACnet installations and the emergent requirement for energy efficient building automation the demand for BACnet knowledge is rising all over Europe. Develop your BACnet skills, start to profit from interoperability, learn about the growing number of BACnet functionalities and open communication in building automation networks. As well for experts and young professionals - this is a unique chance to get in contact with the growing European and global BACnet community.



Connect With BACnet International Volunteers

Roland Laird
Reliable Controls


BACnet International Board of Directors
Roland Laird is the founder and President of Reliable Controls Corporation. Since 1986, Reliable Controls has grown to 100 professionals, providing a comprehensive BACnet Building Automation system. In his current role as President, Roland maintains an active involvement in product development with special emphasis on quality assurance. Through 2005 to 2010, he was an active participant in BACnet International's BACnet Testing Labs working group and the ASHRAE SSPC 135 BACnet Committee. Roland graduated with honors in Instrumentation Technology from the British Columbia Institute of Technology in 1980.
Welcome to the newest member of the BACnet International Board of Directors.
Connect With Opportunity



BACnet International Success Stories

BACnet International Success Stories is a free resource that provides a place to promote your successful projects that use BACnet in order to further knowledge and understanding of the BACnet protocol - essentially, mini case studies. Posters utilize a web form to upload the content, (narratives, photos, etc...) which is then reviewed by editors from BACnet International (primarily for errors) prior to public posting.

Once the BACnet Success Story is posted, it becomes a permanent, linkable record of the successful project.
Further, Success Stories:
Are automatically eligible for additional public recognition via BACnet International's Leader of the Pack Awards
Are featured in Cornerstones - BACnet International's monthly eNewsletter that goes out to 15,000+ members / subscribers
Are candidates for articles in the BACnet International Journal - BACnet International's printed / digital periodical
Click here to submit your company's BACnet Success Story and take advantage of the free press!

New to this process? Don't know what you'll need?
Download the Success Stories Word Document.


Connect in Cornerstones

BACnet International followers benefit from a new electronic monthly publication called Cornerstones. This publication will go to members of the BACnet community, connecting corporate, integrator, site, student and individual end-users (current distribution list over 15,000). Cornerstones is a unique publication in that we speak not only to engineering and contractor communities, but also to the facility professionals, managers, owners and beyond.

This is where you come in. Connect.
If there is a best practice article, company news, product news or BACnet Success Stories you want to share, please send them to us. And don't leave out the photos! All submissions should be sent to info@bacnetinternational.org.