Connect with BACnet International

Platinum Members
Gold Members
Silver Members












Corporate Affiliate Members
Integrator Members
Connect With Success

McCormick Place West
Chicago, IL, USA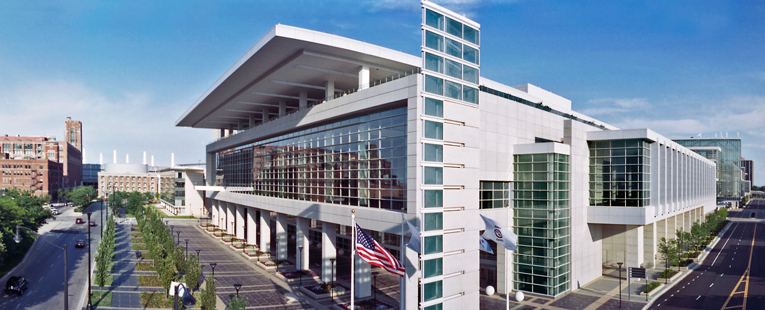 Chicago's McCormick Place is one of the premier convention facility in North America. McCormick Place consists of four state-of-the-art buildings: the North and South Buildings, the West Building and Lakeside Center and together they attract close to 3 million visitors each year. On August 2, 2007, McCormick Place officials opened yet another addition to the complex, the West Building, also designed by tvsdesign and costing $882 million and completed 8 months ahead of schedule. The publicly-financed West Building contains 470,000 square feet of exhibit space, bringing McCormick Place\'s total existing exhibition space to 2,670,000 square feet. The West Building also has 250,000 square feet (23,000 m2) of meeting space, including 61 meeting rooms.

McCormick Place building management required that all of the 3rd party devices in this building were BACnet-based. The building has experienced numerous benefits of communicating using the BACnet protocol, including the chilled water system that is fully automated and delivers chilled water to all other buildings in complex. The piping system is interconnected with the energy center and the chilled water center. The 6 Trane chillers are 1,400 tons each and are capable of generating 26oF glycol to a Brine tank heat exchanger at the Energy Center during non-peak hours, which in turn delivers 34oF glycol to the entire campus during peak hours.

Click here to read the full Success Story

BACnet Manufacturers: ABB, Philips Teletrol, Trane

Click here to view all BACnet Success Stories, or to submit your company's for publication.


Connect With Education


Journal Issue 4 - Now Available for Online


Click to view this and archived issues

Connect With Education
AHR Expo 2012 Education Presentations now available online!

Click here to view and download
Thank you to member companies who participated in the BACnet International booth:
Connect With BACnet Community News

News/Product Release
Click here
for more information on Alerton
Alerton's Multiple Building Dashboard Shares Unlimited Building Data Displays With 450 Concurrent Users
Redmond, WA (February 2, 2012)-Building automation pioneer Alerton (
www.alerton.com
) today debuted its multiple building dashboard, which enables end users to display data from an unlimited number of individual buildings to as many as 450 concurrent users using Alerton Building Suite software. The Alerton multiple building energy dashboard is especially applicable in installations where there is more than one building and each building has unique energy and/or tenant attributes.
"The multiple building dashboard allows building owners to set up as many dashboards as they need to share info however-and with whomever-they want," said David Cosby, product manager for the multiple building dashboard. "Because Alerton Building Suite energy dashboards don't require any special hardware to set up, they are particularly economical solutions for any building."

Part of Alerton Building Suite 3, the multiple building dashboard provides a familiar browser-based editor interface for customizing dashboard displays. All Alerton energy dashboards enable users to view live, real-time building data at a glance, support LEED and green initiatives, and change the behavior of tenants and visitors by making them stakeholders in energy management.

The multiple building dashboard displays hourly peak demand on the consumption page, which enables facilities managers to more accurately monitor a building's energy use. Energy Dashboard authentication allows end users to configure individual energy dashboards to require an ID and password to view the dashboard.

The Alerton Building Suite 3 multiple building dashboard is available through authorized Alerton dealers. For product ordering and technical information, contact your local Alerton dealer, call Alerton at 425.869.8400 or visit
www.alerton.com
.
American Auto-Matrix Resolves Patent Infringement Lawsuit Against TSI Incorporated
Click here
for more information on American Auto-Matrix
American Auto-Matrix today announced that it resolved its patent infringement lawsuit against TSI Incorporated with an amicable and mutually beneficial settlement. The lawsuit, which had been pending in federal court since May 17, 2010, involved AAM's U.S. Patent number 5,764,579, entitled "System for Controlling Laboratories with Fume Hoods". This patent broadly covers systems and methods where laboratory and fume hood controls are integrated with Building Automation Networks.
As a result of the settlement, TSI has been granted a non-exclusive license to the patent which extends to its distribution chain and customers. The Settlement Agreement was signed by both parties on December 28, 2011.
American Auto-Matrix respects the intellectual property rights of other companies and individuals and expects that its intellectual property will be respected by others. American Auto-Matrix remains committed to pursuing legal enforcement against those who infringe on its intellectual property.
For more information, contact Lisa Kaciubij, lkaciubij@aamatrix.com
Click here
for more information on Carrier

NFM&T is a trade show and educational conference geared towards individuals who are involved in managing, operating, or maintaining a facility. This year's show will be held on March 13-15, 2012 at the Baltimore Convention Center in Baltimore, MD. As a single-source provider for complete system solutions, Carrier Controls is excited to be exhibiting this year! Visit us in booth 2422 to see the i-Vu® Open Control System, which combines state-of-the-art Carrier equipment, plug-and-play controllers, and the powerful web-based i-Vu user interface to form a cohesive, intuitive, and fully integrated BACnet® Building Automation System.
Click here for more information on Tridium, Inc.
QA Graphics Partners with Tridium, Inc.
Ankeny, Iowa - January 31, 2012 - QA Graphics, a leading provider of design services for the building automation industry, is pleased to announce their recent partnership with Tridium, Inc. Tridium is a global leader in open platforms, application software frameworks, automation infrastructure technology, energy management and device-to-enterprise integration solutions.
QA Graphics provides extensive graphic services for the building automation industry and in this new partnership will develop a custom 3D symbol library exclusively for Tridium. The library will be developed for use within the NiagaraAX platform, providing end-users with access to high-end graphics and animations that more realistically represent the mechanical systems in place. The library is scheduled to be completed later this spring. When completed, the new graphics will be pre-installed on all Tridium NiagaraAX JACE and Supervisor devices, allowing integrators to consistently assemble more realistic system graphics.


"We look forward to this new partnership with Tridium," said Dan McCarty, president and owner of QA Graphics. "QA Graphics has been instrumental in making building automation concepts more visual. This new graphics library, as well as other potential design solutions, will differentiate Tridium in today's marketplace.

QA Graphics also provides a number of other graphic solutions for the NiagaraAX platform, including system graphic development, drafting services, custom template development, and their award-winning Energy Efficiency Education Dashboard® (EEED). A number of these services have been modified to streamline ease of use with the NiagaraAX platform. When providing system graphic development, QA Graphics has the ability to remotely access a NiagaraAX system and install the graphics. This is made possible if the customer provides a public IP or VPN access to their network. It's very advantageous for integrators; they don't have to make any changes to their database for graphic functionality. QA Graphics has the engineering tools needed to take care of everything and ensure that the graphics work. It also ensures that the graphics are placed in the accurate directories, and any changes can be made live at the project site without having to send new files.

QA Graphics has also created a licensed module file for the Energy Efficiency Education Dashboard to work exclusively with a NiagaraAX device. It allows the solution to be integrated seamlessly with the building automation system to access the resource usage information and display it for the purpose of educating the building occupants and the public. QA Graphics will continue to develop custom solutions such as these to ensure the streamlined use of their graphic solutions with NiagaraAX. In addition, QA Graphics provides comprehensive creative services including 3D HVAC graphic development, Flash development, multimedia, touchscreen application development, mobile application development and more.
Click here for more information on Siemens


Mobile and Remote Notification Applications from Siemens
The BACnet Web Server from Siemens enables web access, remote alarm notification, and mobile smartphone access to your BACnet based Siemens system. The solution provides a graphical user interface compatible with BACnet networks, hosted directly from web enabled field panels. The web server allows remote access through an intuitive web-based and mobile application based user interface to monitor, control, command and configure a building automation system from Siemens.
Advantages include:
Cost effective interface and alarm notification solution for large and small projects
Incredible productivity and mobility while fully connected with the building automation system
Remote access and alarm notification during project startup, database configuration and editing, and troubleshooting
Simple interface leads to increased productivity
Local and remote control for distributed sites
Complete configuration and editing tool-set from anywhere in the world
For more information, please visit www.usa.siemens.com.
Connect With BACnet Community News


BTL Test Package 9.0 Released
Click here to view new implementation guidelines, test package and listing forms.
Connect With BACnet International Volunteers
Dennis Swoboda
District Manager, Blue Ridge Technologies


BACnet International Education Contributor and Marketing Committee Member
Why do you volunteer in BACnet International?
I volunteer with BACnet international because I am passionate about what BACnet International is trying to accomplish. By encouraging the use of the BACnet open protocol, we can provide a platform that increases competition and reliability, while improving the interoperability of the entire building automation system. This results in synergies that not only save energy, but also helps to improve the quality of our environment and our daily lives.
Connect With Opportunity



BACnet International Success Stories

BACnet International Success Stories is a free resource that provides a place to promote your successful projects that use BACnet in order to further knowledge and understanding of the BACnet protocol - essentially, mini case studies. Posters utilize a web form to upload the content, (narratives, photos, etc...) which is then reviewed by editors from BACnet International (primarily for errors) prior to public posting.

Once the BACnet Success Story is posted, it becomes a permanent, linkable record of the successful project.
Further, Success Stories:
Are automatically eligible for additional public recognition via BACnet International's Leader of the Pack Awards
Are featured in Cornerstones - BACnet International's monthly eNewsletter that goes out to 15,000+ members / subscribers
Are candidates for articles in the BACnet International Journal - BACnet International's printed / digital periodical
Click here to submit your company's BACnet Success Story and take advantage of the free press!

New to this process? Don't know what you'll need?
Download the Success Stories Word Document.


Connect in Cornerstones

BACnet International followers benefit from a new electronic monthly publication called Cornerstones. This publication will go to members of the BACnet community, connecting corporate, integrator, site, student and individual end-users (current distribution list over 15,000). Cornerstones is a unique publication in that we speak not only to engineering and contractor communities, but also to the facility professionals, managers, owners and beyond.

This is where you come in. Connect.
If there is a best practice article, company news, product news or BACnet Success Stories you want to share, please send them to us. And don't leave out the photos! All submissions should be sent to info@bacnetinternational.org.