Connect with BACnet International

Platinum Members
Gold Members
Silver Members












Corporate Affiliate Members
Integrator Members
Connect With Success

Ashburton Court
Winchester, England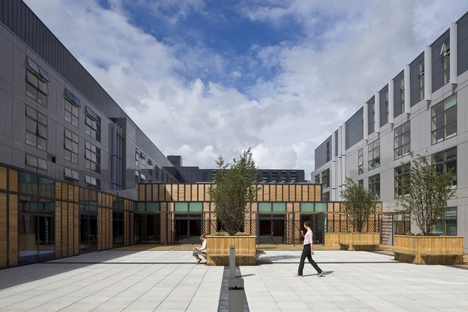 Ashburton Court has been home to Hampshire County Council (HCC) since the 1960's. The concrete building was not exactly pleasing on the eye and it was also very inefficient, with a carbon footprint of 100Kg of C02/m2 per annum. Rather than knocking the building down, HCC decided that it would be more cost effective to refurbish the existing building as it was estimated that a complete new build would have been double the cost of the refurbishment. Turning the inefficient Ashburton Court into energy efficient 'Elizabeth II Court', as the building has been renamed, would be a challenge for all involved and the Building Energy Management System (BEMS) would play a crucial role in fulfilling this challenge. The end product is one of the best performing buildings in the country, expecting to secure a BREEAM (Building Research Establishment Environmental Assessment Method) EXCELLENT rating which recognises low environmental impact buildings.

Click here to read the full Success Story

BACnet Manufacturers: ABB

Click here to view all BACnet Success Stories, or to submit your company's for publication.


Connect With BACnet Community News


BTL Test Package 9.0 Released
Click here to view new implementation guidelines, test package and listing forms.
Connect With BACnet Community News

News/Product Release
Click here
for more information on American Auto-Matrix
American Auto Matrix®, manufacturer of Building Integration, HVAC, and Lab and Fume Hood controls for commercial and industrial applications, announced today the release of the AspectFT Nexus™ area controller. This device is designed to integrate and manage a wide array of HVAC, energy, and critical building systems while giving the user the power and convenience of modern web technologies. With the AspectFT-Nexus, users get the horsepower of a server with additional ports for building automation applications.
Click here to read more.
Click here
for more information on Carrier
Kick off your New Year with Factory-Installed BACnet Controls!
Did you know that Carrier offers factory installed BACnet control options on all Carrier equipment? There are numerous benefits associated with factory installed controls, including:
Designed by equipment experts
Standardized control sequences
Peace of mind knowing that equipment will operate as designed
Factory tested & documented
Reduced installation costs vs. field installation
Energy efficient operation
Proven reliability
Built-in system strategies
Built-in graphics, trends, and alarms for our i-Vu® web user interface
The following Carrier equipment offers factory-installed BACnet control options:
VVT Dampers & VVT Bypass Terminal Units
VAV Boxes
Rooftop Units
Air Handling Units
Chillers
Water Source Heat Pumps
Fan Coil Units
Unit Ventilators
Energy Recovery Ventilators
Dedicated Outdoor Air Units
Vertical Package Units

BTL Listed Advanced Application Controller Sets New Standard
OEMCtrl's most powerful controller has the flexibility to handle the most demanding control applications in the industry. This robust multi-protocol native controller can support complex control strategies with plenty of memory for schedules, alarms and trends.
Easily customized to meet any sequence of operation needs and fully capable of operating in stand-alone or integrated control mode. The I/O Pro 812u connects to a Building Automation Systems (BAS) using any of today's four leading protocols. Point mapping to all protocols can be pre-set, so that the protocol and baud rates desired can be easily field-selected without the need for any additional downloads or technician assistance. The I/O Pro 812u provides ample input/output capacity on the base controller, plus support for multiple expansion boards if additional I/O capacity is needed.
OEMCtrl
Controls for Manufacturers
Click here for more information on Reliable Controls
Reliable Controls® is pleased to announce the MACH-ProWeb™ series has now earned multiple listings from the BACnet® Testing Laboratory (BTL).
The new listings for the MACH-ProWeb™ are a notable achievement in recognizing the first BACnet® product to obtain both the B-BC and B-OWS listings for a single device that fits into the footprint of a typical building controller. Moreover, the Reliable Controls® MACH-ProWeb™ series is the first BTL listed product that has been tested to meet or exceed the latest BACnet® protocol revision - Revision 9.
Click here for more information.
Click here for more information on The S4 Group
Introducing the S4 Open: BACnet-N2 Router.


Enabling effective transitions for legacy automation systems.
Modern building automation systems use advanced computer-based monitoring to coordinate, organize and optimize various building automation systems such as energy management, security, fire/life safety, elevators, occupancy status and more.Over the past few decades, several proprietary building automation fieldbus networking standards have evolved, and have seen wide adoption, in the facilities marketplace. These proprietary systems are, or have been, sold under various brand names such as Siemens' APOGEE®, Johnson Controls' Metasys®, and Barber-Colman's Network 8000. Proprietary solutions have generally permeated the non-residential HVAC market, limiting the upgrading of and expansion of infrastructure to either off the shelf vendor-specific compatible products or costly custom solutions.
Click here for more information.
Connect With Events
Visit us in booth 3532 and be sure to check out the FREE BACnet International education sessions in S103a
Monday, January 23

9:00 a.m.: Specifying BACnet Based Network Controls

Speaker: Grant Wichenko, Appin Assoc.

10:30 a.m.: BACnet Goes Mobile

Speaker: Chris Hollinger, Siemens
2 p.m.: BACnet and the Cloud
Speaker: Terry Hoffmann, Milwaukee School
of Engineering

3:30 p.m.: BACnet Operator Workstations

Speaker: Steve Tom, PE, PhD, Automated
Logic Corp.
9:00 a.m.: Factory Mounting BACnet Controls
Speaker: Michael Facente, OEMCtrl

10:30 a.m.
: BACnet Lighting Integration 101
Speaker: Ron Poskevich, Blue Ridge
Technologies

1:00 p.m.
: Building Sustainability through Building
Automation
Speaker: Ben Dorsey, KMC Controls


2:30 p.m.
: Guide Specifications
Speaker: Scott Ziegenfus, Lutron

4:00 p.m.
: Enhancing Energy Efficiency and Cost
Savings
Speaker: Donald Galman, Honeywell
Thank you to member companies with a kiosk in the BACnet International booth:
Connect With Events
BTL WG Meeting

January 19, 2012
S401D, McCormick Place, Chicago, IL
Click here to register - visitors welcome!
Connect With Events
SAVE THE DATE: BIG-EU PLUGFEST: MAY 02 - 04, 2012
After a very successful Plugfest in 2011 (21 companies) the BIG-EU has decided to have an annually Plugfest in Europe every spring!

BACnet Interest Group Europe (BIG-EU) invites you to join the 6th BACnet Interoperability Workshop of the BIG-EU, to be held from 02 until 04 May, 2012, at the well equipped Fachhochschule Dortmund (University of Applied Sciences & Arts) in Dortmund, Germany.

The workshop is open to manufacturers and vendors of BACnet devices. It provides an opportunity for all participants to improve the interoperability of their products with those from other attending companies. Manufacturers are also able to test functionality of their BACnet implementation within a large BACnet network. The tests will not be conformance tests and may only be used to improve the BACnet implementations.

All detailed information, registration forms and the special requirements of this Plugfest will follow. To already signalize your interest you can send an informal mail to the BIG-EU Office

Connect With BACnet International Volunteers

Michael Facente
Senior Account Sales Engineer, OEMCtrl


BACnet International Education Contributor and AHR 2012 Presenter
Why do you volunteer in BACnet International?
I volunteer with BACnet International because I am interested in contributing to and influencing BACnet as an industry standard. I am also interested in meeting like minded people who enjoy working in the industry and applying the BACnet solution in real world situations.
Connect With Opportunity



BACnet International Success Stories

BACnet International Success Stories is a free resource that provides a place to promote your successful projects that use BACnet in order to further knowledge and understanding of the BACnet protocol - essentially, mini case studies. Posters utilize a web form to upload the content, (narratives, photos, etc...) which is then reviewed by editors from BACnet International (primarily for errors) prior to public posting.

Once the BACnet Success Story is posted, it becomes a permanent, linkable record of the successful project.
Further, Success Stories:
Are automatically eligible for additional public recognition via BACnet International's Leader of the Pack Awards
Are featured in Cornerstones - BACnet International's monthly eNewsletter that goes out to 15,000+ members / subscribers
Are candidates for articles in the BACnet International Journal - BACnet International's printed / digital periodical
Click here to submit your company's BACnet Success Story and take advantage of the free press!

New to this process? Don't know what you'll need?
Download the Success Stories Word Document.


Connect in Cornerstones

BACnet International followers benefit from a new electronic monthly publication called Cornerstones. This publication will go to members of the BACnet community, connecting corporate, integrator, site, student and individual end-users (current distribution list over 15,000). Cornerstones is a unique publication in that we speak not only to engineering and contractor communities, but also to the facility professionals, managers, owners and beyond.

This is where you come in. Connect.
If there is a best practice article, company news, product news or BACnet Success Stories you want to share, please send them to us. And don't leave out the photos! All submissions should be sent to info@bacnetinternational.org.