Connect with BACnet International

Platinum Members
Gold Members
Silver Members











Corporate Affiliate Members
Integrator Members
Connect With Success

Crate & Barrel - Streets of Southpoint


2011 Leaders of the Pack "Best in Show" Winner!
Durham, North Carolina, USA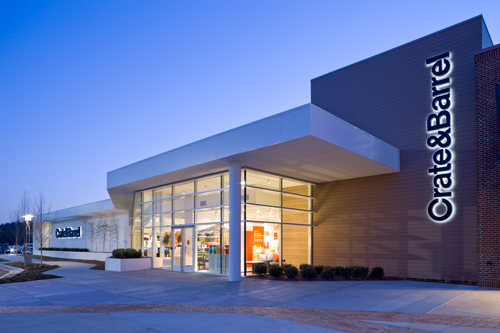 Crate & Barrel's "Streets of Southpoint" retail store is a 25,000 square foot facility in Durham, North Carolina. The store opened in the spring of 2011 and is a LEED Gold project. Since Crate & Barrel's retail mission is to satisfy the 3 "P's" - People, Product, and Presentation, they chose a 1-story building with 10 varying ceiling heights and an abundance of natural light. The varying ceiling heights allow them to suspend over a mile of track lighting - over 1000 lights - all for the purpose of showcasing their products perfectly to customers.

There were 3 unique challenges associated with installing a control system in the Streets of Southpoint store...

Click here to read the full Success Story

BACnet Manufacturers: Carrier, Veris

Click here to view all BACnet Success Stories, or to submit your company's for publication.


Connect With BACnet International


BACnet International Store Launches Today!

Visit http://BACnetIntlShop.com or click on "Store" from our homepage to shop the latest and greatest BACnet International gear.
Board of Directors Nominations Now Open
Nominations Due Friday, November 18, 2011
BACnet International is accepting nominations for positions on the Board of Directors. Please complete the application
here
if you or someone you know is interested in leadership on the BACnet International Board of Directors.
Connect With Excellence
Congratulations to 2011 Winners:

Alpha Dog - Carl Neilson, Delta Controls
St. Bernard - Michael R Wilson, OEMCtrl
German Shepherd - Joel Bender, Cornell University
German Shepherd - Steve Karg, WattStopper
Labrador - Grant Wichenko, Appin Associates
Rottweiler - Brad Hill, Honeywell
Jack Russell - Ben Dorsey, KMC Controls
Howler - Ken Sinclair, Automated Buildings
Fox Hound - Jack Lee, Airtek
Best in Show - Crate & Barrel project submitted by Carrier
Click here for more information.
Click here for past winners.

Connect With BACnet Community News

News/Product Release
Click here
for more information on Carrier

Multi-purpose BACnet Controller Now Available!
The MPC Open XP controller provides multi-purpose monitoring and control for a variety of HVAC system applications. Flexible and versatile, the MPC Open XP controller supports multiple I/O configurations for accomplishing both common and custom HVAC control strategies. The MPC Open XP controller connects to up to 20 field points directly (8 outputs and 12 inputs), while also supporting up to 3 MPC Open XPIO expanders. Each MPC Open XPIO48 expander adds support for up to 12 additional field points (4 outputs, 8 inputs), while each MPC Open XPIO816 expander controller adds support for up to 24 additional field points (8 outputs, 16 inputs). When combined, the MPC Open XP controller and its associated expanders can support up to 92 total points.
The MPC Open XP controller features native BACnet® communications and plug-and-play connectivity to the Carrier i-Vu® Open Control System. The Carrier i-Vu Open
Control System combines state-of-the-art Carrier equipment, plug-and-play controllers, and the powerful, web-based i-Vu user interface. Together, they form a cohesive, intuitive, and fully-integrated BACnet Building Automation System.
Connect With Education
Facility Decisions 2011 Presentations Now Available

Titles Include:
When Interoperability Isn't
LEED Credits & Controls
Open System Specification Interpretation
BACnet Lighting Integration 101: An Intro to Advanced Lighting Controls
BACnet Operator Workstations: Advanced or Not So Much?
BACnet for Equipment Suppliers
Click here to access

Connect With Events

Grid-Interop - Where the Smart Grid Rubber Meets the

Road to Interoperability

Interoperability - the Smart Grid relies on it. Cyber security, technology compatibility, a dizzying array of systems, applications, and devices - they all need consensus-based interoperability standards to make them work together. Now in it's fifth year Grid-Interop is the only venue that brings together the true cross-section of industry stakeholders necessary to ensure the rapid development and implementation of these Smart Grid interoperability standards. In 2011, our focus is on progress to date - with a real emphasis on demonstrating successful implementations of interoperability.



Click here for more information

Connect With BACnet International Volunteers



Carl Neilson
Project Manager, Delta Controls
BACnet International Steering Committee
BTL Working Group
2011 Leader of the Pack Award Winner!



Why do you volunteer with BACnet International?



I participate in the BTL-WG to help shape the testing and listing process with the aim to make it a comfortable experience for all product manufacturers.
Connect With Opportunity



BACnet International Success Stories

BACnet International Success Stories is a free resource that provides a place to promote your successful projects that use BACnet in order to further knowledge and understanding of the BACnet protocol - essentially, mini case studies. Posters utilize a web form to upload the content, (narratives, photos, etc...) which is then reviewed by editors from BACnet International (primarily for errors) prior to public posting.

Once the BACnet Success Story is posted, it becomes a permanent, linkable record of the successful project.
Further, Success Stories:
Are automatically eligible for additional public recognition via BACnet International's Leader of the Pack Awards
Are featured in Cornerstones - BACnet International's monthly eNewsletter that goes out to 15,000+ members / subscribers
Are candidates for articles in the BACnet International Journal - BACnet International's printed / digital periodical
Click here to submit your company's BACnet Success Story and take advantage of the free press!

New to this process? Don't know what you'll need?
Download the Success Stories Word Document.


Connect in Cornerstones

BACnet International followers benefit from a new electronic monthly publication called Cornerstones. This publication will go to members of the BACnet community, connecting corporate, integrator, site, student and individual end-users (current distribution list over 15,000). Cornerstones is a unique publication in that we speak not only to engineering and contractor communities, but also to the facility professionals, managers, owners and beyond.

This is where you come in. Connect.
If there is a best practice article, company news, product news or BACnet Success Stories you want to share, please send them to us. And don't leave out the photos! All submissions should be sent to info@bacnetinternational.org.