Connect with BACnet International

Platinum Members
Gold Members
Silver Members










Corporate Affiliate Members
Integrator Members
Connect With Success

OPTODEV, Inc.
Manila, Phillipines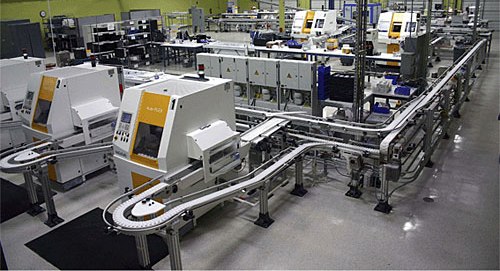 For more than 30 years, OPTODEV Inc., a subsidiary of Essilor International, one of the leading global players in health care, has been a producer of high index ophthalmic lenses and ophthalmic optical equipment for the medical sector. Their plant in metro Manila, Philippines is considered a "Center of Manufacturing Excellence" and mass produces much of Essilor's more notable brands such as Varilux®, Crizal®, and Xperio®.


OPTODEV 's nearly 130,000 sq. ft. plant is categorized as a class 1000 clean room manufacturing facility and comprises a ground floor, mezzanine, and third floor. Goods produced at OPTODEV must be protected from contamination of particles and microorganisms from production to packaging. Therefore, the facility must offer unprecedented systems control and clean indoor air quality (IAQ) to meet strict FDA guidelines and ANSI standards for commercialization abroad.

Click here to read the full Success Story

BACnet Manufacturers: KMC Controls, Siemens, Carrier

Click here to view all BACnet Success Stories, or to submit your company's for publication.


Connect With Excellence
Submissions must be received by September 15

Submissions for the annual Leader of the Pack awards to recognize the achievements of individuals and companies involved in the BACnet community are now being accepted. The award process is intended to allow BACnet International members to recognize and celebrate the hard work, commitment, and accomplishments of their peers. The on-line award submission page will remain open until September 15th at 5pm.

The winners will be announced at an Award Ceremony during the 2011 Facility Decisions Conference & Expo taking place October 11-12 2011 in Las Vegas, NV.

Please click here for more information on the awards or to submit a nomination.

Connect Through Education

November 15-17, 2011
Atlanta, GA

The BACnet International BACnet Testing Laboratories Working Group invites manufactures of BACnet products to attend the 2011 Interoperability Workshop at the Westin Atlanta Perimeter North Hotel in Atlanta, GA. This is the twelfth annual BACnet Interoperability Workshop and is hosted by BACnet International. This event permits vendors to test their BACnet products in a neutral and friendly environment with BACnet devices from other vendors. Last year more than 98 BACnet engineers representing 35 companies attended the workshop and improved their BACnet implementations and testing methods.




Please click here for more information or to register.

Connect Through Events
Members of the BACnet Community have two upcoming events to connect with BACnet International:



Click here for more information or to register.





Facility Decisions
Visit us in booth 420, and be sure to check out the
free workshops
.
Click here for more information or to register.
Connect Through Events
BACnet International to Make A Splash At Facility Decisions In October
BACnet International will be
making a major splash in the desert this October when it once again partners with the Facility Decisions Conference and Expo, October 11-12 at the Mirage Events Center. BACnet protocol will be featured in the Facility Decisions conference sessions and in the exhibit hall. In addition, the 2011 BACnet International Awards will be presented at Facility Decisions.
BACnet is hosting an educational track at Facility Decisions. Nine educational sessions, hand selected by the BACnet International Association will offered for free during the two days of the show. Among the free sessions will be:
BACnet for Equipment Suppliers
LEED Credits and Controls
BACnet Fundamentals 101
BACnet Lighting Integration 101: An Introduction to Advanced Lighting Controls
BACnet Puts the M in EMS
"These sessions will help facility managers better understand BACnet protocol, - whether they're new to the technology or current users - and determine how it can help them increase the efficiency of their building systems, including heating, ventilating, and air-conditioning, lighting, access control, and fire detection," said Wendy Dietzler Director of Education, for Facility Decisions.
In addition to the free educational sessions, the Facility Decisions expo hall will include a BACnet International Product Pavilion with exhibits from a number of BACnet members showcasing their products and services. The 2011 BACnet International awards will be presented in the exhibit hall on October 11 at the close of the show day.
BACnet International members are entitled to several special benefits at Facility Decisions Conference and Expo including:
Free access to the conference and exhibit hall
Free access to Facility Decisions educational sessions

including BACnet-specific sessions
Free attendance at the opening night reception
Discounts on exhibit space in the BACnet International Product Pavilion
Discounts on rooms at the Mirage Hotel
BACnet members interested in exhibiting at Facility Decisions should visit: http://www.faciltydecisions.com or contact Debbie Hanamann at debbie.hanamann@tradepress.com or 414-228-7701 ext 305..
Connect Through Events
Globally recognized as the must-attend Smart Grid gathering, GridWeek is the only event that attracts the complete diversity of global Smart Grid stakeholders to explore Smart Grid's impact on the economy, utility infrastructure, consumers and the environment. Planned by a representative committee of 14 industry stakeholder groups, GridWeek's agenda is focused on the most pressing industry topics.
Described as the "best overall subject matter conference," providing "an extraordinary range of perspectives," gathering "all key Smart Grid stakeholders," and having "the best speakers and forward-looking content," the fifth annual GridWeek conference commences Sept. 12 in Washington, D.C., and promises the most internationally focused, utility-rich content to date.
Click here for more information.
Click here to register
Use code ETMPNJ to receive discounted registration for BACnet International members and friends.
Connect With BACnet Community News

News/Product Releases
Click here
for more information on Alerton
Alerton Building Suite 3 Includes Energy Dashboard and More; Supports LEED, Green Initiatives
Redmond, WA (August 31, 2011)-Building automation pioneer Alerton (www.alerton.com) today launched Alerton Building Suite 3, providing building owners with a solution that creates energy awareness of their LEED and other green initiatives for any building. The third major release of its flagship front-end software for building automation systems and energy management, Alerton Building Suite 3 combines Alerton's proven Envision for BACtalk(R) and WEBtalk(TM) software as well as the engineering tools VisualLogic(R) and BACtalk Builder. The release includes enhancements to BACtalk Builder and VisualLogic, as well as improved reporting capabilities, a new software licensing platform and an optional energy dashboard with configuration tools.
"With a touchscreen or in kiosk mode, the Alerton Energy Dashboard draws a building owner, their tenants and visitors right to the heart of the building's operations with its customizable, interactive displays," said Phil Smith, product manager for Alerton Building Suite. "Building owners can quickly update and maintain the dashboard with only minimal instruction, and use it to support their efforts to increase energy efficiency, including providing up-to-the minute information about the building's energy use and even raising awareness of a tenant's own energy consumption and demand."
Alerton Building Suite 3 combines the power of both Envision for BACtalk and WEBtalk, providing a comprehensive building management solution that is scalable to any application. The Alerton Energy Dashboard enables up to 150 simultaneous users to view live, real-time building data at a glance, providing them with information about the building's efforts in LEED and green initiatives. Building owners can define a variety of dashboard data to display, including information from as many as 50 buildings, with views of consumable resources such as electricity, gas, oil, water and more. Users may also configure the dashboard to show web-integrated weather and forecast data, green facts, building directory information, campus maps, real-time traffic, advertising and other facility-specific information.
Taking advantage of all the latest features of Visio(R) 2010, VisualLogic 3 enhances the fastest programming tool in the market. Increased reporting capabilities in Alerton Building Suite 3 enable users to instantly generate and print a number of new setup and commissioning reports and also drop in custom reports. These reports can be instantly printed and exported in multiple formats to meet a user's unique reporting and data mining needs.
For more information about Alerton Building Suite 3, contact your local Alerton dealer at http://www.alerton.com/s/Dealer_Locator.
Alerton's Wireless Version of VLD-362 Pinpoints Energy Savings with Occupancy-based Sensing
Redmond, WA (September 6, 2011)-Building automation pioneer Alerton (alerton.com) today debuted a wireless version of its VisualLogic® Display (VLD), a fully programmable VisualLogic controller with built-in humidity and temperature sensors and configurable touchscreen display. The VLD-362W (wireless) features an integrated wireless receiver that communicates to different combinations of sensors for occupancy sensing and detecting whether doors and/or windows are open or closed. The embedded wireless receiver in the VLD-362W enables owners to efficiently install and set up room sensors that help detect energy loss-even potential security breaches-through open doors and windows. Like the original VLD, the VLD-362W includes built-in temperature and humidity sensors, 3 additional universal inputs, 6 relay outputs and 2 analog outputs; it also includes 11 preloaded, pre-configured DDC applications for out-of-the-box use. The wireless receiver supports and communicates with up to eight door/window sensors and up to three PIR sensors per VLD for occupancy sensing. The VLD-362W controller is ideal for any project that requires a less invasive device that provides energy-saving, occupancy-based HVAC control with completely programmable DDC logic.
"Besides saving wiring time and costs, the wireless VLD gives building owners the flexibility to place passive infrared (PIR) sensors anywhere they want for the best coverage of the monitored space," said Kevin Clinger, product manager for the VLD. "The preloaded applications that come with the VLD enable out-of-the-box setup, energy savings and occupancy-based sensing."

VLD controllers communicate over an MS/TP LAN so it operates as a fully functioning BACnet controller and easily integrates with the building automation system. The VLD-362W integrates seamlessly with the Alerton system and is an especially ideal solution to tie in portable school classrooms or to control hotel rooms, where the VLD-362W can interface with the hotel reservation system. The powerful VLD can also operate as a stand-alone device and provides modes of operation that enable users to program control strategies based on occupancy or schedules.

VLDs are ideally suited for specific and common applications such as hotel, class and conference rooms, and are the perfect solution for any installation that would benefit from energy savings, occupancy- based setbacks. Applications include monitoring a balcony's sliding door and mini-bar door in a hotel, school classrooms with multiple doors and operable windows. Any room used for only a part of its scheduled day can benefit from occupancy control-this includes conference rooms, portable classrooms or a school gymnasium.

In addition, as many states revise their standard building codes with more stringent energy standards-such as those found in California's Title 24, the California Building Standards Code-Alerton's VLD-362W enables customers to comply with increasingly adopted occupancy-based sensing mandates.

The VLD is available through authorized Alerton dealers. For product ordering and technical information, contact your local Alerton dealer, call Alerton at 425.869.8400 or visit www.alerton.com.
About Alerton
Founded in 1981, Alerton (http://www.alerton.com) is a leading manufacturer and pioneer of building automation systems for heating, ventilation and air conditioning (HVAC) equipment. Alerton advanced the industry in 1996 with its introduction of Alerton BACtalk, the first product line based on BACnet(R), the building industry's standard for open system interoperability. Since then, Alerton has continued to debut innovative energy management products including the VLCA-1688 advanced application controller and the award-winning VisualLogic Display (VLD) sensor-controller combination. Alerton products are found in thousands of structures, including high-rise office buildings, government facilities, university campuses, airports, hotels, school districts and hospitals around the world. BACnet is a trademark of the American Society of Heating, Refrigeration and Air-Conditioning Engineers (ASHRAE, http://www.ashrae.org); BACtalk and Alerton are trademarks of Honeywell International (NYSE: HON). All other product names used herein are property of their respective owners.
Visit us in Booth 519 at Facility Decisions
Conference & Expo!


Facility D
ecisions is a trade show and educational conference geared towards individuals who are involved in managing, operating, or maintaining a facility. This year's show will be held on October 11-12, 2011 at The Mirage Events Center in Las Vegas, NV. As a single-source provider for complete system solutions, Carrier Controls is excited to be exhibiting again this year! Visit us in booth 519 to see the i-Vu® Open Control System, which combines state-of-the-art Carrier equipment, plug-and-play controllers, and the powerful web-based i-Vu user interface to form a cohesive, intuitive, and fully integrated BACnet® Building Automation System.
Click here for more information on KMC Controls
KMC FlexStat Now Offers CO2 Sensing
The popular FlexStat product line from KMC Controls has now been augmented with CO2 sensing. This integrated BACnet Advanced Application Controller and sensor has previously been available with temperature, humidity, and occupancy (motion) sensing. CO2 sensing makes the device ideal for demand control ventilation and other green building applications. In fact, two CO2 options are available. (1) A patented, self-calibrating logic has been certified compliant with California Title 24, Section 121(c) for zones with periodic unoccupied times. (2) An optional dual-channel sensor is appropriate for zones with continuous occupancy.

All models of FlexStat carry menu-driven built-in programming for common applications. A diversity of input and output options round out the inherent flexibility of this aptly named device. Learn more at www.kmccontrols.com.

Click here for more information on Trend Control Systems
Trend's IQeco Product Family Expands

Redmond, WA (September 1, 2011)-Trend Control Systems USA (www.trend-americas.com) today debuted several new products into the Trend IQeco Product Family. Released today were updated versions of the IQeco39, IQecoVAV P and IQecoVAV P A controllers and three new IQeco controller variants: IQeco31, IQeco35 and IQeco38. Also included in this debut is the release of the RD-WMB, a room display sensor that displays room temperature, fan speed, occupancy and much more. The IQeco system release includes a version updated to 963 Supervisor, Trend's intuitive, real-time user interface for the BMS that enables users to monitor equipment or building services and change the way the building is controller through the 963 graphical displays.
The first version of IQeco39, IQecoVAV P and IQecoVAV P A controllers were released at the end of 2010. However, due to the ability of these controllers to cost effectively pick up point count for any sized installation, a need arose for more flexibility, more options for point counts, and a room display. Trend's answer to the need was updated versions of the original IQeco39, IQecoVAV P and VAV P A and the release of the IQeco31, IQeco35 and IQeco38 controllers giving a range in total I/O from 10 to 14 allowing for multiple pieces of building equipment to run and operate from a single, centralized system: 963 Supervisor.
"The new IQeco variants make it possible for our Trend Technology Centers to find the perfect solution for any building based on point combinations," said Todd Cowles, Director of Sales-Americas. "Having options in I/O count gives building owners choice as well as financial savings by being able to choose exactly what's needed for their building."
The IQeco family of products is a low-cost, IQ system-compatible solution that rounds out Trend's BACnet product line. Variance in I/O gives more options and flexibility for a building and the total cost of a project. The variance broadens the applications and allows for a more centralized and efficient Building Energy Management System.
All Trend products are available through authorized Trend Technology Centers (TTCs). For product order and technical information, contact your local TTC, call Trend at 425.897.3900 or visit www.trend-americas.com.
About Trend Control Systems
For more than 30 years, Trend Control Systems www.trend-americas.com has offered reliable, easy-to-use products that support the life of any building and reduce life-cycle costs. With a worldwide distribution and support network in more than 50 countries, Trend Control Systems solutions easily integrate into other building systems, including lighting, fire and security/access. Trend Control Systems products include a complete line of fully programmable controllers containing both onboard web technologies and the standard BACnet protocol. For more information, visit www.trend-americas.com
Connect Globally
3rd BACnet Middle East Journal: Call for Ads and Articles
The upcoming issue will be distributed at the Big 5 Dubai in November and also to building automation experts in Saudi Arabia, the Emirates, Kuwait, Qatar, Oman, Libya, Egypt, Israel, India and Pakistan.
BACnet Middle East Journal promotes your company and your BACnet devices in the region of the BACnet Interest Group Middle East and supports the further extension and development of the BACnet standard.
BACnet solutions in the Middle East will be highlighted in Dubai at the BIG 5. Great BACnet devices and great communication opportunities! Be a part of the third BACnet Middle East Journal!
Advertising
Advertising orders due: September 15th.
Deadline for artwork: October 6, 2011.
Articles
Reports on all BACnet reference projects and products are very welcome.
Applications for articles due: September 15th, 2011
Editorial deadline for articles: October 6th, 2011
Acceptable articles are:
Field reports from planners, consultancies, system integrators and end users (please keep in mind the persuasive power of such articles)
BACnet reference projects
BACnet product reports,
Technical reports (for the "BACnet insight" technical column),
General BACnet reports (BACnet developments, comparison of systems, integration efforts, training, etc.),
Contributions to BACnet news, BACnet events, the BACnet calendar and BACnet publications,
Contributions about BACnet events and publications by individual companies.
For more information, please contact:
Petra Piel
Editor
america@maamerica@mardirect.de
BACnet China Journal: Call for Articles
Notification of articles is requested by September 16th, 2011.
Editorial deadline for articles is September 28th, 2011.
Deadline for advertisement order is September 16th, 2011.
The BACnet China Journal will be published in Chinese and appear just in time for the BACnet Forum Hong Kong (http://www.bacnetforum.org/HongKong) that is taking place on November 10th, 2011. This is a good chance for the presentation of your BACnet technology and to advertise your products in the BACnet China Journal.
It will continue with the dissemination of BACnet knowledge in China and will again be a cornerstone of your business in the growing building automation market.
It will be distributed to the BACnet users in China - such as planers, specifiers, project manager, installers, facility managers and building engineers.
Articles on your BACnet reference project and/or your BACnet product presentation! More proposed subjects are technology and engineering reports, company introductions and news on BACnet in China.
For more information, please contact:
Rong Yan
Marketing and Press Officer
Connect With BACnet International Volunteers

Kara Veach
Marketing Communications Specialist
Trend Control Systems
BACnet International Marketing Committee
kara.veach@trendcontrols.com
Why I Volunteer with BACnet International
Volunteering with BACnet International keeps Trend Control Systems in the forefront of trends in building automation systems. Staying in close contact with industry peers is a great way to promote both BACnet and Trend.
Connect With Opportunity



BACnet International Success Stories

BACnet International Success Stories is a free resource that provides a place to promote your successful projects that use BACnet in order to further knowledge and understanding of the BACnet protocol - essentially, mini case studies. Posters utilize a web form to upload the content, (narratives, photos, etc...) which is then reviewed by editors from BACnet International (primarily for errors) prior to public posting.

Once the BACnet Success Story is posted, it becomes a permanent, linkable record of the successful project.
Further, Success Stories:
Are automatically eligible for additional public recognition via BACnet International's Leader of the Pack Awards
Are featured in Cornerstones - BACnet International's monthly eNewsletter that goes out to 15,000+ members / subscribers
Are candidates for articles in the BACnet International Journal - BACnet International's printed / digital periodical
Click here to submit your company's BACnet Success Story and take advantage of the free press!

New to this process? Don't know what you'll need?
Download the Success Stories Word Document.


Connect in Cornerstones

BACnet International followers benefit from a new electronic monthly publication called Cornerstones. This publication will go to members of the BACnet community, connecting corporate, integrator, site, student and individual end-users (current distribution list over 15,000). Cornerstones is a unique publication in that we speak not only to engineering and contractor communities, but also to the facility professionals, managers, owners and beyond.

This is where you come in. Connect.
If there is a best practice article, company news, product news or BACnet Success Stories you want to share, please send them to us. And don't leave out the photos! All submissions should be sent to info@bacnetinternational.org.