Connect

With Members
Base Controls
Energy Control Services
Group 4 Technology Limited
Industrial Technology Research Institute
Strategic Equity Associates
T.E.C. Systems
Vacon Pic
Wheelock
For more information on our current members, please
For information on becoming a member, please
Connect

to Enhance Learning
Slide Decks Now Available for AHR Expo 2011 Education Sessions!
Sessions Included:
BACnet 101
BACnet/Z: The First Complete Standard For Wireless Automation BACnet Intl.
BACnet Puts the "M" in EMS BACnet Intl.
BACnet to the Rescue: Interoperability Saves a Troubled LEED Project BACnet Intl.
Energy Standards and Energy Efficiency with BACnet BACnet Intl.
Click here to view presentations available for download.
Connect

to Enhance Learning
Second Volume of the BACnet International Journal Now Available
Click here to download.
Connect

to Enhance Learning
Call for Presentations:
Facility Decisions 2011
We're looking for standouts in the industry to participate in the BACnet International education track at Facility Decisions 2011. If you have a presentation (or an idea for a presentation!) in which you can share your expertise with the facility managers from across settings- commercial, government, medical, industrial and educational buildings. Help create quality content to educate about the latest trends and emerging best practices.
If you are interested in being a presenter, please e-mail sarah@bacnetinternational.org by March 20, 2011 with your session title and summary/learning objectives.
Connect

With Success
Loyola University

Chicago, Illinois
,

United States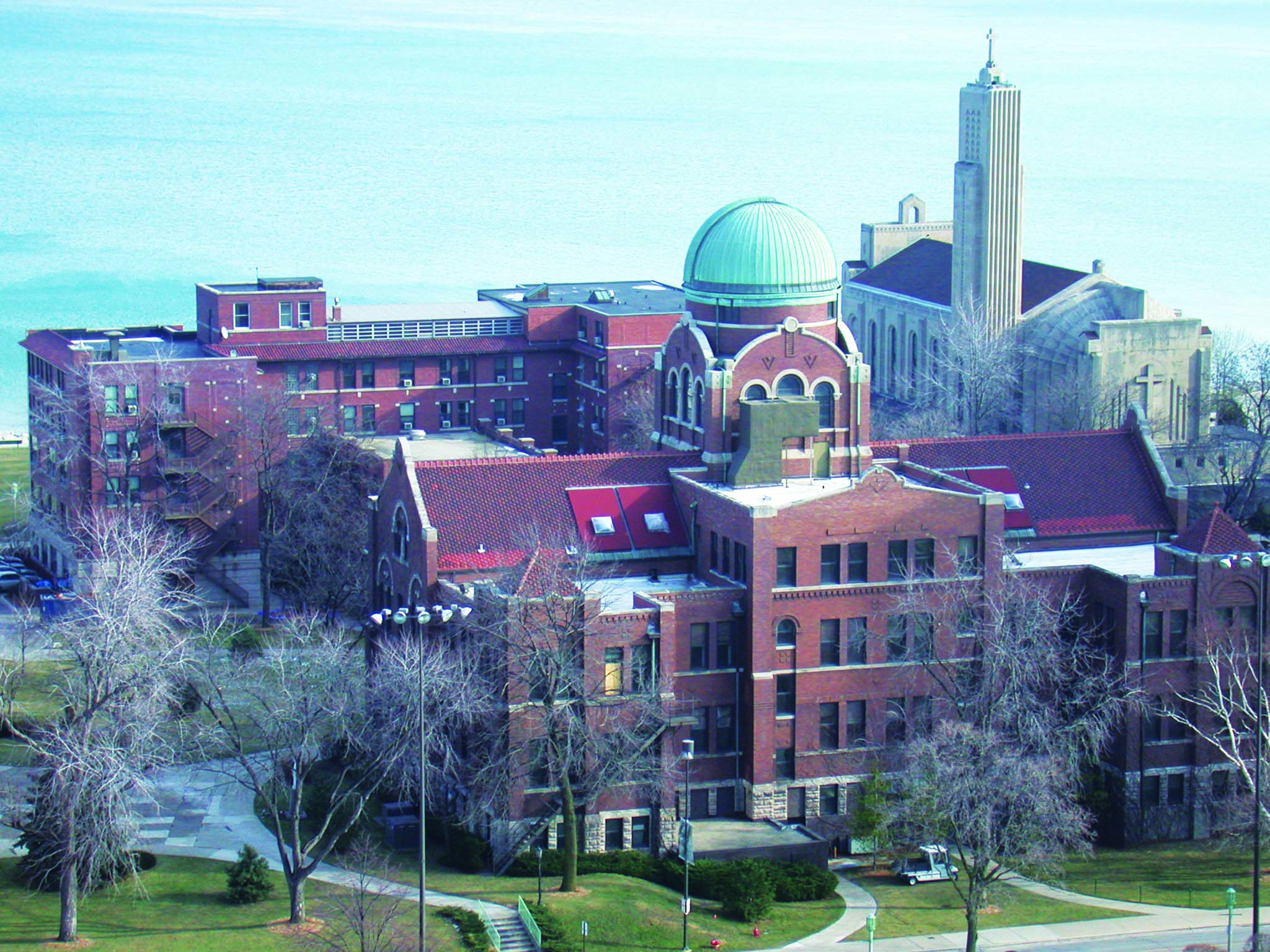 Unique problems to solve: The Loyola campus is more than 100 years old and as such they have just about every type and variation of HVAC on campus, many of which were aging or failing. With 44 buildings spread over 100 acres, the university faced excessive energy operating costs and poor comfort control in many buildings, especially in the summer. In addition to energy and maintenance efficiencies, the management team was looking to establish control system standards with an easy-to-use graphical interface.
Click here to read about the system solution and results.
Connect

Through Events - AHR Expo

Thank you fo
r joining us in Las Vegas in the BACnet
I
nternational booth at AHR Expo January 31 - February 2! Twelve BACnet companies participated in
interoperability displays that educated, informed, and inspired.


Also popular was the BACnet International Education Track. Five sessions allowed for learning on a variety of topics, from BACnet fundamentals to wireless automation to energy efficiency. To download the presentations (no log in required), please click
here
.



This year's expo utilized two exhibit halls at the Las Vegas Convention Center and welcomed over 20,000 exhibitors and over 34,000 attendees.
Connect

Through Events - NFMT
Join us at NFMT March 15 - 17 in Baltimore, Maryland! Visit the BACnet International booth at #1383, or check out one of the four education sessions on Wednesday, March 16. Click here for more information.

Connect

With BACnet Community News
News Releases
Automated Logic's EnergyReports™ is an incredibly flexible, easy-to-use reporting tool that enables facility managers to produce a wide variety of reports showing a building's energy consumption and demand data. With just a glance at a color graph, managers can analyze building performance, compare different time periods, and troubleshoot potential problem areas. EnergyReports gives facility managers a powerful tool to minimize energy consumption, maximize comfort, and achieve sustainable operations.
Automated Logic designs, manufactures and delivers innovative automation solutions primarily for heating, ventilating, air conditioning, lighting and energy management of buildings. Its systems are installed in commercial, educational, industrial, data center, healthcare, government, hospitality, entertainment and retail locations worldwide. For more information, visit
The OEMCtrl Unitary Protocol Converter (UPC) is designed as a small to medium size protocol translation unit. The UPC has four DIP switch selectable protocols, BACnet, Modbus, N2 and LonWorks. It has three communication ports and is capable of accepting customer proprietary protocols.
OEMCtrl offers hardware optimized for HVACRL manufacturers providing them programmable controllers that are protocol agnostic and prepared for building automation system integration or fully stand-alone operation. OEMCtrl also provides a suite of software tools that empowers manufactures to add intelligence to their equipment ensuring optimal installed operation, factory efficiency, remote support capability and enhanced field serviceability.
For more information: http://www.OEMCtrl.com
MACH-ProWeb - Honorable Mention
The AHR Expo and its co-sponsors, ASHRAE and AHRI, recently recognized the MACH-ProWeb™ with an Honorable Mention designation in the Building Automation Category of the 2011 AHR Expo Innovation Awards Competition. A panel of industry professionals, selected for their knowledge and expertise in HVACR, found the MACH-ProWeb™ to be worthy of this industry-coveted recognition.
Publish your building automation system to the Web quickly and easily with the Reliable Controls® MACH-ProWeb™, a fully programmable BACnet Building Controller (B-BC) with a built-in Web server and operator interface. The MACH-ProWeb™ is designed to meet and exceed the requirements of a BACnet Operator Workstation (B-OWS).
Learn about the Reliable Controls® MACH-ProWeb @ http://www.reliablecontrols.com/MPWS/
View all the AHR Innovation Award winners @ http://www.ahrexpo.com/forvisitors/innovation_awards.php
Connect

Globally
BACnet Interest Group Europe Certified by CIBSE
Building Services Engineers go for ISO 16484-5 at BACnet Forum London
London/Dortmund, February 8th, 2011. - The Chartered Institution of Building Services Engineers (CIBSE) confirmed the BACnet Interest Group Europe (BIG-EU) as a course provider for continuing professional development (CPD). CIBSE assessors have recognized the quality of BACnet Forums and trainings offered by the BIG-EU. The first independent BACnet Forum in UK will be held on April 13th in London. Experts and users from America and Europe will present the key factors of successful interoperability within building management systems.
BACnet refers to the "data communication protocol for building automation and control networks." It is a non-proprietary open protocol communication standard (ISO 16484-5) developed by building management and building facilities service engineers, system users and manufacturers. The one day London Forum will appeal to those involved in the design, manufacture, commissioning, operation and maintenance of buildings. It will explore the key functions of BACnet and how to increase the value of properties with BACnet.
Comprehensive information can be obtained from the CIBSE directory of CPD courses here.
Open Building Automation Forum in London
UK reaches out for BACnet
The intelligent building market in the UK reaches out for BACnet. A unique independent BACnet Forum takes place in London on April 13th. The BACnet Interest Group Europe (BIG-EU) will meet the growing demand for the capabilities of the ISO standard 16484-5 in terms of green buildings, system integration and retrofitting. Partners are the Chartered Institution of Building Services Engineers (CIBSE) and the Building Controls Industry Association (BCIA).
The forum has the goal of "Increasing the Value of Properties with BACnet". Best practices in the United Kingdom and abroad will be reported. The future positioning of the standard, including details on the latest updates, will round out the program together with an exhibition of the newest controllers and workstations that provide open communication.
Comprehensive information about the BACnet Forum London can be obtained here.
Connect

With Opportunity

To be truly green, a building must address the issues of energy performance and indoor air quality. On both counts, effective controls are an essential tool for facility executives. But to maximize performance in both areas, the control systems must be capable of pulling together the diverse systems in a building. This article will highlight the benefits that BACnet-based systems offer facility executives who are planning and managing green buildings. Topics will include:

Role of controls in green building design and operation
Green benefits of interoperability
BACnet and LEED
Click here
for more details.
Connect

With BACnet International Volunteers
Brad Hill
BACnet International Board of Directors
Global Technical Manager - Honeywell International

Brad Hill is working in Switzerland as a Global Technical Manager for Honeywell's Automation and Control Solutions business group, where he presides over software development projects. He joined Honeywell in 1990 where he was involved in the design and programming of complex integrated control solutions for large projects. He began involvement with BACnet in 1996 through the need to integrate BACnet devices into BMS systems. In 1999, he progressed onto product development activities which included the development of a BACnet Operator Workstation, where he acquired a deep knowledge of the BACnet standard, after which time he then continued on to lead Building Management product developments. He holds an MBA, BCompSc (Hons), DipElecEng, and is a certified Six Sigma Black Belt and Project Management Professional®.
Connect in Cornerstones

BACnet International Monthly Publication

BACnet International followers benefit from a new electronic monthly publication called

Cornerstones

. This publication will go to members of the BACnet community, connecting corporate, integrator, site, student and individual end-users (current distribution list over 15,000).

Cornerstones

is a unique publication in that we speak not only to engineering and contractor communities, but also to the facility professionals, managers, owners and beyond.



This is where you come in.
Connect.
If there is a best practice article, company news, product news or BACnet Success Stories you want to share, please send them to us. And don't leave out the photos! All submissions should be sent to info@bacnetinternational.org.