Connect

With Members
Corporate Affiliate Members
Integrator Members
Control Technologies, Inc

SITE Members
Base Controls
Energy Control Services
Group 4 Technology Limited
Industrial Technology Research Institute
Strategic Equity Associates
T.E.C. Systems
Vacon Pic
Wheelock
For more information on our current members, please
click here
.
For information on becoming a member, please
click here
.
From the BACnet International family to yours, have a peaceful, happy, and healthy holiday season.
Connect

to Enhance Learning
Blue Ridge
Contin
ues Leadership
White Paper Reveals Opportuni
ty for BACnet Control Contractors
Lighting control has traditionally been delivered to customers by electrical contractors as specified through Divisions 16 or 26 by the MEP firm employed by the owner. However, as energy costs increase and green building and sustainability needs grow the adequacy of this delivery mechanism falls short.
Increasing energy costs and green regulatory demands are driving more sophisticated and integrated lighting energy management solutions. Simple on/off control is no longer enough, and integration between various building systems is required to meet these energy cost and regulatory demands.
This shift to integrated lighting control creates an opportunity for BACnet control contractors, and Blue Ridge has addressed this by creating a new white paper that shares the best practices that many Blue Ridge customers have followed to success. If you ever wondered or asked, "How do I get started with integrated lighting control?" this document is for you.


Integrated Lighting Control Steps to Success

Connect

With Success
Wachovia Bank Building

Tampa, Florida, United States

The 2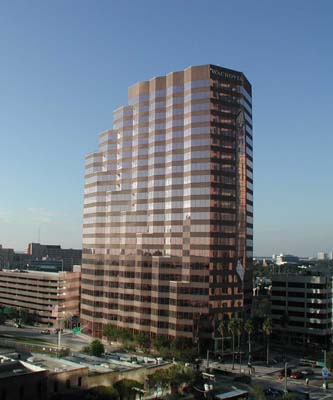 2-story, 387,000 sq. ft. high rise at 100 South Ashley Drive is known as one of the friendliest and most easily accessible buildings in Tampa, Florida. Built in 1984, the Wachovia Bank Building changed Tampa's definition of Class A office space as dramatically as it altered the skyline. In the ensuing years, amenity enhancements ensured that the financial center truly reflected comfort, convenience, and service in the heart of downtown Tampa's central business district.
Unfortunately, the building management system had not kept pace with the today's energy-intensive needs and complex indoor environmental concerns. With this in mind, owners of the Wachovia Bank Building looked to ABC Controls, a local energy-management firm and a KMC Controls authorized representative, to assess and retrofit their existing computer-controlled building automation system.
Click here to read more.
Connect

Through Events

Visit BACnet I
nternational and participating members at booth N5056. Twelve BACnet companies will be participating in
interoperability displays that will educate, inform, and inspire.
Also, visit one (or all!) of the BACnet International Education sessions. More information on sessions can be found
here
.
See you in Las Vegas!
Connect

With Opportunity

To be truly green, a building must address the issues of energy performance and indoor air quality. On both counts, effective controls are an essential tool for facility executives. But to maximize performance in both areas, the control systems must be capable of pulling together the diverse systems in a building. This article will highlight the benefits that BACnet-based systems offer facility executives who are planning and managing green buildings. Topics will include:

Role of controls in green building design and operation
Green benefits of interoperability
BACnet and LEED
Click here
for more details.
Connect

With BACnet Community News
News Releases


Managed Switches Provide the Required Cable Redundancy for UK's Tallest Building
Contemporary Controls' managed compact switch, the EICP8M, provides the cable redundancy required by Cylon Controls' Ethernet-based building automation system in the United Kingdom's tallest skyscraper - Canary Wharf Tower. A hundred EICP8M switches are wir
ed in a ring topology to ensure that a single cable br
eak would not impact communication.
Because standard Ethernet switches wired in a ring can cause endless loop transmissions, Contemporary Con
trols' managed switches utilize RapidRing technology, which protects against a loop while invoking a backup connection when a cable segment is broken. The changeover is very fast, thereby maintaining the integrity of the building automation system.
Read the full story here.
Connect

Globally
ISH Frankfurt
After the successful BACnet booth at the light+building in Frankfurt, Germany comes the preparation for the growing ISH Frankfurt. The leading trade fair for building systems engineering and services, including bath technology takes place at Messe Frankfurt from 15 to 19 March, 2011. The BIG-EU will again be represented with a joint booth. Since its first presence at ISH in 2007, the BIG-EU also sees growing opportunities here along with light+building. The increasing number of exhibitors at the BACnet joint booth in 2009 also demonstrates this. Contact: info@big-eu.org
Connect in Cornerstones

BACnet International Monthly Publication

BACnet International followers benefit from a new electronic monthly publication called

Cornerstones

. This publication will go to members of the BACnet community, connecting corporate, integrator, site, student and individual end-users (current distribution list over 15,000).

Cornerstones

is a unique publication in that we speak not only to engineering and contractor communities, but also to the facility professionals, managers, owners and beyond.



This is where you come in.
Connect.
If there is a best practice article, company news, product news or BACnet Success Stories you want to share, please send them to us. And don't leave out the photos! All submissions should be sent to info@bacnetinternational.org.