Please forward this newsletter to a friend. If you are not on our mailing list and want to continue receiving updates from ACCA, please



How You Can Support ACCA



Catalogue for Philanthropy


(Click above to make an online donation.)


Combined Federal Campaign
CFC #58934
United Way
#8058
Contact Information
Mailing Address
7200 Columbia Pike
Annandale, VA 22003


Information
703-256-0100


Emergency
Assistance
(Fairfax County)
703-222-0880


Donations


(except furniture)
703-256-0100


Furniture Donations
703-256-9513
Email
accacares@verizon.net
ACCA Website
www.accacares.org
ACCA Members

Annandale United Methodist

Calvary Church of the Nazarene

Church of Jesus Christ of Latter-Day Saints (LDS

Cornerstone Evangelical Free

Culmore United Methodist

First Christian

First Presbyterian

Friendship United Methodist

Gracia United Methodist

Hope Lutheran

Immanuel United Methodist

John Calvin Presbyterian

Lincolnia Methodist

Mt. Pleasant Baptist

Peace Lutheran

Providence Presbyterian

Queen of the Apostles Catholic

Ravenworth Baptist

Sleepy Hollow United Methodist

St. Alban's Episopal

St. Anthony's Catholic

St. Barnabas Episcopal

St. Michael's Catholic

St. Paul's Episcopal

United Baptist

Warner Baptist
Next Meeting

Tuesday, June 7
7:30 pm
Braddock Baptist Church
Open to all, visitors
welcome!


ACCA's Mission
The Annandale Christian Community for Action (ACCA), is a non-profit coaltion of 26 Annandale-area churches which has been helping the needy in our community for more than 33 years. To learn more about ACCA, visit our website at www.accacares.org.
Serving the Lord with hammers, paint brushes and weed whackers



ACCA coordinated the work of 30 volunteers from
John Calvin Presbyterian, Ravensworth Baptist, Providence Presbyterian, and St. Anthony and
Queen of Apostles Roman Catholic churches who repaired a house in Annandale on April 30. The site captains were Jim Stewart and Brad Moffett.

At the same time, volunteers from St. Barnabas Episcopal, Annandale United Methodist, and the Annandale stake of Latter Day Saints worked on a Falls Church site, led by Ken Mittelholtz, Frank Spink, and John Clarke. Volunteers from Lincolnia United Methodist church prepared a delicious lunch for the workers.

One of the lucky homeowners, Penny Timbers, wrote to ACCA to express her appreciation saying, "I am thrilled - thrilled - with my shiny, new-looking home. Thank you and your team from the bottom of my heart. The generosity of every one of these volunteers has changed my life and moved me deeply. I shall never forget this."

ACCA says "Thanks," to all who supported this cause through their efforts or contributions. In the 22 years that ACCA has participated in the national Rebuilding Together program, our volunteers have rehabilitated 109 houses, contributed 32,000 hours of labor, and raised more than $180,000. The program rehabilitates homes for low-income homeowners, including seniors and disabled persons, and also assists nonprofits who operate group homes.
Frank Spink, Camille Mittelholtz, homeowner Penny Timbers and Supervisor Penny Gross. Photo: Tim Loeffler
Volunteers repairing a screen porch and replacing a shed door are, from left, Richard Snow, Ken Mittelholtz, Scott Cannon, Rudy Meekins and Peter Badger.
Photo: Beverly Merchant
A new handrail built by volunteers Jim Lewis, Rene Sagcal, and Homer Christensen will improve safety and access. Photo: Melanie Sagcal
Shelter House honors ACCA
"I am pleased to inform you that ACCA has been selected ... to receive the Shelter House 30th Anniversary Champion Award," wrote Angela Suarez, Shelter House Director of Development. "This award is in appreciation of your high level of service and commitment to preventing and ending homelessness and to those fleeing domestic violence." Marie Monsen and Don Di Spirito will accept the award on behalf of ACCA at the Shelter House 30th Anniversary Gala Awards Reception on May 21. Shelter House provides temporary emergency housing and supportive services to homeless families in Fairfax County.
Show support - join the parade!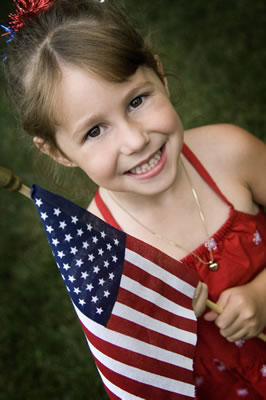 ACCA receives significant funding from the United Way for the Child Development Center and the Family Emergency Assistance ministries. You can say "Thank you!" by marching with the City of Falls Church Memorial Day Parade and Festival on May 30. Email Mary Lee Di Spirito, if you are willing to march for about an hour, beginning at 2 pm.
Grant funding provides new beds
ACCA's Furniture ministry welcomed a second grant
of $2,500 from Transurban/Fluor, the company managing construction of Hot Lanes on the Beltway and I-95. The money went toward the purchase of single mattresses and box springs, enabling delivery to 40 needy families on the waiting list.
Child Development Center

The Cinco de Mayo fundraiser held at Fuddruckers to benefit ACCA's Child Development Center (CDC), was a big success! Many thanks to all who publicized, participated, and made this happen. Mark your calendars for next year: the CDC staff has already booked Fuddruckers for Cinco de Mayo 2012.

Mr. Mauricio Paz of Capital One Bank has been elected to the Child Development Center Board. He will participate in the ongoing strategic planning effort led by Dr. Kaminitzer of George Mason University. Geneva Pope has agreed to serve one more year as CDC Board Chair. Pope was elected by her peers and endorsed by the ACCA, Inc. Board, for her strong leadership during a period of extraordinary change and challenge.

ACCA responds to family emergencies

Last month, ACCA provided utility assistance to a single mother, who has been unable to work for more than a year because of the effects of brain surgery. Over the course of the past year, the client's home was foreclosed; she now rents a room from the home's new owner. The utility bill had to be paid before it could be transferred to the new owner.

Another client had both physical and mental health problems. Her income from Social Security Disability Insurance was mistakenly cut off. She and her case manager are appealing for reinstatement. ACCA provided her with rental assistance until the appeal is resolved. A total of 124 clients were given Family Emergency Assistance totaling $16,267.

The National Association of Letter Carriers pitched in to help ACCA stamp out hunger in the Annandale area. The annual post office food drive took place on May 14.
The groceries collected will supply the ACCA pantry for the next several
months. In April, the pantry had 69 deliveries, assisting 235 individuals. Food donations can be left at any ACCA member church or dropped off at the Child Development Center
'Not to be served, but to serve'
Peg Frank, ACCA coordinator for Meals on Wheels,
reported that 770 meals were delivered during the
month of April.
An anonymous contributor has said, "I deliver meals
to people who are elderly or disabled. The meals I
deliver are prepared by volunteers, and I am humbled by
the selflessness and determination of these people.
"Many show the slow, painful movements of age and injury. Some would probably qualify to receive these home-delivered meals themselves! They would draw no criticism if they chose the comfort of their own living
rooms over the demands of unpaid labor. But they choose 'not to be served but to serve,' and in so doing, they reflect the presence and love of Christ Jesus.
"I am reminded that growing older does not mean we must abandon our purpose in life. With God's grace, we can continue to serve one another."
Keep that furniture moving
In the past month, ACCA volunteers completed 72 pickups and deliveries to benefit needy families. The 33 households served included 27 with children, 12 with mentally or physically disabled members, and 5 with persons over 55.

Participating churches were St. Michael's Roman Catholic, Immanuel United Methodist, Latter Day Saints, St. Alban's Episcopal, Cornerstone Evangelical, and St. Barnabas Episcopal.
Transportation
The Transportation ministry provided 30 rides to 19 clients during April.