Upcoming Events
Be sure and check out our
Calendar
for upcoming events!
Pre-Op Chats - Preparing for your hysterectomy
- Feb 11, 2010
- Feb 25, 2010



You are invited to our special event:



Round Table Discussion
Exploring your Options for your Hysterectomy


Feb 4, 2010
- Sponsor:
da Vinci® Hysterectomy
Managing Menopause
It should come as no surprise that smoking contributes to heart disease. Did you also know that smoking can also prompt an early menopause, making hot flashes and other menopause symptoms worse?

Make an appointment with your doctor to create a plan to stop smoking. Your health depends on it.

Recommended Product
Sleep in cool comfort with our Cool Zone pillow utilizing a special technology to keep you comfortable all night long. Our temperature regulating pillow is able to absorb, store, and release excess heat in your cooling pillow when you need it most so you're not too hot, not too cold but just right!
Cool Zone Pillow
By joining
this
email list, you will receive our monthly "HysterSisters Checking In" email. It does not automatically register you as a HysterSisters member.
Feature: Heart Healthy Choices

Greetings!

I headed to a friend's house with just an address plugged into my little GPS "Magellen" a.k.a. "Maggie". Maggie not only provided a map for me to follow, "she" provided step-by-step instructions for me to get to my destination.

It reminded me of the days when my friend might have said: "Here's my address. Go down about 2 miles and turn right at the third, no, fourth stop light. We are down on the left about halfway down the block."

She also might have said: "Just ask someone along the way how to find us."

I might have gotten to my friend's birthday party in time, but I just have easily might have ended up somewhere else or given up and gone home. Thank goodness for Maggie's detailed help!

When it comes to getting healthy, I need to be purposeful. It won't happen without a plan. I need detailed, step-by-step instructions. A specific goal requires detailed steps to attain it.

And then after I have my detailed plan, I need to DO IT.

Plan: Add weight-bearing exercise to my day for cardiovascular health, weight control and bone density health.

How: Walk - 30 minutes a day.

Details: Put on my shoes, jacket, grab iPod® and keep my date with myself at 3 p.m. every day for a total of 1.5 miles.

What is

your

plan?

Feature: Heart Healthy Choices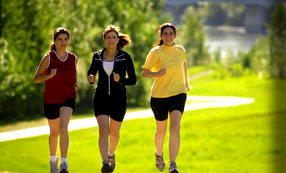 Take action:
Get the Facts - Make Your Plan

Do you need to be told that inactivity is a major risk factor for heart disease in women to get you off the couch to make a plan? Swimming, cycling, jogging, dancing, skiing, skating and walking are great choices for heart healthy activities.

Perhaps you need a structured exercise class at the local club to be motivated. Perhaps you are easily motivated by the ease of a brisk walk 30 minutes daily.

Read Entire Article at HysterSisters.com.

Tips to Plan for Exercise Success



If you've been inactive for a while, are overweight or have a high risk of heart disease, see your doctor for a medical examination before you begin any physical activity program.

Choose a variety of activities that you like. This helps to make sure your physical activity does not become boring.

Choose a convenient time and place for your physical activities. Stick to your schedule.

Listen to music or an audio book to add to your personal enjoyment.

Read more tips for exercise success

From the Forums: Hysteritaville - Fitness

Anyone Try the Wii Fit?



"Does anybody use the Wii Fit to keep in shape?? We haven't had it very long and I like the games, but to me it's just like going to the gym and I don't wanna do it.

I need motivation.....maybe we can motivate each other."

Join this discussion about Exercise Plans
More Good Stuff
Come make a plan with me at HysterSisters.com forums - in Hysteritaville - for a healthier you and then let's DO IT. Come walk purposefully into better health!

Blessings galore,


Kathy Kelley
HysterSisters