Whatever else you have on your mind,
Wherever else you think you're going,
Stop for a moment and
look where you are:

You Have Arrived!
---
I believe in you.
You deserve to be healthy.
You deserve to be kind to yourself.
You deserve to achieve your greatest level of success with weight loss surgery when you harness your inner resources.
--

Kaye Bailey
5 Day Pouch Test Owner's Manual
---
No-Guilt Dessert:
All American
Strawberry Clouds
This festive recipe is easy to prepare and pretty to present. Take advantage of fresh seasonal berries for the best flavor and health promoting nutrients.

Ingredients:
1/2 cup crispy chow mein noodles
1 cup white chocolate chips
1 cup non-dairy whipped topping, fat-free, thawed
1 teaspoon vanilla extract
1 cup (6 ounces) blueberries
3 cups (about 1 pound) stemmed sliced strawberries

Directions:
Line 12 muffin cups with paper baking cups. Place about 2 teaspoons chow mein noodles into each baking cup. Melt chocolate according to package directions; spoon about 1 tablespoon into each cup to cover noodles. Refrigerate at least 1 hour to set. In a chilled bowl, fold together non-dairy topping and vanilla. Gently fold in blueberries. Spoon an equal amount of blueberry-whipped topping mixture into each cup. Top with sliced strawberries; serve immediately.

Serves 12. Per serving: 119 calories, 2 grams protein, 5 grams fat, 8 grams carbohydrate.
LivingAfterWLS Dessert Recipes
---
Better than an app:
Track your weight management with the highly recommended "Ultimate Pocket Diet Journal" - Convenient & User Friendly Tool. Available:
---
---
Perseverance & Determination
Celebrate Your Journey
People often say that motivation doesn't last. Well, neither does bathing - that's why we
recommend it daily.
~Zig Zigler
The Greater the obstacle, the more glory in overcoming it.
~Moliere - French Playwright
When the world says, 'Give up,' hope whispers, 'Try it one more time.'
~ Unknown
Make Your Summer One to Remember ---
For all the right reasons!
Link to some informative and timely articles that will improve your summer and support your LivingAfterWLS lifestyle:

Following bariatric surgery for weight loss patients are instructed in the Four Rules of weight loss surgery; the second of which is drink lots of water. This rule is of particular importance during the warm summer months when perspiration and elimination cause greater water losses and the potential for dehydration increases. To avoid dehydration and illness caused by insufficient water balance weight loss surgery patients can take several measures to insure adequate water intake.

Prevent Dumping Syndrome
Summer is a time to celebrate warm weather, sunshine, good friends and good times - often with food and drink. But for people with weight loss surgery celebrations bring the potential for a dietary crisis called dumping syndrome that has the potential to ruin a day of good old fashioned summer time fun.

Emergency First Aid ForDumping Syndrome
For patients of gastric bypass surgery an episode of dumping syndrome or rapid gastric emptying is physically dramatic and lifestyle disruptive. Prior to surgery patients are instructed to avoid sweet processed carbohydrates, greasy fried food and all simple carbs in order to avoid dumping syndrome. Inevitably, patients will at some point experience the symptoms of dumping after eating food that is too quickly absorbed in the small intestine. Learn what to do in the event of a gastric dumping episode.

Budget Tips For Eating Healthy
After gastric bypass, gastric banding or gastric sleeve weight loss surgery we know we must follow a healthy high protein diet in order to lose weight and maintain weight loss. In these economic times it is natural to be concerned about the cost of a specialized diet. Follow these helpful tips to sustain your weight loss surgery diet without breaking the bank.

Better Health through Walking
Walking is the best form of exercise you can have to obtain better health and a fitter you and it will cost you nothing. It is a form of exercise which can be taken up by anyone regardless of age or physical condition providing you start off sensibly, as with all forms of exercise you are not used to doing.
The Nurse Warned Me,
But I Gained Some Weight Back Anyway


"Dear Kaye,
Thank you for the Day 6 book. I guess I am one of "those people" - had the surgery and lost and then it came back, the weight. My WLS nurse warned me I could regain the weight and I didn't take her serious or maybe I thought I was more determined than everybody else or smarter or something. I wish I had asked her what would cause me to gain the weight back. I'm not sure that back in 2007 I ever heard of slider foods or liquid rules or anything like that. I just knew WLS was the answer for me. So now I'm up 48 pounds and want to stop it before it gets to 50 pounds and all of the sudden another 50 and I'll be back where I started. Thanks for explaining so many things in the Day 6 book. I wish I read this book before I even had the surgery, maybe I wouldn't be one of "those people" or at least not a 48-pound-regain one of those people.

This is the first time I have hope since the re-gain started.

Kelly MarcaNorthern Ohio
"
Printed with Permission.

Because we are all "One of those people" who have or could regain our weight.

Day 6 by Kaye Bailey


Tomato, Basil
and Feta Salad
This is a basic tomato salad that is quite tasty. Other seasonal vegetables may be added such as steamed asparagus tips or green beans, sliced mushrooms or avocados. For a full meal serve with grilled shrimp or chicken. Delicious and Healthy!

Salad:
5 medium tomatoes, thinly sliced
1 medium red onion, thinly sliced
1 (6ounce) package crumbled feta cheese with dried basil and tomato
1 (2 1/4 ounce) can sliced ripe olives, drained

Dressing:
1/2 cup olive oil
1/4 cup red wine vinegar
2 tablespoons chopped fresh basil

Fresh basil Leaves for garnish

Directions: Shortly before serving arrange the tomatoes and onion slices on a large serving platter. Top with the feta cheese and olives.
In a jar with a tight fitting lid, combine the oil, vinegar and basil; shake well. Drizzle over salad. Garnish with fresh basil leaves and serve with a slotted spoon.
Serves 8. Per serving: 209 calories, 4 grams protein, 19 grams fat (5 saturated) 7 grams carbohydrate and 1 gram fiber.
Icy Tomato Granita - A Refreshing Summer Snack

Summer is prime time for enjoying sweet tomatoes plucked fresh from the vine. For the person managing their weight with a bariatric surgical procedure such as gastric bypass or adjustable gastric band (lap-band) tomatoes can provide a sweet treat full of nutrients and vitamins without the guilt associated with other sweet indulgences. Tomatoes, which are mostly water, are low in calories and low-glycemic. That means that even with all their sunshine sweet goodness they will not affect blood glucose levels the way processed sweets do.

Consider this: one cup of raw tomatoes provides 38 calories, 2 grams protein, 8 grams carbohydrate, 2 grams fiber and over 50% daily value Vitamin C, 22% daily value Vitamin A, and 13% daily value potassium. A large study confirmed that men who ate lots of tomato products had a greatly reduced risk of prostate cancer; the researches theorized that the lycopene in the tomatoes might be the protective factor.
During the warm summer months tomatoes are inexpensive and widely available freshly picked at roadside farm stands and community farmers markets. Look for a wide range of fresh varieties that include heirlooms, cherries, plums, and beefsteak tomatoes.

Choose tomatoes that are heavy for their size, evenly colored and unblemished. Even unripe they should be more pink than green.
Tomatoes should be kept for only a few days, stored at room temperature out on the counter. Wash under cool running water to remove dirt and debris. Tomatoes that are not fully ripe may be stored in a paper bag at room temperature which will promote ripening, but check often to avoid spoilage.

For a refreshing and surprisingly sweet treat use fresh ripe tomatoes to create this Tomato Granita ice dessert that has no added sugar but is full of sweet vine-ripened tomato flavor. It is easy to prepare and elegant to serve.



Tomato Granita

Ingredients:
1 pound beefsteak tomatoes, chopped
2 Tablespoons raspberry vinegar
1 teaspoon olive oil
1/4 teaspoon salt

Directions:
Place chopped tomatoes, raspberry vinegar, olive oil, and salt in a blender and puree until smooth. Pour the tomato puree through a fine sieve into an 8-inch square glass or ceramic baking dish, discard the strained solids. Place, uncovered, in the freezer, for two hours, stirring occasionally until smooth and firm. To serve, scrape the mixture with a fork to form snow-cone like ice crystals. Measure 1/2 cup servings and enjoy for a snack or dessert as part of your healthy weight loss surgery diet. A 1/2 cup serving of Tomato Granita provides 17 calories, 1 gram protein and 3 grams carbohydrate.

Article Source: Icy Tomato Granita
LivingAfterWLS Digest
Summer Living-Having a Post-WLS Blast!
Play Fair, Play Smart, Have Fun!
May 30, 2012
LivingAfterWLS, LLC - All Rights Reserved
Greetings!
This week Americans marked the unofficial start of summer with the Memorial Day holiday. And it seems Mother Nature was ahead of schedule as much of the country recorded above normal hot temperatures. As the pattern goes for those of us recovering from morbid obesity with surgery, many of us will be spending more time out-of-doors in pursuit of health and activity that obesity had made difficult. With that in mind this week's LivingAfterWLS Digest takes a look at ways to make sure our summer activities are health promoting. We certainly didn't come this far in our weight loss to be sidelined with a food-borne illness or a heat related health crisis. So please, take a few moments to review these common sense articles full of great tips and advice for making our summer living fun!

I've also pulled out a few of my favorite summer recipes that are light and tasty making the most of fresh seasonal ingredients. I hope you will enjoy them.


Happy Summer - We are all in this together!
Kaye
KayeBailey@LivingAfterWLS.com
---
You are our valued reader. We respect your rights and privacy by never sharing your information with a third party. Please respect our creative rights by honoring copyright laws and prevent plagiarism.
Save 15%

Customer Top Rated

Lasting Success Book Bundle


Put the Power of the Pouch in your hands with Kaye Bailey's two best selling books plus the highly effective Ultimate Pocket Diet Journal. Our customer favorite Lasting Success Book Bundle includes The 5 Day Pouch Test Owner's Manual (2008); Day 6: Beyond the 5 Day Pouch Test (2009); and The Ultimate Pocket Diet Journal (by Alex Lluch 2006). 600 pages of inspiration, motivation, empowerment & know-how to get you on track with WLS and keep you there! Great recipes, inspiring hints and proven secrets! Spoken in Kaye's compelling voice of compassion and "You Can Do This" spirit. Great bundle ensuring your lasting success with Weight Loss Surgery.

List Price: $65.95
Bargain Bundle Price: $56.95 - Save $9.00


Save even more! Coupon code SPRING2012 takes $3 off your order at checkout!

Quick Tips:

Staying Active in Hot Weather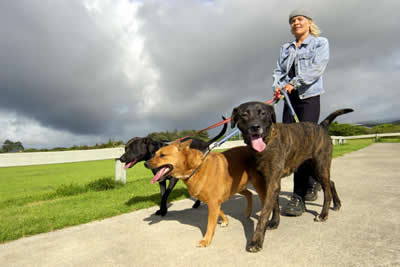 Summer is a great time for being active. Even if you live where it gets hot or humid, there are ways you can stay in shape year-round. But make sure to take precautions when you are active outside.

Be safe in the heat

If the temperature is lower than 80°F (27°C), you usually can be active outside without taking extra precautions. It depends on how active you already are and how used to hot weather you are.

But anytime you exercise, it's a good idea to take these normal precautions:
Drink plenty of water.
This is very important when it's hot out and when you do intense exercise.
Don't exercise as hard when it's hot.
Take rest breaks. Exercise more slowly than usual or for a shorter time.
Stay in the shade
when you can.
Avoid exercising during the hottest times of the day
.
Wear light-colored
, breathable clothes.
Watch for signs of heat exhaustion
, such as nausea, dizziness, cramps, and headache. If you notice any signs, stop your activity right away, cool off, and drink fluids.
When the temperature gets above 80°F (27°C), consider the heat and the humidity. Both can put you at risk for heat-related illness. The hotter or more humid it is, the higher your risk. For example, if the humidity is 60% (moderate):
Be careful when you exercise in temperatures of 80°F (27°C) to 85°F (29°C). Find shade, take regular breaks, and drink plenty of fluids.
Experts advise being extremely careful between about 85°F (29°C) and 91°F (32.8°C).
Conditions are considered extremely dangerous at temperatures over 91°F (32.8°C).
When it is more humid, you should be careful at even lower temperatures. Higher humidity can make it feel hotter, since your body cannot cool off as well by sweating. This puts you at a greater risk for illness. For more information, see the Web site www.nws.noaa.gov and search for "heat index."
Older adults and children are at a higher risk for heat-related illness and should be extra cautious. Remind children to drink plenty of fluids before, during, and after activity.
If you are overweight, have health problems, take medicines, or use alcohol, you may be at a higher risk for heat-related illness. You may also have trouble if you're not used to exercising in warmer weather.
Boost electrolytes with Emergen-C
In hot weather, drink plenty of fluids before, during, and after activity. Water or sports drinks are best. This helps to prevent dehydration and heat-related illness. Water is all you need if you are exercising for less than an hour. For longer exercise periods, sports drinks contain carbohydrate and minerals called electrolytes that may help your endurance and keep you from getting muscle cramps.
Get Help!
Call 911 or other emergency services immediately if you have stopped sweating or have other signs of heatstroke, such as a fast heart rate, passing out, high body temperature, feeling confused, or having no energy. Heatstroke is very dangerous.
Outdoors
When it's hot or humid, be active during the cooler times of day. Find shaded areas, like parks with big trees, and drink plenty of fluids. You have less chance of getting too hot if you do lighter exercise, like walking. Be sure to wear sunscreen.
Take morning or evening walks. Walking the dog or walking with a partner helps you make it part of your routine.
Go for a bike ride. Find shaded areas, and ride during cooler times of day.
Go swimming on hot days. This is a healthy family activity for summer.
Do light yard work or gardening. You'll burn calories while you keep the yard looking good.
Wash your car. This gets you outside and helps you burn calories. Give yourself a splash to stay cool.
Indoors
Go for walks at the mall. To count your steps, buy a pedometer from a sporting goods store. You can set walking goals to help you stay motivated.
Use light weights or stretch bands at home. You'll stay fit while you watch TV or listen to music. Lift cans of food if you don't want to buy weights.
Buy or rent an exercise DVD, or borrow one from the library. You can stay in shape while you stay cool indoors.
Go dancing or take dance lessons. Or just turn on some music and dance in your living room. This gets you moving so you burn calories.
Do indoor housework like dusting, vacuuming, or washing the windows. This helps you stay active while you keep your home looking good.
On trips, stay at hotels with fitness centers or swimming pools. Make time for a workout. Take a jump rope to use in your room.
Join a gym or health club. You can take classes or use machines, like treadmills, stair-climbers, or stationary bikes. Many cities have community centers that offer affordable fitness classes. If you have health problems, ask your doctor before you use machines or take classes.
Join sports programs in your community or at work. Many cities offer indoor sports like basketball, volleyball, and soccer.
Shared with permission from WebMD Medical Reference from Healthwise: Staying Active in Summer
Save $3




Code:


LivingAfterWLS General Store

Quality products to support your WLS healthy life.

Details: Save $3.00 off any order of $29.00 or more.
Food Safety in the
Great Outdoors
Printed with permission from WebMD.


Don't let food poisoning spoil your next outing. Following a few simple rules will keep your outdoor meal memorable for the right reasons.
By Jennifer Warner

Nothing's better than a great meal savored in the great outdoors, but nothing's worse than spoiling a picnic or camping trip with a bad case of food poisoning. By following a few simple food safety tips you can enjoy the fruits of the season without paying the price with an upset stomach, nausea, or diarrhea.

Experts say food poisoning peaks in the summer months for two reasons. The first reason is natural, because bacteria grow fastest in warm, humid weather. And the second is due to how people eat during warm weather -- outside at picnics, barbeques, and camping trips and away from the safer confines of the kitchen and home.

Most people rarely get sick from contaminated foods because their immune systems are strong enough to protect them. But when harmful bacteria multiply beyond safe limits due to unsafe food handling or lack of refrigeration, that's when food poisoning strikes. When the immune system is impaired by sickness, age, or other factors, food poisoning is also more likely.

Keep it Hot or Cold
The number one rule of summer food safety to remember is "what's hot stays hot, what's cold stays cold." Bacteria do not grow as quickly at temperatures below 40 degrees Fahrenheit or above 140 degrees Fahrenheit. The temperature range in between is known as the danger zone in which bacteria can reach hazardous levels within two hours.
Since hauling an oven on your back to your next outing isn't practical, experts say it's a lot easier to keep things cold away from home in a cooler or ice chest rather than hot. Unless you have a heat source, it's virtually impossible to keep foods over 140 degrees for extended periods of time.
If you want to bring cooked items to eat outside, such as meats and poultry, you should cook them first at home, pack them in ice, and then reheat them on the grill or camping stove at your destination.

Keep it Clean
The second rule of thumb to remember for outdoor food safety is to "keep it clean." That applies to food and the person handling it. Keep raw meat juices from leaking onto other foods by double-wrapping the meat and placing it near the bottom of the cooler surrounded by plenty of ice.
Find out in advance if there will be running water or soap available at your dining destination. If not, bring soap and water with you or a good supply of disposable wipes. Wash your hands before handling foods and keep serving platters and utensils clean and free of cross-contamination from other foods.

The Mayonnaise Myth
Perhaps no other food is quite as infamous at picnics for triggering food poisoning at a picnic than mayonnaise. But according to Bessie Berry, manager of the USDA's meat and poultry hotline, "Mayo's gotten a bad rap."
"It's not mayonnaise itself that's bad," Berry tells WebMD. "It's what people do to mayo that makes it go bad. People dip dirty utensils in it at home and then make dips out of it and take it to a picnic where people double-dip with their veggies. Each time you contaminate it, the mayo can only handle a certain level before the bacteria reaches dangerous levels."

Berry says mayonnaise is fairly acidic, which makes for an inhospitable environment for bacteria, and actually may protect many foods from going bad. She recommends starting off with a fresh jar of mayonnaise and only using clean utensils in it if you plan to make that mayonnaise-rich potato salad or deviled eggs for a picnic. Then pack the foods in plenty of ice to keep it cold, and perhaps even serve deviled eggs on a platter lined with ice.

Do's and Don'ts of Outdoor Food Safety
When deciding what to bring on a picnic or camping trip, keep in mind how you'll transport the food (on your back or in a car) and plan accordingly. Here are some summer food safety tips to keep your food free of dangerous bacteria and reduce the risk of food poisoning:

Do:
Bring plenty of ice to keep perishables cold. Wash hands frequently when handling food or bring lots of sanitizing wipes if soap and water aren't available.
Bring along a meat thermometer to make sure meats and poultry are cooked to a safe internal temperature (hamburgers must be cooked to 160 degrees, chicken breasts to 170 degrees, and dark meat chicken to 180 degrees).
Put leftovers back into an ice chest immediately after eating.
Put freshly caught fish on ice immediately after cleaning.

Don't:
Don't put food out until people are ready to sit down and eat, and not a moment before.
Don't leave food out for longer than two hours when the temperature's under 90 degrees or more than an hour when the temperature climbs over 90.
Don't partially cook foods at home to finish at the site. Either cook foods fully then refrigerate them or cook them completely from the raw state. Partially cooked foods are breeding grounds for bacteria.
Don't eat any nuts, berries, mushrooms, or other items in the wild that you don't recognize.
---
12 for price of 10!
Final Days:


Buy 10 - Get 12 Servings
Safely Slim Stimulant Free Fat Loss Shake provides 20g protein per serving. Ten (10) Serving Bundle: Five (5) Vanilla Ice Cream; Five (5) Double Rich Chocolate. Convenient single serving packets provide 20g protein, 10g dietary fiber, 110 calories.
$17.95 for 12 Servings ($1.50 per meal replacement serving)
Sale ends May 31.
Shop all protein supplements
- LivingAfterWLS General Store
Feta Chicken Salad
Refreshing Summer Fare For Healthy Diets
Cooked chicken tossed with fresh vegetables and dressing topped with pungent feta cheese and served over mixed salad greens is an excellent way to enjoy a healthy high protein meal full of flavor and nutrients. Use left-over roast chicken from a previous meal or take advantage of deli rotisserie chicken being careful to remove all skin and bones.

Look for fresh feta cheese in the chilled deli section of most supermarkets. Originating from Greece feta was made by peasants on the lower Balkan peninsula from sheep or goats milk. Feta is salted and cured in a brine solution for several months. It is a crumbly cheese and has a slightly grainy texture. Once removed from the brine it dries out rapidly. For many feta is an acquired taste and the aroma of it has been compared to the smell of bad feet.

It has only been since about 2002 that feta cheese became commonly available in the United States. It is used as a table cheese, as well as in salads, pastries and baking. The classic Greek dish, spanakopita, is a phyllo-crusted spinach pie that features feta cheese combined with olive oil and vegetables and baked. The rich flavor and saltiness of feta helps make a little bit of cheese go a long way.

Nutritionally, feta is a good source of protein, riboflavin, vitamin B12, calcium and phosphorus. A wedge-size serving (1.3 ounces) provides 100 calories, 5 grams protein, 8 grams fat and 424mg of sodium. Feta is high in cholesterol and sodium and very high in saturated fat. It may be included as part of a healthy diet when used in moderation.

Feta Chicken Salad

Traditional chicken salad pumped-up with the flavor of feta cheese. This is satisfyingly delicious made with freshly cooked chicken, store-bought rotisserie chicken or canned chicken. Enjoy on a bed of lettuce.
3 cups diced cooked chicken
2 large stalks celery, diced
1 red bell pepper, seeded and diced
1/2 red onion, diced
6 tablespoons mayonnaise
6 tablespoons sour cream
1 (4 ounce) package feta cheese, crumbled
2 teaspoons dried dill weed
1 pinch salt and pepper to taste
6 cups mixed salad greens
In a serving bowl, mix together the chicken, celery, and red onion. In a separate bowl, stir together the mayonnaise, sour cream, feta cheese, and dill. Pour over the chicken mixture, and stir to blend. Taste, and season with salt and pepper as needed. Serve immediately, or refrigerate until serving. Serve over crispy chilled mixed salad greens.
More salad recipes
Thank you for being a loyal Neighbor of LivingAfterWLS. We are proud to serve you in your weight loss surgery journey.
Sincerely,
Kaye Bailey
LivingAfterWLS, LLC
The health content in the LivingAfterWLS website is intended to inform, not prescribe, and is not meant to be a substitute for the advice and care of a qualified health-care professional.