Protest Rally Against NM-Only Cap and Trade
Don't let Governor Richardson push New Mexico off the cliff on his way out!
The New Mexico-only cap and trade proposal submitted by the NM Environmental Department is Governor Richardson's parting shot that will finish off the New Mexico economy by raising energy prices, killing jobs, and chasing business out of the state. The Environmental Improvement Board Hearing begins Monday, September 20th and is expected to run for two weeks.


It is time to have

your

voice heard!
Join us for a

protest rally

against the

New Mexico-only

Cap and Trade!

Staging begins at the State Land Office (310 Old Santa Fe Trail) at 11:00 AM, Monday, September 20th. From there we will walk the two blocks down the road to the old

P.E.R.A.

Building (across from the Roundhouse) and participate in the hearing. Those who can attend are encouraged to stay through the evening to offer public comment which begins at 7:00 PM.

For additional information go to www.EnergyMakesAmericaGreat.org or call

Marita Noon

at

(505) 239-8998



We look forward to seeing you there!
East Mt Tea Party Candidates Forum

Sunday, September 19th
1:00 pm - 3:30 pm
Poll Challenger Training

Poll challengers

and

watchers

are absolutely critical in

this

, and

every

election cycle. We

cannot

allow the election to be stolen because we could not recruit and train enough challengers and watchers!
We are fortunate to offer another very important training session to give us the tools we need to really make a difference. This session is focused on poll challenging.

Poll challengers

have far more power than

poll watchers

to address suspicious activity that may, and probably will, occur during the

November 2nd

election.
This training is extensive and we believe it will serve us well. We're sure you have all heard horror stories related to election fraud. There are many and they are shocking. This is our chance to do something about it!
Please join us for this extremely important training and spread the word to others who might also like to volunteer.
We have no control of the temperature in the building, so it is a good idea to bring a sweater just in case it gets too cold for you! There will be some snacks served at the training, but feel free to bring your own. The snacks went fast at the last training, and they will probably go just as fast at this training! We hope to see you there!
WHEN:

Tuesday, September 21st, 2010
6:00pm - 10:00pm
WHERE:
UNM Law School
Room 2401
1117 Stanford NE
Albuquerque, NM 87131
(directly across from main entrance)
For more information contact:
volunteers@abqteaparty.com
Call For Rally Volunteers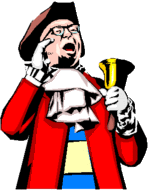 The elections are nearly upon us and we need to Get Out The Vote!

We are having our big rally on September 25th from 1:00 to 4:00 in the afternoon in the vacant lot east of Tel-Star Construction, 4509 Alameda NE. We want to make this rally the biggest and best one yet, and it's time to ask volunteers to step forward and help us make it happen!
This is your chance to get involved and contribute to this important effort. If you can volunteer for the rally, please email volunteers@abqteaparty.com and let us know how you can help.
There's something for everyone, and here is a list where volunteers are most needed:
The Dot Brigade

- This is one of the most fun activities for volunteers. You just go through the crowd and put a dot on anyone that doesn't have one. It's a great way to meet people.
Lady Liberty

- We need three people to dress up as Lady Liberty in one-hour shifts to just walk around the premises and visit with the crowd.
Parking

- If you look hot in

orange

, we have a vest for you. We need a few more people for the parking crew.
Decorating

- If you have a creative flair, the decorating is a lot of fun. We have all the supplies. All that's needed are some people to tape, tack and staple. We may also need some people to help blow up and tie helium balloons and make some balloon bouquets.
Sound and Electrical

- We have a sound and electrical team and just need a couple more people to help get the system up and running.
Flyer Brigade

- We need some energetic people to get out in the days leading up to the rally to get some flyers posted on public utility boxes and light poles. We also need to make sure the flyers are taken down after the rally.
Face Painting

- We need some face painters. We have some simple designs that anyone can do. This would be a good activity for young moms or teenagers who enjoy working with kids.
Carpenters

- We have an excellent band lined up for the rally. We need some carpenters to help build a temporary cover over the stage to protect the equipment during the rally. We are getting the plans together but will need some handy people to get it built.
Mini Rallies

- We will be conducting some mini rallies to advertise the rally. We need some people to stand together at some busy intersections with a banner and signs promoting the rally. The dates for this activity are this Friday, September 17th, and the following Thursday, September 23rd and Friday, September 24th starting at about 4:00 in the afternoon.
Man (or Woman) Power

- On the day of the rally, we will need help setting up canopies, tables and chairs. We will also need some help getting equipment onto and around the stage. Set-up time is 10:00 AM.
Water Station

- We have the workers but need donations of bottled water. We will need lots and lots of water, so please let us know if you can provide some for the rally.
Clean-Up Crew

-

Tea partiers

usually pick up after themselves, but we could use a few people to stay behind after the rally to make sure we leave the premises cleaner than we found it. From past experience, this usually takes less than an hour.
We also are in need of a

flatbed trailer

with a gooseneck hitch, dimensions are approximately 25' long x 8.5' deep and 3' tall.
Remember,

YOU

are the tea party and this is

YOUR

rally! We need as many volunteers as we can get to make this rally a success! Needless to say, cash donations are always needed and appreciated.

Donations can be mailed to:

Albuquerque Tea Party
P.O. Box 25431
Albuquerque, NM 87125


Thank you for your support and help!

Get Out The Vote Rally
You've been with us for our

Tax Day Rallies

and our

4th of July Rally

,
but our upcoming

"Get Out The Vote"

Rally will be the most important one of them all!
Gather your friends, family, neighbors and co-workers, and come get motivated for the most critical election cycle of our lifetimes.
Various fellow

Tea Partiers

will be speaking to you about why they are passionate about the

Albuquerque Tea Party

, the

importance

of this upcoming election, and why we

need

all of the conservatives to

get off the couch and vote!
The current program for the rally is listed below. As with most events, the program and performers are subject to change.



ATP

board member,

Dr. Rick Morlen

, will be the Master of Ceremonies for the rally. Dr. Morlen recently was a guest speaker the

9/12 Rally in St. Louis

!
The Invocation will be led by

Pastor Max Sanchez

.
The Pledge of Allegiance will be led by

Stephen Dinkel

, one of the radio hosts of Framers of the Future which can be heard every Saturday morning at 8am on 1050 KTBL AM, or streamed live at 1050talk.com


Erica J. Cork

will sing our National Anthem.
Another

ATP

board member,

Tina Carson

, will welcome everyone to the rally, and she may even lead us as we all sing "I'm Proud To Be An American"!
The original founder of the Albuquerque Tea Party,

Charlotte Salazar

will give a speech, as well as

Anthony Thornton

,

Marita Noon

of Citizens' Alliance for Responsible Energy and

David Paul

, one of the leaders of our Patriot Action Teams.

There will also be musical entertainment provided by the local band The Hit Squad, and

Sondra Burch

, and of course, what's an ATP rally without Bag-Pipers?

There will be face-painters for the kids, and kids at heart, and fun for the whole family!
Several food and drink vendors have signed up to provide refreshments during the rally, so you'll also have the chance to support local small business people who share your same concerns about our economic situation and status of our great state and nation.
Candidates

from

both parties

in the major

State

and

Federal

races have been invited to present their platform.
As of now, we have received confirmation of attendance by Jon Barela, candidate for New Mexico Congressional District 1, Tom Mullins, candidate for New Mexico Congressional District 3, and Matt Rush, candidate for New Mexico Land Commissioner. They all have very busy campaign schedules, but have made time to stop by and visit all of the Albuquerque Tea Party Supporters. We hope to have more candidates decide to attend and meet with their possible future constituents and find out what matters most to us, the taxpayers!
Our

Patriot Action Team

, along with

voter registrars

will also participate in this important rally!
What:
"Get Out The Vote" Rally
Where:
Telstar Construction
4509 Alameda Blvd NE
Albuquerque, NM 87113
When:
Saturday, September 25th
1 - 4 pm