Air-Oil Systems
~~~~~~~~~~~~~~~~~~~~~~~~~~~~~~~~~~~~~~~~~~~~~~~~

Air-Oil Systems Newsletter

~~~~~~~~~~~~~~~~~~~~~~~~~~~~~~~~~~~~~~~~~~~~~~~
Greetings!
Introducing New Stainless Steel Linear Motors from Linmot
Direct drive - no belts, screws, cams or gears to wear out!
Available as either air or water cooled
AISI 316 and IP69K rated for food, pharmaceutical, applications
Peak motor forces to 195lb (870N)
Complete control on basis of force, speed, trajectory or position
Designed for high pressure washdown using aggressive chemicals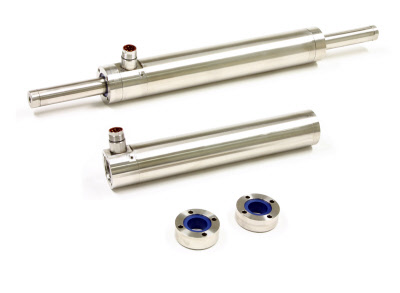 LinMot has announced the introduction of a smaller size stainless steel linear motor to complete their existing line of IP69K rated linear actuators. These linear motors are designed for use in food and pharmaceutical packaging machines and other industrial applications operating in harsh environments.
LinMot linear motors are often used as a replacement for pneumatic cylinders when longer life, control of speed or force or the ability to provide multiple actuator positions are needed. Other unique LinMot advantages include reductions in system complexity allowing more compact machine designs, lower energy use and reduced maintenance costs. Installation of the motor is very simple as the IP69K rated connector is mounted directly on the stainless steel linear motor and only one cable is needed between the linear motor and the servo controller.
High Speed, Long Life, Complete Control Linear Motors
LinMot linear motors are electromagnetic, direct drive devices consisting of two parts, a slider and a stator. Without the use of belts, screws, cams or gears, LinMot linear motors have an expected operating life of up to 2 billion cycles. Now available in standard and stainless options, LinMot motors offer complete control on the basis of force, speed, trajectory and position and an operating range from -40° F to 140° F
Contact us for additional information or a demonstration.
Visit Linmot Booth #650 at the Assembly & Automation Technology Expo
(click on image below to register)