Air-Oil Systems
~~~~~~~~~~~~~~~~~~~~~~~~~~~~~~~~~~~~~~~~~~~~~~~~

Air-Oil Systems Newsletter

~~~~~~~~~~~~~~~~~~~~~~~~~~~~~~~~~~~~~~~~~~~~~~~

Greetings!
Fabco Pancake II
low profile pneumatic cylinders are manufacured to be completely dimensionally interchangeable with Bimba Flat One series with
additional features
, a
lower price
and
two day delivery
.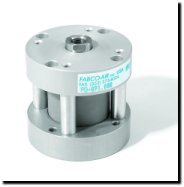 The Composite cylinder barrel offers an extremely smooth, self-lubricating interior surface, high impact resistance, and zero slip-stick. Standard hard chrome plated stainless steel piston rods and a unique, non-metallic duralon rod bearing...Standard.
Put Fabco-Air's products to work for you today.

Contact us

for a demonstration or a quote on other Fabco products.