Air-Oil Systems
AUTOMATION SOLUTIONS
~~~~~~~~~~~~~~~~~~~~~~~~~~~~~~~~~~~~~~~~~~~~~~~~
Air-Oil Systems Newsletter
February 2010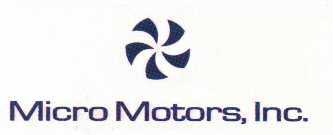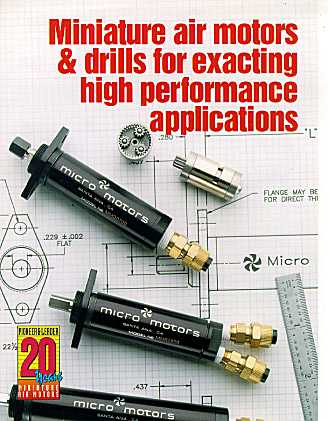 ~~~~~~~~~~~~~~~~~~~~~~~~~~~~~~~~~~~~~~~~~~~~~~~

Greetings!
Micro Motors
has manufactured miniature but powerful air motor for medical, dental, robotic and industrial use for nearly three decades. Today, hundreds of thousands are in use worldwide. Micro Motors are vital components of products produced by original equipment manufacturers, not surprisingly, numerous motors are still at work after nearly 30 years of continuous service.
Contact us
for application assistance
or
Order Online
at wholesale prices with your credit card.
General dimensions and specifications
Micro Motors meet demanding needs of torque and speed.
At only 3/4 of an inch diameter
, these precision motors consume only 4.8 CFM of air at 90 psi, while producing stall
torques from 3.5 in-ozs. to 9 ft-lbs. at free speeds of 50,000 RPM to 1 RPM.
Motors available with either direct drive or internal gearing; gear reductions from 4:1 to 1000:1 are available.
How a miniature air motor benefits a designer or user
* Operates on compressed air, nitrogen, or inert gases at pressures up to 160 PSI.
*Precision air motor of aluminum and stainless steel construction provides reliable power and a long service life.
*Advanced rotor blade design and a highly polished cylinder permit continuous operation.
*Balanced rotor positioned between precision ball bearings virtually eliminates friction and wear.
* Motors remain cool, even when operated under continuous load.
*Repeated stalling*, instant reversing will not harm the motor.
*Spark free operation is suitable for use in contaminated, wet or explosive environments.
*Instant on . . . instant off . . . no wind-up or coasting.
*Hardened planetary gear system provides increased torque transmission capabilities and long life.
*Lower air consumption than larger motors conserves energy.
Need more information?
~~~~~~~~~~~~~~~~~~~~~~~~~~~~~~~~~~~~~~~~~~~~~~~~


Micro Motor Specifications