Greetings!
Introducting the Mini RoboCylinder...another new innovative product from that are
based on a ball screw, lead screw or linear servo for exceptional repeatability and speed.
The Mini ROBO Cylinder comes in a variety of shapes and sizes to meet the needs
of demanding applications. The reduced size makes it the perfect drop in replacement
for pneumatic cylinders. The versatile Mini ROBO Cylinder is the ideal motion control
solution for applications needing precise control and multiple positioning points.
The Mini ROBO Cylinder is also easily programmed for acceleration/deceleration,
push and hold offering easier control than any comparable pneumatic system.
Mini ROBO Cylinder Specifications:

Offered in Slider, Rod, Table and Linear Servo Types
Repeatability: ±0.02 mm
Stroke lengths from 25 mm to 288 mm
Control up to 512 positions
Multiple mounting positions.
a newly developed motor and significantly reduces overall length, width
and height. Systems that could only use air cylinders due to sizing
constraints can now use Mini ROBO Cylinders to improve performance.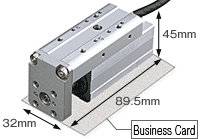 The slider on the body moves back and forth to perform positioning.
Features:
The coupled motor can be changed with ease
The straight type and motor reversed type are available
Mini Rod Type
The rod extends and retracts to perform positioning and push-pull operation.
Features:
The slim and short mini rodtype have significantly reduced overall length
The guide type with a built-in guide for enhanced rigidity and linearity and the non-guided type

Mini Table Type

The table on the body slides to perform positioning.
Features:
The built-in guide allows an overhang load
A compact body with coupled motor, long strokes are available