Air-Oil Systems
~~~~~~~~~~~~~~~~~~~~~~~~~~~~~~~~~~~~~~~~~~~~~~~~
Air-Oil Systems Newsletter

March 2010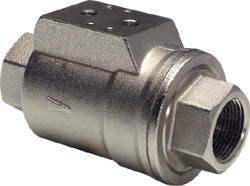 VA Series ON/OFF Valve
~~~~~~~~~~~~~~~~~~~~~~~~~~~~~~~~~~~~~~~~~~~~~~~

Greetings!
The VA Series process valve combines a pneumatic actuator and fast on-off control valve into one body, eliminating packing glands, actuators and mounting kits. There are no exposed moving parts, eliminating pinch points and increasing operator safety. The actuator is part of the valve, and costs are greatly reduced, prices start at only $89 Operating life exceeds 1,000,000 cycles. The internal passages are designed for maximum flow characteristics.
Features & Benefits

Integrated pneumatic actuator
NAMUR solenoid mounting pad
Compact assembly
Fast valve actuation
High Cv (Flow Coefficient)
High Cycle-Life
Competetive price
Complete accessory equipment


Materials

Body - Nickel Plated Brass
Seals - BUNA-N, Viton®, or EPDM

Valve Configurations

Spring Return N.C.
Spring Return N.O.
Double Acting

End Connections

NPT Threaded (3/8" to 2")

Specifications

(Viton Seals)

Max. Temp - 302°F
Max. Pressure - 150 PSIG

Typical Applications

Air Drying Equipment
Pollution Control Equipment
Process Control Applications
Laundry Equipment
Textile Dyeing & Drying
Bottling & Dispensing Equipment
Ink & Paint Dispensing
Industrial Compressors
Need more information?
~~~~~~~~~~~~~~~~~~~~~~~~~~~~~~~~~~~~~~~~~~~~~~~~