Developing, Nurturing
& Supporting Leaders
Mark Your Calendar!



CLP Continuing Education
Pentecost I
Synod of Lincoln Trails
June 4, 2011
Philo, Ill.

Synod Presbyterian Women Gathering
June 10-12, 2011
Rochester, Ind.

PC(USA) Big Tent
June 30 - July 2, 2011
Indianapolis

Covenant Gathering
July 3-8, 2011
Hillsdale, Mich.

Synod of Lincoln Trails Quarterly Meeting
July 29, 2011
Urbana, Ill.

CLP Continuing Education
Pentecost II
Synod of Lincoln Trails
Aug. 20, 2011
Philo, Ill.

Gil Rendle Workshop
Journey in the Wilderness: New Life for Mainline Churches
Public Welcome ($25 Registration)
October 28
Urbana, Ill.

Synod of Lincoln Trails Quarterly Meeting
October 29, 2011
Philo, Ill.

CLP Continuing Education
Advent/Christmas/
Epiphany
Synod of Lincoln Trails
Nov. 5, 2011
Philo, Ill.

Check our website or contact the synod office for details!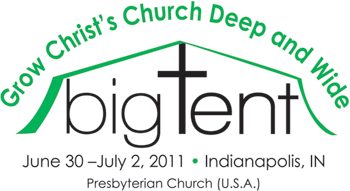 Synod Offers Scholarships to PC(USA) Event
Big Tent is nine great conferences held in one place with joint worship and keynote speakers plus special tracks for children, youth, and young people. Participants can take workshops from any of the conferences. It is not often that something this big is this close. Don't miss it!
Lincoln Trails will award $100 grants
to help defray the cost of attending Big Tent.
Download a Big Tent grant application
Church communicators may apply for a Presbyterian Communicators Network scholarship, which will cover the cost of registration.
Download a PCN scholarship application.
Scholarships are still available even though the deadline has passed, so don't delay!
More about Big Tent

Disciples to the Nations - Preparing for Pentecost


June 4 CLP Workshop is Second in Series

Lay pastors who have received CLP (Commissioned Lay Pastor) training are urged to join us for this examination of Pentecost, preparing for preaching and worship responsibilities during that time. Deadline to register is May 27.

Disciples to the Nations is the second in a series of four workshops presented by the Rev. Dr. Laura Reason, pastor of First Presbyterian Church, Highland, Ind. Dr. Reason is a seven-time teacher of preaching and worship leadership to Synod of Lincoln Trails lay pastors. Workshops are held at Philo (Ill.) Presbyterian Church, just outside Champaign/Urbana. Each workshop is unique; attend just one or all the remaining events.

For more information or to register, click here.




Chicago Seminary Offers Continuing Ed Opportunities
Certificate in Executive Leadership
: designed to equip pastors, church staff and lay leaders to meet challenges of leadership in today's church.
Certificate in Environmental Ministry and Leadership
: provides clergy and lay leaders an opportunity to think deeply and broadly about the growing challenge of environmental ministry.
2012 Allen Lectures
: Professor Emilie Townes will present the 2012 Allen Lecture Monday, Feb. 21, 2012.
More information
Interim Ministers Study Boundaries in Ministry and Church
Association of Trained Intentional Interim Ministers Conference Features Marie Fortune
ATiiM will hold its 20th annual conference Oct. 5-6 at Starved Rock Lodge and Conference Center in Starved Rock State Park, Utica, Ill. Featured speaker will be Marie Fortune, founder of FaithTrust Institute. She has authored a number of books on sexual and physical abuse and a much used video curriculum for boundary training for clergy. She will focus on boundary issues for clergy; clergy resources for dealing with/preventing boundary issues in congregations and clergy resources for post-abuse situations.
Download a conference brochure and registration form


Church Demographics Available Through Synod

MissionInsite provides instant access to community information for churches via the MI System. You'll get desktop, web-based access to demographic data for a variety of geographic levels. Churches and presbyteries who are part of the Synod of Lincoln Trails, have free, unlimited access to MissionInsite. For more about MissionInsite, click here.

MissionInsite has created a new resource for local church users called "StartingPoint." StartingPoint takes an MI user through several action steps designed to familiarize them with several features of the MI System, to assist them in creating their first demographic report and then to go deeper into "mission discovery" for their ministry area. To download a copy of Starting Point, click here.


Seminary Graduates May Be Eligible for Loan Forgiveness



PC(USA)'s Theological Student Loan Forgiveness Program is available to those called to part-time/temporary pastoral positions in PC(USA) congregations of 150 members or fewer. More