Special Trade Fair Hotel Rate!

Adoptive families do not have to avoid travel during this year's Canton Trade Fair. Lotus Travel has arranged for a special discounted rate for families staying in the luxurious 5-star China Hotel Guangzhou (a Marriott hotel) during the Canton Trade Fair. The rate of $120 per night, which includes breakfast for two people, is up to a 60% savings per night over other options! If your Guangzhou travel plans include reservations during April 14 - May 6, 2009, call a Lotus travel advisor at toll-free 1-800-956-8873 or email us at
[email protected]
today!
Visit our website
today to take advantage of this wonderful offer!
Living In Two Cultures Yahoo Group

Please join the yahoo group called "Living In Two Cultures". I created it in response to some question about our family's decision to relocate to China for the next several years. It's a great forum to discuss the differences between living in North America and living in China. Please come over and join the discussion and offer your perspective and contributions as well!
Click here to join this exciting new group.
Asian Culture Corner

(Miao man making paper from mulberry tree fibers)

In this corner of our newsletter we will be focusing on differing aspects of cultural contribution arising out of ancient Asia. We are choosing to initiate this series of articles by focusing on an item near and dear to us all-- paper...The Chinese culture is responsible for many important inventions throughout history, and paper, is probably the most widely used today.


Read the whole article here.

Terracotta Warriors on US Tour



The exhibition "Terracotta Warriors:
Guardians of China's First
Emperor" is about halfway through
their first US tour. They have
already completed their first stop at
the Bowers Museum in Santa Ana,
California and will next be at the
Houston Museum of Natural
Science (www.hmns.org) from May
22-October 18, 2009. They will
then leave Texas and head to the
National Geographic Museum in
Washington, DC
from November 19,
2009 -March 31, 2010.

The exhibit includes twenty of the
life-sized statues as well as 120
other artifacts. The touring soldiers
are all from the 8000 soldiers
buried in 210 B.C. with China's first
emperor, Qin Shi Huang.
Uncovered in 1974 near Xian by
farmers digging a well, these
soldiers are considered to be one
of the greatest archeological
treasures in the world.
For more information (including a
slide show and educational
information) go to
http://www.terracottawarriorexhibit.com/
Solar Eclipse Tour

Coming this summer, an amazing event to the world will occur. There will be a total solar eclipse on July 22, for 6 minutes and 39 seconds. According to NASA, one of the best places to view this eclipse is central China! Starting from Chengdu and heading east towards Shanghai, the eclipse will be visible. The last total solar eclipse visible in the continental US was 1979 and the next one won't be visible in the US until 2017. Your family can visit http://www.mreclipse.com/Special/SEprimer.html to learn about solar and lunar eclipses and the differences between the types of eclipses that can occur (i.e. partial, annular, total).
Or, even better, plan to BE in central China for the total solar eclipse! Our Budget China Homeland Heritage Tour group leaves the U.S. on July 6th for Beijing, Xian, Chengdu, and Guilin. You may leave Guilin for a side trip to your child's orphanage city on July 19th. Then you will travel to the central China area to view the eclipse. You can select from your choice of cities: Chengdu, Chongqing, Wuhan, Hefei, Suzhou, Hangzhou, and Shanghai. All have great opportunities to view the eclipse. Call Louie at 1-800-956-8873 to discuss your family's trip! To view the tour schedule click here.
About Us
Address: 5990 158th Ave SE, Bellevue, WA, 98006
Toll Free: 1-800-956-8873
Phone: 425-679-5598
Fax: 425-679-5149
Email: [email protected]
Website: www.lotustours.net
March Newsletter
Heritage Connections
March 2009
Greetings!
Spring weather is a reminder of renewal for us all, and we have several "new" things to announce here in this newsletter. We have an extraordinarily unique "Solar Eclipse" tour, which should be lots of fun and educational for families. Southern China is considered one of the ideal spots on earth to view this eclipse, which will be the most complete solar eclipse of the 21st century. So, if you want to plan one of the most memorable tours of China of the century, take a look at this special tour!
We also have a new section in our newsletter that focuses on FCC, FCV, and other international adoptive family support groups. It is our goal that through sharing successes and challenges among family support organizations, we can provide a channel for sharing useful ideas.
I am also pleased to share a bit about our personal experiences on our children's schooling in one of the articles in this issue. I trust you will enjoy reading it. Please do drop us a note anytime with feedback that you may have about our newsletter or any travel topics. We always love to hear from the families we support.
Best wishes for a warm and wonderful Spring season!
Lea Xu
Vice President and
Sales and Marketing Director
Living In Two Cultures - Education
Lea Xu and Louie Yi, co-owners of Lotus Travel, moved to Guangzhou, China in 2008 and currently live there during the academic school year, which runs from September to July. This move was motivated by a desire for their children to experience and really "know" Chinese culture and language and to be connected to it in a meaningful way. As most Asian families do, Lea and Louie consider education the most important key to their children's future and are very invested in their children's success educationally. The move to Asia was partially motivated by the desire to provide a more demanding educational experience for their children.
This is an interview excerpt from a discussion between Lea Xu, co-owner of Lotus Travel and Iris Culp, Heritage Tour Programs Director for Lotus Travel. The purpose of this interview was to focus on comparing and contrasting two different educational experiences in China and America.
Click here to read this compelling interview between Lea Xu and Iris Culp.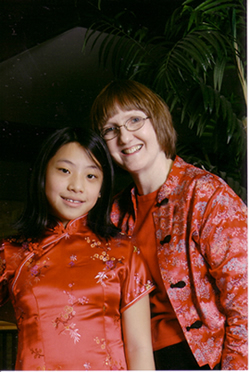 FCC/FCV Corner
As the field of international adoption undergoes change, so do key support organizations, like FCC chapters and other international adoptive family support groups. While people in urban areas often are a part of an international chapter that focuses on their child's birth country, the less densely populated communities often band together with all parents of internationally adopted children in a particular region of the US.
At Lotus Travel, we see the changes and challenges faced by these grass roots organizations as they provide a network of support and services for adoptive families. In that interest, we are beginning a new feature column in this newsletter focused on the work and efforts of various chapters like this around the country.
We interviewed Jessica Gerard,who is president of the International Families of Southwest Missouri group, to see how they have maintained a vibrant and active community.
Read the interview here.
Up Close and Personal Tour
Note: This article is an interview excerpt between Kimberlie Meyer, newsletter editor and Louie Yi, expedition specialist. Questions are noted as KM for Kimberlie Meyer and LY for Louie Yi's answers.
KM: For this new tour, we wanted to take a look "behind the scenes" of how the tour was developed, so I spoke to Louie Yi, our expedition specialist who put this tour together.
KM: Two things are immediately obvious about this tour, 1) The price is great for a homeland trip; and 2) the lodging is at a "Home Inn" motel in every city. What's the story behind the development of this tour?
LY: Well, knowing many families still want to take a homeland trip, even during economically challenging times, so I decided to put together a new option. Instead of the typical homeland trip where you can stay at 4-star or above hotels, I thought about travel for a typical "middle class" Chinese traveler. I personally visited the Home Inn hotel chain and looked at the rooms, checked the beds, and inspected everything. I was very pleased with the cleanliness and the features such as internet. This hotel came out great on all these factors making it a typical place where a Chinese middle class family would stay as a tourist. It is also very popular with the "white collar" business travelers in China. Generally, the average Chinese national cannot afford a 4-star Western style hotel, making the Home Inn chain very popular. The floors are usually wood or other hard surface, and the cleanliness exceeds many American motels or equivalent.


To read more about this exciting new tour, click here.
Tour Openings --Summer 2009
In addition, these tours have limited open spots:

June 25th departs: "

China Heritage Discovery Tour"

Click here: Discovery


July 6 departs: "Budget China Homeland Heritage Tour"

July 23 departs: "

China Heritage Discovery" tour without Chengdu -- Click here: Discovery

Aug. 1 departs: "China Homeland Heritage Tour" with Home Inn arranged in each city.

Hurry to get in on these opportunities --- contact Louie Yi at:

[email protected]