In the Kitchen With Molly

Need a hand in the kitchen? Molly can help.
From planning meals to putting them on the table, feeding a family is a big job. In the Kitchen With Molly is the next best thing to having a personal chef.
This new E-Book contains 12 weeks of menu plans, one for each month of the year, plus shopping lists and printable recipe cards. With the planning done for you, you'll have more time to spend enjoying your family or tackling other projects that need your attention.
And with Molly, the focus is always on frugality. These recipes not only save you time, but they also save you money. Trimming dollars from the grocery bill can add up to a significant difference in the family budget, and having meals planned means you'll eat out less often. That's good for your wallet and your waistline.
Half Off!
Don't forget that you can get the Penny Pinchin' Mama e-book for 50% off this week! If you're having trouble making ends meet or you just need a little inspiration, you'll be sure to find it in Jill's story of making ends meet in difficult financial circumstances. Be sure to grab your copy at 50% off today!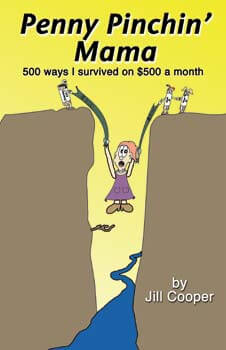 Wanting to start a home-based business for yourself or your teen but not sure who to trust? You will find legitimate and trusted resources and guidance at Christian Home Business Connection.


Sign up for the Christian Home Business Connection FREE weekly newsletter and get valuable home business information.
Has winter left you waning?
Does your budget need a boost?
What's for dinner, anyway?
What keeps your abode bright, beautiful, and bouncing along?
Relax, rejuvenate, and get real! Each month take the wonderful opportunity to learn along with Molly (and her special guests and experts) and make the most of your time and money.
Molly's Money-Saving Digest February 2010

Order this past Digest today by clicking HERE.
Molly Makes $7 Slow Cooker Suppers ~ Quick and Easy

140 deliciously simple recipes --
140 wonderful ways to feed your family!

Our daily lives often seem to run on overdrive. Too frequently a healthy, home-cooked meal is one of the things sacrificed. If only you had more time! Okay, maybe you really like to cook and it's worth all the effort it takes. But every day, day in and day out, perhaps two or even three meals a day . . . 14 to 20 meals a week, whew! A homemaker needs a reprieve!


Your blog or business here!


Email me for our affordable rates and advertising options

Greetings!
It's National Grapefruit Month!
Tart and tangy, grapefruit is not only full of flavor but is also packed with nutrition! Grapefruit is full of vitamin C, which boosts immune function, and lycopene which may help deter heart disease and certain types of cancer. It also happens to be low in cholesterol and calories, and just one glass of juice will give you a full serving of fruit!
In this week's newsletter, I'm going to share everything you need to know about grapefruit. You can find out more about this tasty fruit's nutritional benefit's here.
From the Blog


If you didn't make it to the blog this week, head on over to see what you've been missing. If you are in need of some last-minute Valentine's Day ideas, don't fret! I posted some great frugal meal and surprise ideas throughout the week. Don't forget to leave a comment. I love hearing from you!
All About Grapefruit
Grapefruit trees can produce for 30 to 40 years. That's a great investment! In 2006 the United States produced 1.23 million tons of grapefruit. Find out more fun facts about grapefruit here.
When choosing a grapefruit, you want it to be firm and springy and feel heavier than it looks. Grapefruit is in season from January to July.
Grapefruit should be kept at room temperature before being juiced.
There is more than one way to eat a grapefruit! Try it broiled, in sorbet, as a glaze over chicken, in salsa, or in salad dressing!
It can be used to make a face mask!
If you spill grapefruit juice, you can find out how to prevent a stain here.
Grapefruit caninterfere with some prescription medications. Please be aware of this before consuming grapefruit if you take prescription medications.
If you already have grapefruit or grapefruit juice on your grocery list, be sure to check out the free recipe book and stainless steel grapefruit spoons you can get from gofloridagrapefruit.com when you purchase Florida grapefruit or grapefruit juice!
Molly Members

Hi Molly Members,

I got several positive responses to the monthly desktop wallpaper so for now, I'll continue providing one each month. Log in to your member pages to download your February wallpaper. I decided to go with something fun this month. I hope you enjoy it!


Not a member yet? We'd love you to
join us.
Only $3.95/mo!

You might also consider a six-month prepaid membership as a gift for a frugal friend (or yourself)!
Quick and Easy Grapefruit Smoothie
Ingredients
2 2/3 cups fresh grapefruit juice
16 large strawberries or other fruit of your choice
4 medium bananas, sliced
16 ounces plain or fruit-flavored yogurt
1/4 cup honey
2 cups crushed ice
Directions
Place the grapefruit juice, fruit, yogurt, honey, and ice into a blender. Cover and blend until smooth. Makes about 4 servings.
Enjoy!
Grapefruit. It's for the Birds!
Here is a fun project you can do with your kids. Instead of throwing away the skin from your grapefruit, make a bird feeder out of it! It will be fun for your kids and will make your feathery friends happy too!
Molly Saves in the Bedroom!
Make your bedroom an oasis this winter!
Let Molly help you save as you feather your nest with comfort for peaceful slumbers.
But the February issue of Molly's Money-Saving Digest
doesn't stop at the bedroom door. It's chock-full of advice for home and family: repurposed projects; nutritious food for family members, including the furry ones; financial teaching for kids; organization and décor; and much more!
Shower your spouse with love and pancakes!
Investigate cut flowers and houseplants.
Feed your family a meal that's both easy and healthy!
Prepare your kids for keeping their own checkbooks.
Find out what your dog or cat

really

needs in his food.

Let your old wool sweaters keep you warm in another form.
And so much more!

Read a full description here. Purchase Molly Saves in the Bedroom.