Molly Green Fresh


Get your copy for free!

You asked, we listened! You want great, tasty recipes with simple, fresh ingredients. Get ready then to "freshen up" and bask in the best of summer.

Enjoy 22 pages of fresh and easy recipes, fabulous household tips, and more! Full-color, eye-catching photos with each easy-to-use recipe!
Get your FREE copy of Molly Green Fresh
You're not afraid of the big bad wolf, are you?

During the Great Depression, many people closely identified with the story of the Three Little Pigs. Today, many are comparing that time period with the economic downturn of the present day. Regardless of how accurate the comparison is . . .

"This really is a season of opportunity to rethink our resources and re-evaluate our needs, repair what we can, and rejoice in all that we've been given."

This month's Molly's Digest explores the resourcefulness and ingenuity that are still alive and well in 2009. The special feature for October is:
What Can We Learn From the Great Depression?



Order this past Digest today by clicking HERE.
12-Week Holiday Planner

Don't wait until the last minute! Use this planner to prepare for Thanksgiving and Christmas without all the rush. This planner lets you focus on the meaning of the season without being overwhelmed by the stress of it.
Join Me at Blog Frog

Here are the latest discussions happening in my Blog Frog Community!

To comment, just click on each link.
Your blog or business here!


Email me for our affordable rates and advertising options.
Molly Makes $7 Slow Cooker Suppers ~ Quick and Easy

140 deliciously simple recipes --
140 wonderful ways to feed your family!

Our daily lives often seem to run on overdrive. Too frequently a healthy, home-cooked meal is one of the things sacrificed. If only you had more time! Okay, maybe you really like to cook and it's worth all the effort it takes. But every day, day in and day out, perhaps 2 or even 3 meals a day ... 14 to 20 meals a week, whew! A homemaker needs a reprieve!


Greetings!
©
Tatiana Morozova
| Dreamstime.com
Corn can be used in so many ways. It is wonderful when eaten as-is, and it makes a great snack when turned into popcorn. It's a great addition to many casseroles and Mexican dishes. Yum!

Corn also makes for inexpensive and festive fall decor. Dried corn, as shown in the photo above, can stand alone as a centerpiece, or you can add pieces of the corn stalk to a flower arrangement and create an entirely different look.

Not only that, but you can also use corn as a food for your furry animal friends! Simply pop up some popcorn and string it on a sturdy thread. This can be a decoration inside the home or, or placed outside as a treat for the critters.

Keep reading for more 'corny' ideas!

From the Blog

If you missed visiting the blog this week, you'll want to check out the posts below.
Molly Members

.
If you know of someone who would enjoy a Molly Membership, now is the time to have them join us. Why?

Well, later this month I'm planning a MASSIVE 48 hour sale, when new members will receive more than $50 in money-saving freebies when they purchase a Molly Member subscription!

Not to worry, I wouldn't leave you current members out! And that's why you should encourage your friends and relatives to join us now. During the 48 hour special, our current members will also receive a link to the freebies. And these are in ADDITION to the October Digest and all the freebies already on the October Freebies and Link page. So spread the word for folks to join us. That way they can spend some time getting familiar with the Member Pages and enjoying the current goodies. And when the sale hits, they'll be able to run in and grab the specials.


Directions and printables to make this adorable laundry sign!
Isn't the above sign wonderful! Check out your October Freebies and Links page to access the free download and make one of your own. You even have a choice of colors!


See you there
!
Hey I Can Make That!


Indian Corn Place Cards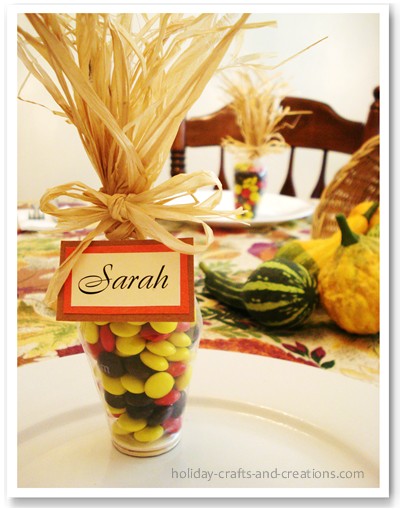 Photo courtesy of
Holiday Crafts and Creations.com
I found this neat little craft while browsing the Internet. This is a great project to put the kids in charge of and it looks adorable!

To access the tutorial, visit Holiday Crafts and Creations.

Ideas From Around the Web


Here are some fun websites that are brimming with information about corn, popcorn, and 'corn-y' decor. Check them out and remember, decorating does not have to be expensive!
In the Kitchen

Healthier Popcorn Balls

I found this yummy recipe on Living a Better Life. My kids have been wanting to make some popcorn balls, but most of the recipes I have seen contain ingredients that we are trying to get away from. I was happy to find this recipe!

Ingredients

3/4 cup maple syrup
1 to 3 tablespoons of butter
2 tablespoons of Sucanat (optional)-Natural sweetener
1/4 teaspoon salt
1/4 teaspoon baking soda
1/4 teaspoon vanilla
1/2 cup nuts (optional, adds fat)
8 to 12 cups popped popcorn
Directions:

Combine syrup, butter, Sucanat, and salt in saucepan until butter is melted. Boil without stirring 3 minutes. Remove from heat and stir in baking soda and vanilla. (Add nuts if using). Pour over popcorn. Mix well. Place on 2 large cook sheets. Bake for 15 minutes in a preheated 300 degree oven. After cooling, break into pieces. This freezes well.
Recipe reprinted with permission.
Molly's Money-Saving Digest
No domestic subject is too dirty for Molly to tackle!
Put more than crisp clean clothes into your time and money-saving basket!
It's not just laundry lessons included in this helpful issue. It's all about home and family-repurposed projects, raising responsible children, creative cooking, investing wisely, enjoying and appreciating God's gifts, and encouraging one another.

Kids can learn laundry basics too!
Spend as little as 3 cents per soap load!
Repurpose planned leftovers into brand new meals!
Feather your nest with a fabulous feathered friends' wall hanging!
Make plans for International Frugal Fun Day-October 2nd!
Fashion a sweet dress for sister, sewn from two salvaged shirts!
October's special feature is: Socks, Suds, and Savings
Do your kids play leap frog over the soiled mounds at your house? Get them involved in a practical way. Approach it with the right attitude and maybe something good will emerge. And if you think you can't learn something new, think again!

Learn to love the laundry; is it possible?
Investigate three things that helped Molly simplify and reduce the time and money spent on laundry.
Learn to manage the endless flow; find what works for you.
Alter your laundry room's personality and make room for a change!
Discover essential knowledge about laundry appliances! Enjoy links including a laundry cost calculator and how to make your own off-grid washing machine!
Research homemade laundry soap; get links to lots of basic economical formulas!
Find favorite recipes for homemade stain removers and fabric softeners from around the internet.
Want more than one way to dry clothes? Try out a few of these frugal indoor drying ideas!
Need an ironing alternative? Try this unique time-saving trick!
Thought of green cleaning gift giving? Implement nifty laundry-related projects and thoughtful gift ideas!
Want to save even more? Subscribe to a Molly Membership! For only $3.95 a month (cancel any time!), you receive not only the monthly

Molly's Money-Saving Digest

, but also much more! Purchase NOW!

Don't forget, you can download a free Molly binder cover from the Schoolhouse Store!