Molly's Newest E-Book
D
o you long to enjoy and explore the great outdoors with your family?
Want to make that special connection with your kids?
Don't let a few varmints, mosquitoes, or mishaps spoil your fun-- go camping!
For the price of spending a night or two in a motel, you can outfit your family for adventure and make memories for a lifetime!
Get ready for an unforgettable experience as Molly and her fellow campers show you how, in her newest E-Book . . .
No doubt you'll find that camping, in whatever form you choose, can be the ideal family activity. This awesome resource (73 pages!) will whet your appetite for some frugal family camping fun!
For one low cost-only $8.95-you can begin preparations for your next great family adventure now.
Just click the above link to get yours today!
You can find more of Molly's E-Books
HERE
.
Sponsor of the Week
Book Closeouts is having an 80% off sale on all their sports and recreation books. This would be a great time to snag something for that special dad in your life!

Click HERE to visit the Book Closeout store.

On Sale at Econobusters
What I Am Currently Reading
I get asked all the time,
"Molly, what are you currently reading?"


Right now, here is what is on my nightstand:
A Look Back at May 2009
Can your child earn a bachelor's degree in high school? Is college overrated? Does your preschooler need a support group? What is homeschooling for Cs?
Each monthly E-Book Digest contains a Special Feature --an in-depth look at a specific topic.
Whether you homeschool or not, you'll especially want this real-life learning issue . . . from preschool through high school, college--and beyond!
Molly's Money-Saving Digest's special feature for May is: Learning for Life-Your Child's Education.
This month Molly includes articles about education which show you what learning looks like in real life and just how enjoyable and natural it can be! You'll also learn about money-saving ideas for college and make small changes for BIG savings, but there's a whole lot more!
This fifth edition of Molly's Money-Saving Digest is full of new, creative ways to provide for your family's needs while remaining within your budget. Molly's learning how to make the most of what she has, encouraging keepers at home in the midst of our challenging economy.
Order this past Digest today by clicking
HERE
.
Greetings!
© Annieyek | Dreamstime.com

When the weather gets hot like it is right now, all I crave is ice cream. My family and I headed out to the local ice cream parlor the other night to whet my craving for the cold, creamy stuff. By the time we finished ordering (there were four of us), our total was over $12.00! Seriously?

So I got to thinking, there has to be a way to enjoy ice cream without spending a fortune every single time you want some of that delectable stuff!

This week's newsletter has some great links and neat tutorials for creating your very own favorite ice cream concoctions!

Thank You!
I just wanted to take a moment and say thank you to all those of you who served in the Armed Forces and to take a moment to remember those who gave their life so that I could continue to live and work in a country that has freedom.

It is because of those men and women that we are where we are today, so from me and my team here at Econobusters, we send out a big hearty


From the Blog
Here is a recap of what we shared on the blog last week, just in case you missed a post or two!


Molly Members
Can you believe June is almost here? My June Digest just finished layout and looks amazing! It's filled chock-full of tips and ideas for making money from home. Both kids and adults share about their successful money-making ventures. We'll also be introducing a new writer who will be a regular feature in
"Something Old, Something New
". Her creations are truly amazing. She really does turn trash to treasure. Literally!
PLUS, you members will be getting a very special gift this month ($12.45 value!).
If you're not yet a member, be sure and subscribe now. We'd love to have you join us!
Hey, I Can Make That!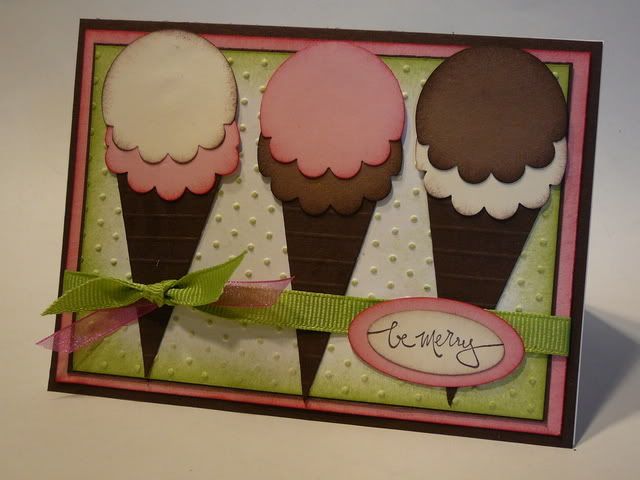 Photo courtesy of
Crafting the Web
This tutorial was just too cute to pass up, and since we are talking about ice cream this week, well. . . it seemed only fitting to add it in!

This would look adorable attached to those summer photos of your kids enjoying a scoop of their favorite! To access this tutorial, just CLICK HERE.

Featured Website
Ideas From Around the Web
Here are some great ideas to help you enjoy making your very own ice cream at home!


In the Kitchen
Ice Cream In a Baggie
(recipe reprinted from Kaboose)



Milk can become homemade ice cream in five minutes by using a bag! This homemade, creamy treat is a summertime delight for kids and adults alike.
What you'll need:
1 tablespoon sugar
1/2 cup milk or half & half
1/4 teaspoon vanilla
6 tablespoons rock salt
1 pint-size plastic food storage bag (e.g., Ziploc)
1 gallon-size plastic food storage bag
Ice cubes
How to make it:
Fill the large bag half full of ice, and add the rock salt. Seal the bag.
Put milk, vanilla, and sugar into the small bag, and seal it.
Place the small bag inside the large one, and seal it again carefully.
Shake until the mixture is ice cream, which takes about 5 minutes.
Wipe off the top of the small bag, then open it carefully. Enjoy!
Tips:
A 1/2 cup milk will make about 1 scoop of ice cream, so double the recipe if you want more. But don't increase the proportions more that that--a large amount might be too big for kids to pick up because the ice itself is heavy.
Molly's Money-Saving Digest
Want to enjoy celebrating in style--
but
not
blow your budget?
Do you like to create one-of-a-kind frugal gifts?
Plan NOW for a sensational "cents"ible celebration . . .
Join Molly for this month's special feature:
"Cents"ible Celebrations


Overflowing with cheerful inspiration and ideas for simple giving and thrifty living!
Don't settle for a cookie-cutter graduation party, wedding, or other event! "Cents"ible celebrations are all about
creativity
,
individuality
, and
ingenuity
--the very qualities that make frugal families thrive! And your festivity won't have to be expensive!
What about the receiver of your gifts? Tune in to his or her personality and likes to create a custom gift, given from the heart. Molly and friends share some crafty ideas you're going to love!
There's a celebration of topics included in the May Digest . . .
Gift baskets

--tie a ribbon of fun around the low-cost, custom-made container gifts you'll love to make and give-stuffed with goodies.
Unique planning forms

--to help you pull together and wrap up those special celebrations you'll be dreaming of when you read through this Digest!
How to feed a crowd

--need-to-know lists and notes for feeding 25, 50, or 100 guests!
A wedding story

--learn from one family's lovely memory and photo account; can you guess what it cost?
Each month take the wonderful opportunity to learn along with Molly, and make the most of your time and money in 2010.

Click

HERE

to view a sample of this item.

Need to economize? Subscribe to a

Molly Membership

!

For only $3.95 a month (cancel anytime!) you receive not only the monthly Molly's Money-Saving Digest, but much more! Purchase NOW!


Don't forget, you can download a free Molly binder cover from the Schoolhouse Store!