Greetings!
Photo courtesy of
Dreamstime
Photograh taken by Godfer
~~~~~~~~~~~~~~~~~~~~~~~~~~~~~~~~~~~~~~~~~~~~~~~~~~~~
Actually, we prefer to say "Monkey" or "Yes". The resulting grins aren't quite so cheesy!
It's summer--do you have your camera handy? If your June is anything like mine, with graduations, the end of the school year, and first picnics of the season, the days are overflowing with memories just waiting to be captured on camera.

Don't you just love digital photography . . . no film to purchase, no waiting to shoot enough pictures to finish the roll of film and get it developed . . . only to find that the photos weren't what you were hoping for? My inexpensive digital camera has totally revolutionized our family's picture-taking!
Here's one big caution though. Take a few moments after downloading your pictures, to store "the keepers" somewhere else besides your computer's hard drive. Put them on disk, or on a flash drive, or even better, store them online, where you can access them at any time.
Photobucket
,
Snapfish
, and
Flickr
are a few of the popular sites where you can store and organize photos for free, and share them with others if you wish.

Personalized photo products make memorable gifts. You'll be amazed at what some of the sites above can do with your pictures! They frequently run great specials too--and now would be a great time to start checking out the possibilities. It's not too early to be thinking about getting a fun family photo for your Christmas greeting cards (printed or email) or one-of-a-kind gifts for grandparents.
On The Blog Last Week!
~~~~~~~~~~~~~~~~~~~~~~~~~~~~~~~~~~~~~~~~~~~~~~~~
Here is what I shared with you on my blog last week. Be sure to read the comments on each post. I have found many good tips from there as well.
The Weekly Recipe
~~~~~~~~~~~~~~~~~~~~~~~~~~~~~~~~~~~~~~~~~~~~~~

Oh the hazy, lazy days of summer are upon us, and if you are like me, you have birthday or other celebrations to plan. Rather than go through a lot of trouble to make a regular cake and frost it, try this recipe which, like summer, is a bit more laid back and easy to prepare. This recipe has a definite added benefit; everyone loves it, and it is gobbled up quick! I almost always make this for my husband's birthday because it is his favorite. My children love this cake also, and it goes quite well with any study your children may be doing about volcanoes, or if you simply want to commemorate the summer heat.
The fun part about this cake is that it is almost impossible to mess up, so the kids can join in on the fun of making it!
Chocolate-Covered Cherry Volcano Cake
Ingredients
1 chocolate cake mix, baked according to package directions
1 can cherry pie filling
1 can dark chocolate frosting
1 box chocolate-covered cherries (if you can find them inexpensively), or chocolate chips
Directions
Cool cake and cut into 1-inch cubes (or crumble into big chunks if you feel lazy!).

Place about a fourth of the cake pieces in the bottom of a large bowl.

Place about half of the chocolate-covered cherries or chocolate chips on top of the cake pieces.

Use another fourth of the cake pieces on top of the chocolate-covered cherries or chocolate chips.

Place about a third of the cherry pie filling on top of the previous layer of cake.

Add another fourth of the cake pieces; only this time, begin piling them upwards into a cone shape, holding them in place with the chocolate frosting between pieces (it is alright if it looks a little messy).

Add more chocolate-covered cherries or chocolate chips on the sides of your cone.

Add your final fourth of the cake pieces finishing your cone shape.
Drizzle the rest of the cherry pie filling over the top of the cone, careful to make it look like an erupting volcano.
This Week's Tutorials
~~~~~~~~~~~~~~~~~~~~~~~~~~~~~~~~~~~~~~~~~~~~~~~~~~
Picture Blocks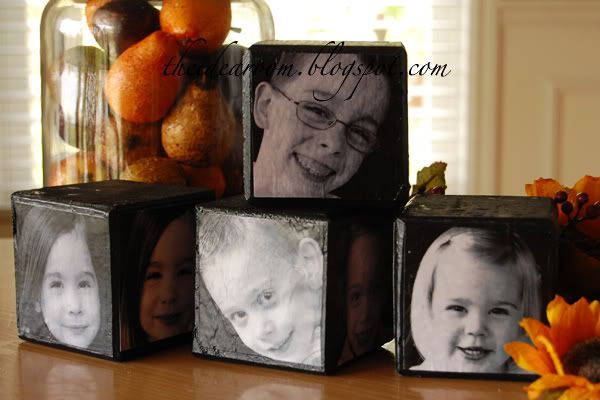 Do you remember a few newsletters ago, posting about a really cute tutorial we found on this blog,
The Idea Room
? Well, here is another one that Amy has graciously said we could share with you all! These adorable
picture blocks
are ideal for posting your pictures on. They would make a wonderful addition to any room in your home.
Idea Center
~~~~~~~~~~~~~~~~~~~~~~~~~~~~~~~~~~~~~~~~~~~~~~~~
With today's technology taking care of your photography is so much easier. Here are some wonderful ideas that I came across this week to share with you.
Molly's Money-Saving Digest
~~~~~~~~~~~~~~~~~~~~~~~~~~~~~~~~~~~~~~~~~~~~~~~~
~~~~~~~~~~~~~~~~~~~~~~~~~~~~~~~~~~~~~~~~~~~~~~~~~~

What kind of vacation can you look forward to on a frugal budget? You'd be surprised!

Rest, relaxation, and adventure don't have to cost a bundle! Explore summer fun and vacation ideas plus innovative ways to save.
Do your plans for the coming months include some time for rest and relaxation? Even in these days of uncertainty and change, it's possible for nearly every family to enjoy a vacation, "stay-cation," or "day-cation." Discover great vacation ideas--even for those that can't afford a vacation right now!

This issue is loaded with ideas, tips, recipes, checklists, and more to help you plan for those special family outings--all within your budget! Here are a few of the highlights:
You can view a sample of the June Molly's Money-Saving Digest right here.
We Want to Hear from You!
~~~~~~~~~~~~~~~~~~~~~~~~~~~~~~~~~~~~~~~~~~~~
We have some great topics in the works for
Molly's Money-Saving Digests
, and would love to include your stories and ideas. July's Digest has just gone to layout. You're in for a treat with this special issue on frugal fashion. August's featured topic is organizing, and in September we will be talking about decorating. Show us your stuff! We'd love to showcase your decorating talent and organizing ingenuity, and give you a free Digest, but we need to hear from you soon! We're always looking for "goal-getter" stories, examples of up-cycled or re-purposed objects, and frugal decorating ideas.
Send me your story
--Remember, if we include your contribution in a Digest, you'll receive that issue FREE.
Until next week!
===================================================
Do you have something to share? Write to us at
MollyGreen@Econobusters.com
. All submissions become the property of Econobusters.com and The Old Schoolhouse Magazine, LLC ("TOS") and will not be returned. Making a submission constitutes full consent to the Econobusters' Submission Guidelines and Release, and a grant of unlimited permission and continuing, non-exclusive rights for Econobusters.com and TOS, to print, publish, broadcast and use all portions of your submission, including without limitation your full name, on Econobusters.com and other Internet websites owned or operated by TOS, in Molly's Money-Saving Digest and all other electronic, digital and print publications produced, created or published by TOS in accordance with the Econobusters' Submission Guidelines and Release posted at
Econobusters
. TOS will make reasonable efforts to withhold personal names if requested at the time of original submission.
Quick Links...
~~~~~~~~~~~~~~~~~~~~~~~~~~~~~~~~~~~~~~~~~~~~