Greetings!
~~~~~~~~~~~~~~~~~~~~~~~~~~~~~~~~~~~~~~~~~~~~~~~~~~~~

What's a key ingredient for summer fun? Water, of course! Last weekend my family took a hike along a riverside trail, and it sure felt good to soak our tired feet in the cool water when we stopped for a break!
From water balloon fights to running through a sprinkler in the backyard, and from swimming in pools, ponds, lakes or oceans, to boating of every kind, lots of our summer fun involves water. This week we're bringing you tips and links about water fun and safety. Let's get the summer fun started!
Speaking of water, remember to keep yourselves and your families well-hydrated during the warm weather. It's amazing how often headaches, irritability, and tiredness can be "cured" or even avoided altogether just by drinking enough water.
On The Blog Last Week!
~~~~~~~~~~~~~~~~~~~~~~~~~~~~~~~~~~~~~~~~~~~~~~~~
Oh my goodness! We had some really great posts and responses this past week on the blog! Below are a few highlights that I thought I would remind you about, just in case you missed a day or two.
The Weekly Recipe
~~~~~~~~~~~~~~~~~~~~~~~~~~~~~~~~~~~~~~~~~~~~~~

One of the best things about summer is the abundance of strawberries. I love them, don't you?
I make this pie several times every summer while the strawberries are still in season at my local farmers' market. I get a great price, and I can support the local economy as well as get the most health benefits from eating locally grown food. If you have a farmers' market near you, make a day of it with the whole family, then go make the pie, and let the kids run in the sprinkler or play in the pool until it is ready to eat. Great summer family memories will be made around the table!
Beat The Summer Heat Strawberry Pie
1 cup sugar
4 tablespoons of corn starch
3 tablespoons/1 small box strawberry gelatin
1 cup boiling water
1 quart fresh strawberries, washed and sliced lengthwise
1 pie shell, pre-baked and cooled
Mix the first three ingredients and add to 1 cup of boiling water. Heat until thick, stirring constantly. Once the mixture is thick and and is mostly cooled off, add the strawberries.
Pour into a baked and cooled pie shell, and place into the refrigerator until cooled completely and set (4 hours or overnight).
Delicious and refreshing after a day at the pool or for a meal on the beach!
This Week's Tutorials
~~~~~~~~~~~~~~~~~~~~~~~~~~~~~~~~~~~~~~~~~~~~~~

This week, I have two tutorials for you, that come from the same blog! As I was scouting all the blogs I read, I came upon
The Idea Room
. Amy is a stay at home mom of 5 kids and she loves to sew! She has graciously allowed me to share her swim bag tutorials with you! Please be sure to stop by her website and let her know what you think of these two cute, adorable swim bags!
Girl's Sling Swim Bag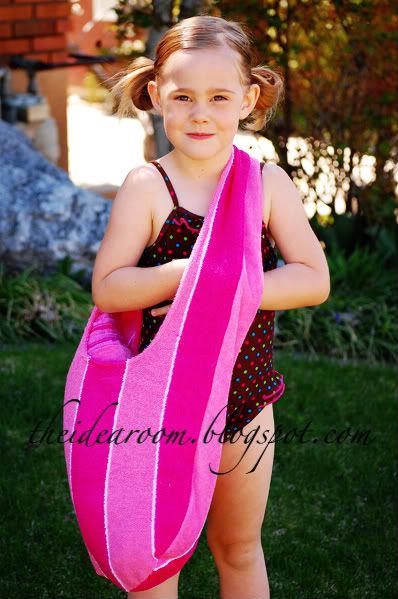 Photo courtesy of
The Idea Room
Isn't this bag just adorable? You can click on this link
here
, and you can access step by step instructions on how to make this very cute, and very girly swim bag!
Boy's Drawstring Swim Bag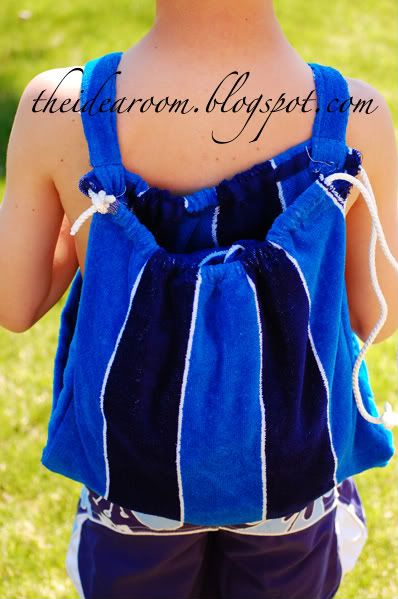 Photo Courtesy of
The Idea Room
Any little guy would love to have his very own swim bag this summer! Not only will it be great for carrying swimming gear, but it will come in handy carrying those sand toys! You can access this tutorial by clicking
here
.
Idea Center

~~~~~~~~~~~~~~~~~~~~~~~~~~~~~~~~~~~~~~~~~~~~~~~~

Here are a few really good links that might help you have a little more fun this summer when you are at the pool or the beach!


Molly's Money-Saving Digest
~~~~~~~~~~~~~~~~~~~~~~~~~~~~~~~~~~~~~~~~~~~~~~~~
~~~~~~~~~~~~~~~~~~~~~~~~~~~~~~~~~~~~~~~~~~~~~~~~~~

I'm excited to say that my
May
Digest is now available. We have all the usual goodies, along with a focus on education. This covers everything from fun pre-school activities you can do at home, to saving money on college costs. You don't need to be a homeschooler to find lots of useful tips in this Digest. I know you'll love this issue as much as I do.
What others are saying about
Molly's Money-Saving Digest
for May 2009:
"Molly has delivered yet another inspiring yet ultimately practical issue dedicated to all the areas which matter most to homeschooling families, which I'm sure you'll find well worth the cover price of $4.95!"--Michelle Smith, TOS Research Panel
". . .
May's
issue is my favorite issue of Molly's Digest so far! It was encouraging and refreshing--exactly what I needed to read this week!"--April Elstrom, TOS Review Panel
Molly has a wealth of information and support to share in one easy-to-read, handy resource for an incredibly low price! At under $5, you'll recoup your cost of this E-Book right away. And you'll more than recover your investment as you are encouraged to keep going strong in your commitment to the Lord and your family.
You can also purchase
January
,
February
,
March
, and
April
digests. Don't forget about the
free binder covers
that we created for those of you who print your digests!
We Want to Hear from You!
~~~~~~~~~~~~~~~~~~~~~~~~~~~~~~~~~~~~~~~~~~~~
We have some great topics in the works for
Molly's Money-Saving Digests
, and would love to include your stories and ideas. July's Digest has just gone to layout. You're in for a treat with this special issue on frugal fashion. August's featured topic is organizing, and in September we will be talking about decorating. Show us your stuff! We'd love to showcase your decorating talent and organizing ingenuity, and give you a free Digest! We're always looking for "goal-getter" stories, examples of up-cycled or re-purposed objects, and frugal decorating ideas.
Send me your story
--Remember, if we include your contribution in a Digest, you'll receive that issue FREE.
Until next week!
===================================================
Do you have something to share? Write to us at
MollyGreen@Econobusters.com
. All submissions become the property of Econobusters.com and The Old Schoolhouse Magazine, LLC ("TOS") and will not be returned. Making a submission constitutes full consent to the Econobusters' Submission Guidelines and Release, and a grant of unlimited permission and continuing, non-exclusive rights for Econobusters.com and TOS, to print, publish, broadcast and use all portions of your submission, including without limitation your full name, on Econobusters.com and other Internet websites owned or operated by TOS, in Molly's Money-Saving Digest and all other electronic, digital and print publications produced, created or published by TOS in accordance with the Econobusters' Submission Guidelines and Release posted at
Econobusters
. TOS will make reasonable efforts to withhold personal names if requested at the time of original submission.
Quick Links...
~~~~~~~~~~~~~~~~~~~~~~~~~~~~~~~~~~~~~~~~~~~~