Greetings!
You Can Help Fight Against Unhitched Trailer Blight

Councilman Greig Smith's office has been working on solutions to the blight of trailers with large advertisements parked on city streets.
Recently the City Council passed a resolution supporting Assembly Bill 2756, introduced by Assemblymembers Feuer and Blumenfield.
The bill would ban these mobile billboards in the state of California, unless a local community specifically allows them. If it passes, the city can begin work on an ordinance to ban them outright within city limits.
Visit
tiny.cc/StopBlight
to voice your support for the bill.
JOIN US
Council Meets
7 p.m., June 2
Join us for light refreshments and a discussion of neighborhood issues, 7 p.m., Wednesday, June 2, at Lawrence Middle School, 10100 Variel Ave. Questions? Write to us at
info@chatsworthcouncil.org
.
SPEAK UP
Write to Us
Have a story idea or news release? How about a question for the Neighborhood Council? Want to write a letter to the editor? Write to us at
info@chatsworthcouncil.org
.



Click here for the archive of previous Roundup newsletters.


BY PHONE OR EMAIL
Sign Up for Instant Police News


The LAPD now offers a free service that allows Los Angeles residents to sign up to receive messages directly from the police on crime, traffic, missing persons, emergencies and other public safety information directly to their phones or email inboxes.

You can sign up for bulletins based on your home ZIP code or you can register for multiple locations to keep up to date on traffic, crime and emergencies at your workplace or homes of relatives.

To sign up for this free service or for more information, visit http://www.nixle.com.


ALL ABOUT
THE COUNCIL SYSTEM
3 DAYS A WEEK
Seniors Enjoy Hot Lunches, Movies

St. Stephen Presbyterian Church is offering hot lunches for seniors at noon on Tuesday, Wednesday and Friday. Arrive at 10 a.m. to sign up.
The lunches are part of the City of Los Angeles Senior Citizen Nutrition Program.

Tuesdays will also feature a seniors exercise class. Wednesday will offer movies. And Friday there will be games and classes. Bridge will be organized after lunch. A $1.50 donation is requested. The church is located at 20121 Devonshire St.



For details, click

here or call (818) 360-7460.


About the Council
The mission
of the Chatsworth Neighborhood Council is to provide an open forum for public discussion of issues concerning the Chatsworth community and to facilitate communication between the City of Los Angeles and Community Stakeholders.
Map
of Chatsworth Neighborhood Council boundaries. Click
here
.
When We Meet



All volunteer

committees meet monthly. Meetings begin at 7 p.m. at the Chatsworth Train Depot at 10038 Old Depot Plaza Road, Chatsworth, unless otherwise noted.


1st Wednesday:

CNC Board at Lawrence Middle School, 10100 Variel Ave.


2nd Tuesday:
Beautification.


2nd Wednesday:
Equestrian.


3rd Tuesday:
Public Safety & Transportation.


3rd Wednesday:
Enhancements.


3rd Thursday:
Land Use.


4th Tuesday:
Outreach

Check the CNC website for last-minute changes.


KEEP IT GREEN
Here's Where You
Can Recycle Locally
Vons Shopping Center
,
20440 Devonshire St. (behind Rite-Aid)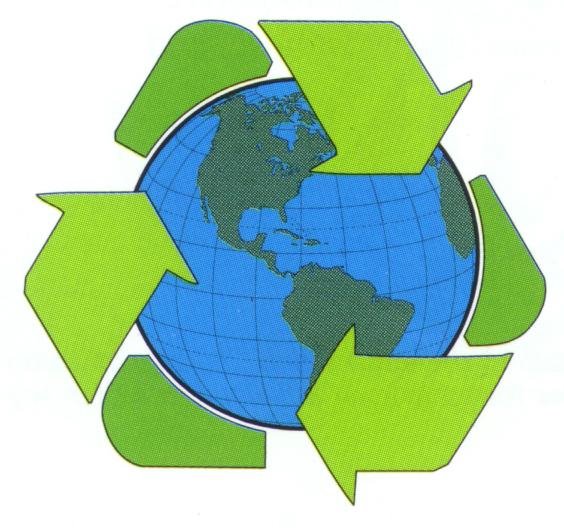 Valley Recycling Center
,
20220 Plummer St.,
818-885-7318
Budget Recycling
,
21250 Nordhoff St.,
818-998-1700
WATCH AT HOME
New Live and On-Demand Video

The Office of the City Clerk is offering new live and on-demand video and audio services of City Council meetings. For more information, please see their
flyer
.
SEEKING IDEAS
Volunteers Available for Day of Service
L.A. Works is a nonprofit volunteer action center that creates and implements hands-on community service opportunities throughout the greater Los Angeles area. They are currently looking for ideas for a Day of Service that would revitalize community centers, transitional living facilities, schools, parks, beaches, and more. All services including supply costs are free. Please contact Gil Gonzales at
gil@laworks.com
for more information.
HELP IS AVAILABLE


Facing Foreclosure? Pick Up the Phone

Need help with your mortgage? Call (888) 89-LA NHS, email counseling@lanhs.org or see http://www.lanhs.org/.



County Offers Foreclosure Aid:

The County's Department of Consumer Affairs is offering a variety of information and assistance for homeowners and property owners at risk of foreclosure, trying to refinance, or otherwise navigating through today's economic turbulence.

For more detailed information on the range of homeowner-related programs and services the department offers, visit the Homes page.



Beware of Property-Tax Scams:

Beware of firms charging a hefty fee to "assist" area homeowners in filing property assessment reduction forms. You can download them free, here: Change in Assessment form, and visit the County's Assessment Appeals page for full details on all aspects of property assessment, including proposed reductions. Property owners can also call toll-free (888) 807-2111 for assistance.



Gas Co. Has Energy Aid:

For information on the Gas Company's bill assistance programs, visit www.SocalGas.com/assistance, or call toll-free at (800) 427-2200. For energy saving tips, click HERE.

City Services
Zero Waste
The City has a Zero Waste team soliciting opinions on how to reduce solid waste. Find out how you can participate.
Zero waste brochure
.
Bureau of Sanitation
The BOS is working to convert our solid waste into renewable energy.
Read the brochure
.
Be Prepared
for the 'Big One'
This is the 150th anniversary of the last great San Andreas Earthquake. Dare to Prepare is a campaign to prepare for the next big quake. Find out what you can do at the
Dare to Prepare site
. Read the
LAFD letter
.
Free Shade Trees
You can get free shade trees through DWP.
Read about the Trees for a Green LA program
DWP Residential Energy and Water Saving Programs
The DWP offers incentives to recycle your old refrigerator and buy an energy efficient one. Other appliance incentives are available too. Receive $100 toward an ultra low flush toilet.
Read about DWP rebates
.
Online Service Requests
You can place service requests for street repair, tree trimming, downed trees or palm fronds in the street
online
.
This is a service provided by the
Bureau of Street Services
.
Property Activity Reports
Did you know that you can view all permit requests for a property online?
Click here
to access the City's online reporting system. Enter in the address and view the permits.
This is a service provided by the
Department of Building and Safety
.
--Adapted from the PRNC newsletter.


Quick Phones


Neighborhood Council
(818) 464-3511



West Valley Alliance (graffiti removal)


(818) 885-8885



Police Tipoff Line


(818) 832-0563



L.A. City Infoline


311


CNC Contact

Chatsworth Neighborhood Council
Post Office Box 3395
Chatsworth, CA 91313-3395

Ph: (818) 464-3511
Fax: (818) 464-3585

Email:


i

nfo@chatsworthcouncil.org
Web:
http://www.chatsworthcouncil.
org

Complete CNC activities calendar:
http://www.chatsworthcouncil.
org/activities.php

Complete community events calendar:
http://www.chatsworthcouncil.
org/events.php


Enjoy Some Free Family Fun
at Stoney Point Ranch
Come celebrate our community's equestrian heritage at Chatsworth Neighborhood Council's 7th Annual Day of the Horse, 11 a.m. - 3 p.m.,
Sunday, May 23
, at Stoney Point Ranch, 10861 Andora St. Admission is free.
Click
here
for the flyer.
This year's theme is "Having Fun Safely with Horses." Enjoy a day of fun and learn about our horse-keeping community. There will be food vendors, exhibitions, equestrian wares, riding demonstrations, crafts, activities for kids and the student winners of the annual Horse Safety Poster Contest will receive their awards. Here are the winners:
Kindergarten
First Place-Marc Francis-St. John Eudes School
Elementary School
Middle School
First Place-Marilyn Reyes-Lawrence Middle School
Second Place-Monique Moe-Lawrence Middle School
Third Place-Diego Guillen-Lawrence Middle School
Honorable Mention- Melissa Reyes-Lawrence Middle School
Honorable Mention-Christine Kellikidis-Lawrence Middle School
Honorable Mention - Jesse Nemick- Lawrence Middle School
Honorable Mention - Ayleen Martinez-Lawrence Middle School
Special Artistic Award
John Francis- St. John Eudes School
Overall Winner
Ryle Eskander-Chatsworth Stakeholder (Trails End Ranch)
Details, call Jan Eddy-Languein at (818) 709-4822.

CITIZEN OF THE YEAR

[Photo / Saul Daniels]

HONORED --
Steve Mathias was named Chatsworth Citizen of the Year at the Chatsworth Community Coordinating Council banquet Friday for his years of coaching young Chatsworth Junior Baseball League athletes. Other nominees included Louise Cornwall of the Chatsworth Women's Club, Judith Daniels who is president of the Chatsworth Neighborhood Council, Ann and Ray Vincent of the Chatsworth Historical Society and Friends of the Library, and Vanessa Watters of Save Chatsworth Inc.
TWO BIG SHOWS

Just Can't Get Enough
of That Old Time Rock 'n Roll


"Ain't No Spring Chickens ...

and a coupla hot chicks,

" an old time rock 'n roll show, has been extended Sundays through August at Chatsworth's Big Oak Theatre, 22200 Chatsworth St.

For dates, details and tickets, call (818) 998-0185, or email avenueact1@att.net, or visit bigoaktheatre.com.

Also, enjoy "Shake Rattle and Roll: A Tribune to the Greatest Hits of the 1950s and 1960s" at the Historic Madrid Theatre, 7:30 p.m., Saturday, May 22. The theater is at 21622 Sherman Way, Canoga Park.

For tickets and information,

call (818) 347-9938

or go to culturela.org/madridtheatre.
DUMPING FEES WAIVED

[Photo / Jennifer Dandurand]
Debris removed from Santa Susana Pass State Historic Park.


Volunteers Clean Up Santa Susana
Park; Council Donates New GPS Unit
More than 200 volunteers, including members of the Church of Jesus Christ of Latter-Day Saints of Canoga Park, spent May 8 cleaning up Chatsworth's Santa Susana Pass State Historic Park.
Separately, park docents received a new GPS unit from the Chatsworth Neighborhood Council to help in their work.
One crew collected half a dumpster of glass shards and smashed bottles. A second group did trail maintenance and filled a one-ton truck with green waste. Meanwhile, a small group pulled out two one-ton truckloads of furniture and debris which had been dumped along Santa Susana Pass Road.

Waste Management, GI Rubbish in Simi Valley, waived the dumping fees and allowed State Parks to dispose of the debris in their landfill.

Santa Susana Pass State Historic Park is located in the Santa Susana Mountains on the border between Los Angeles and Ventura Counties. It is an undeveloped hiking park that is rich in historical, cultural, and natural resources. Due to budget cuts and staff reductions, State Parks depends heavily on volunteers and partnerships to help keep the park clean, safe, and accessible for the community.

The Chatsworth Neighborhood Council has partnered with the volunteer park docents and purchased a GPS unit for use in rescues and pinpointing remote areas needing cleanup.
The local stakeholders, trained by State Parks Rangers, patrol the park, map trails, organize citizen watch hikes and are preparing a new visitor information center.
To volunteer or for more information, call (818) 784-4849.
-- Jennifer Dandurand and Teena Takata

FOOD BANK DONATION

[Photo / Jelena Csanyi]

HELPING HAND --
Baskets of food purchased by the Neighborhood Council's Enhancement Committee were recently donated to the local FISH food bank. The pantry was also the recipient of donations collected by workers at the Chatsworth post office.
CHATSWORTH, PORTER RANCH

[Artist Rendering / Galatzan Gazette]
Valley Region K-8 Span School for Chatsworth, Porter Ranch.

LAUSD to Brief Residents on Plans for New School; Groundbreaking Is June 5

The LAUSD will share information on construction plans for the new K-8 span school 6:30 - 8 p.m.,
Monday, May 24
, in Chatsworth. Groundbreaking will be June 5 in Porter Ranch.
The meeting will be in the auditorium of Germain Elementary School, 20730 Germain St.
There will be a groundbreaking ceremony 10 a.m.,
Saturday, June 5
, at the corner of Mason Avenue and Sesnon Boulevard in Porter Ranch.
The new school will relieve overcrowding at Castlebay Lane and Germain Elementary Schools as well Frost and Lawrence Middle Schools.
For more information, call Joseph D. Piņa of LAUSD Community Outreach at (213) 241-8740.
EAST OF MASON AVENUE


New Porter Ranch Shopping Center Planned for Rinaldi Street

Site



The Porter Ranch Development Company has presented an update on the development plans for the Town Center West/ Aldea to the Porter Ranch Neighborhood Council. The property is located north of Rinaldi between Mason Avenue and Porter Ranch Drive.

The plan integrates residential and commercial uses on the site.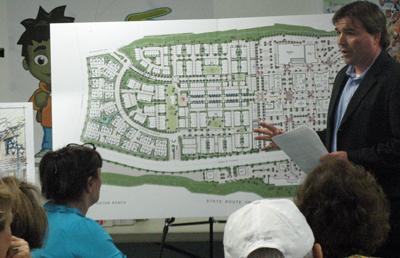 [Photo / PRNC]

Erik Pfhaler of Shapell Homes presents the Aldea site plan.


[Photo / PRNC]

Artist rendering of the proposed Town Center West.

ENJOY THE ART SHOW, TOO

Pick Some Fruit for Struggling Families Around the San Fernando Valley

The 5th Annual Citrus Sunday is

June 13

. Join with the Chatsworth Neighborhood Council and Councilman Smith's
staff in this annual fresh fruit drive that brings tens of thousands of pounds of citrus fruit to needy families. Click here for the flyer.
You don't have to sign up as a volunteer -- just pick oranges, grapefruit or other citrus from trees in your yard, rinse them off with water, and put them in plastic bags. Drop off the bags of fruit at The Chatsworth Train Depot, 10040 Old Depot Plaza Road, where you can also enjoy the free Depot Art Show.
Valley Interfaith Council will collect the fruit and distribute it to struggling families served by their food banks in the San Fernando Valley.
If you need assistance
picking fruit, please call (818) 756-8501.

For information on the art show, call (818) 772-1639 or visit

chatsworth-arts@att.net.

COLLECTING LETTERS, TOO

Operation Gratitude to Pack
Boxes
for Military in the Middle East
On Saturday and Sunday,
May 29-30
, hundreds of Operation Gratitude volunteers will assemble and ship thousands of Care Packages to U.S. military personnel deployed in Afghanistan, Iraq and on ships at sea.
Meet 9 a.m.-4 p.m. at the California Army National Guard Armory, 17330 Victory Blvd., Van Nuys.
Each Operation Gratitude Care Package assembled during Memorial Day Weekend will include more than 50 assorted products including snacks, entertainment items, toiletries and personal letters.
Noon, Saturday, the group will announce the total number of letters collected locally in pursuit of the $50,000 grant offered by BJ's Wholesale Clubs in its "$1 per letter" campaign.
Details, click
here
.
UTILITIES GOING UNDERGROUND

Metro Prepares for Orange Line
Bridge Over Lassen Street

Now that the north parking lot is complete at the Chatsworth Train Depot, the Orange Line busway contractor has started the underground utility work on Lassen Street, according to Metro.
The bridge over Lassen Street and active railroad tracks will provide direct access into the station. The bridge will be a three-span, cast-in-place concrete structure supported by abutments and two intermediate columns. The structure will be approximately 500 feet long and 30 feet wide, according to Metro. Construction of the bridge foundation is expected to begin in late spring.
Overhead power lines and Time Warner cables on Lassen Street will need to be relocated underground between
Canoga Avenue and Owensmouth Avenue This work is expected to be completed this summer.
Metro has relocated 82 leaseholders along the Canoga Avenue right of way, so the contractor can remove debris, demolish vacant structures and clear the right of way. This will take place through the summer. Excavation for the busway and a bikeway will then begin.
For more details, email
molextension@metro.net
CLOSING THE BOOK

RETIREMENT --
Chatsworth Library will miss four long time staff members, Bruce Seidman, Bob Andress, Joan Stern and Linda Capicotto, who retired recently. The Friends of the Chatsworth Library hosted a send off for them with an Irish toast: "Here's to the Holidays, all 365 of them."
LOCAL JOB SEARCH




Opportunity Clicks



You might also click on WorkSource California.


ACTION CALENDAR
Chatsworth Farmer's Market


Every Saturday

. 9 a.m.- 2 p.m., St. Stephen Presbyterian Church, 20121 Devonshire St. Farmer's Market features a jumping castle for kids, hot food, sweets, live entertainment, and fresh vegetables and fruit.


The Day of the Horse
The Equestrian Committee of the Chatsworth Neighborhood Council invites you to the Day of the Horse festival, 11 a.m.-3 p.m., Sunday, May 23, at Stoney Point Ranch, 10861 Andora St. This free family event features equestrian performances, exhibitions, booths, a poster contest, and vendors. Food available.
Live Music Festival
Chatsworth Lake Community Church's 12th annual music festival will be 11:30 a.m.-7:30 p.m., Saturday, June 5, at 23449 Lake Manor Drive. There will be a BBQ, arts and crafts, a water slide and prizes. Admission is free. Details, call (818) 347-1792 or (818) 399-5756.

Frozen Yogurt
Every Wednesday through June 23, Menchie's Frozen Yogurt in Granada Hills will be donating a portion of the store's sales to SOLID (Supporters of Law Enforcement in Devonshire). SOLID provides non-city supplied equipment to the police officers of Devonshire Community Police Station. Menchie's Frozen Yogurt is located at 17840 Chatsworth St., Granada Hills. Details, call (818) 368-7700.


Oakie Dokie
Come to the first meeing of the recently formed Jack Oakie House Park Advisory Board, 3 p.m.,

Thursday, May 27

, and help shape the future of this San Fernando Valley treasure. The meeting will be at Fire Station 87, 10124 Balboa Blvd., Granada Hills. Details, call (818) 756-8501.



Change the World
High school students are invited to attend "A World We Can Change: A Clean Air Conference & Expo for High School Students" 8:30 a.m.-3 p.m.,

Thursday, May 27

at the L.A. Convention Center, South Exhibit Hall. The conference is free, but all students attending must pre-register and be accompanied by an instructor. To register online or to see a complete event schedule, visit http://tiny.cc/CleanAirConference. For further questions, email aworldwecanchange@aqmd.gov.


Neighborhood Watch


The
May
Chatsworth Neighborhood Watch meeting will be 7 p.m.,

Thursday, May 27

, at St. John Eudes Church, 9901 Mason Ave. Officer Danny Del Valle is senior lead officer for Basic Car 17A23.


Veterans' Park Dedication
Don't miss the grand opening of the Granada Hills Veterans' Park 5 p.m. on Memorial Day,

Monday, May 31

, at the corner of Zelzah Avenue and Chatsworth Street, Granada Hills. Details, call John Weitkamp at (818) 363-3144 or email jweitkamp@aol.com


The Horsey Set
Get to the know the Chatsworth equestrian community at ETI Corral 54's Annual BBQ, 6:30 p.m.,

Tuesday, June 15,

at Mason Park, 10500 Mason Ave. Guests should bring potluck dishes to share. Details, http://www.eticorral54.com.


Town Hall Meeting


LAPD Devonshire Division will hold its annual public Town Hall meeting, 7 p.m.,

Thursday, June 24,

at Shepherd of the Hills Church, 19700 Rinaldi Avenue, Porter Ranch. The topic is "How to Be a Star Witness."
PALS Golf Tournament
Sign up early for a fun day of golf for a great cause at the annual Devonshire PALS Golf Tournament 10 a.m.,

Monday, July 12

at Porter Valley Country Club. The $200 registration fee includes breakfast, lunch and dinner, use of a golf cart, green fees, drinks and one entry for the putting contest and raffle tickets for the dinner. Tickets for only the dinner are $50 per person. To register online visit http://tiny.cc/PALSgolf. For more information email golf@devonshire-pals.org or call Golf Tournament Chair Sally Barnes at (818) 349-1706.


For more calendar items, click here
Free Gift

Bring this coupon to the next Neighborhood Council Meeting and receive a free

Be Safe, Be Seen

safety flasher. Wear it while jogging, cycling, walking the dog.

Name: ________________________________________

Email: ________________________________________

While supplies last 5.20.10