Greetings!
Your Neighborhood Council Election
Is Saturday, Nov. 1
How you vote on Nov. 1 will affect the way the City of Los Angeles responds to stakeholder needs in Chatsworth. The more votes, the more clout at City Hall. This election to fill 10 Chatsworth Neighborhood Council seats is
local
. The national election will come a few days later.
When's the balloting?

Vote on Saturday, Nov. 1. Balloting will be 10 a.m. - 3 p.m. at the Chatsworth Train Depot, 10038 Old Depot Plaza Road. Unlike national and state elections, advance registration is not required. Just register at the polling place, or fill out this form and bring it with you to save time. There is no provision for absentee ballots. So come out and elect your representatives for the 2008 - 2012 Board of Directors.
Who can vote?

If you live, work, own property, board a horse in Chatsworth, or declare a stake in the neighborhood and affirm a factual basis for it, and you are at least 18 years of age on Saturday, Nov. 1, then YOU can vote to fill the 10 at-large seats on the board of directors.
Who are the candidates?


Here's an alphabetical list:
Kamesh Aysola
Judith Daniels
Vernalie Deirmenjian
Diana Dixon-Davis
Janice Eddy-Languen
Hember Maldonado
Joseph A. Martin
Richard Nadel
Art Schlefstein
Robert Searcy

Andre van der Valk
Linda van der Valk
Lucie Volotsky
The Neighborhood Council also will accept write-in applications until Oct. 25.
How can I learn about them?

As they submit their candidate statements, you will find them
here
.
In addition, there will be notebooks at the polling place with each candidate's campaign flyer available for your review.
But why should I vote?

If you are concerned about changes in the unique character of our community, you can have a voice. Are development, traffic, open space, public safety, seniors, parks and equestrians among your hot-button issues? Then join the Stakeholders of the Chatsworth Neighborhood Council and help us work with the City of Los Angeles to utilize available city services and make Chatsworth an even better place to live and work.
If you have additional questions please email
info@chatsworthcouncil.org
or call (818) 464-3511.
About the Council
The mission
of the Chatsworth Neighborhood Council is to provide an open forum for public discussion of issues concerning the Chatsworth community and to facilitate communication between the City of Los Angeles and Community Stakeholders.
Map
of Chatsworth Neighborhood Council boundaries. Click
here
.
When We Meet



All volunteer

committees meet monthly. Meetings begin at 7 p.m. at the Chatsworth Train Depot at 10038 Old Depot Plaza Road, Chatsworth, unless otherwise noted.


1st Wednesday:

CNC Board at Lawrence Middle School.


2nd Tuesday:
Beautification.


3rd Tuesday:
Equestrian.


3rd Wednesday:
Enhancement.


3rd Thursday:
Land Use.


4th Tuesday:
Outreach.

4th Wednesday:
Public Safety & Transportation at Rockpointe Club House, 22300 Devonshire St.


Election Committee, TBA

Check the CNC website for last-minute changes.


ACTION CALENDAR
Meet the first responders at the

Sesnon Wildfire Town Hall Meeting

, 7:30 - 9:30 p.m.,

Wednesday, Oct. 22

, at
Shepherd of the Hills Church,
19700 Rinaldi St., Porter Ranch. Details, call (818) 832-0692.
Neighborhood Watch

meets 7 p.m.,

Thursday, Oct. 23

, at St. John Eudes, 9925 Mason Ave, to discuss Chatsworth's response to the recent Metrolink crash and wildfires. Neighborhood Council President Judith Daniels will speak.


T
he Chatsworth Neighborhood Council is sponsoring a f
ree

first-aid class

on

Saturday, Oct. 25

, from 9 a.m. to 12:30 p.m. The class will be held at the Chatsworth Mobile Home Park Clubhouse, 21500 Lassen St. RSVP at firstaid@chatsworthcouncil.org. Names are still being taken for a wait-list.

Saturday, Nov. 1
is
Election Day in Chatsworth
. Vote to fill 10 open seats on the Chatsworth Neighborhood Council. Balloting is 10 a.m.-3 p.m. at the Chatsworth Train Depot, 10038 Old Depot Plaza Road. Details HERE.


Tuesday, Nov. 4,

is

presidential Election Day

. Remember to cast your ballot at your local polling precinct. Details HERE.
More than 3.4 million people in earthquake-endangered Southern California are currently registered to participate in the

Great California ShakeOut Drill

on

Nov. 13

, and 1.8 million are from Los Angeles County. Register HERE.


The

Special Olympics Tri-Valley Bowl-A-Thon


and raffle will be

Saturday, Nov. 15

, at AMF Rocket Bowl, 9171 DeSoto Ave., from 10 a.m. - noon and 1 p.m. - 3 p.m. The entry fee is $20 per person, with proceeds benefiting the Special Olympics.

You can register as a 3-person team or sign up and be placed on an existing team.
One Special Olympics Athlete will join each team as Team Captain.

You can also sponsor a Special Olympics Athlete. Details, call (818) 342-0017.



Metro will reveal

design plans

for the

Orange Line busway bridge

over Lassen Street, 6:30 - 8:30 p.m.,

Monday, Nov. 17,

at Chatsworth High School 10027 Lurline Avenue.



Metro will reveal

design plans

for the

Orange Line busway

bridge

over Lassen Street, 6:30 - 8:30 p.m.,

Tuesday, Nov. 18,

at New Academy High School, 21425 Cohasset St. Canoga Park.



Holiday Toy Express

arrives at the Chatsworth Depot,

Sunday, Nov. 23

, at 6 p.m. with a festive gathering beginning at 5 p.m.

The

Chatsworth Holiday Parade

is scheduled to march down Devonshire Street beginning at

1 p.m., Sunday, Dec. 14.
CITIZEN SURVEY

A Message
from the Mayor
Fellow Angelenos:
The Mayor of the City of Los Angeles is given the responsibility by the City Charter to develop a budget plan that must be presented for City Council consideration by April 20th of each year. I will develop a budget blueprint that addresses the needs of the City's diverse communities, reflects shared priorities, and moves the City toward important goals. As we begin the planning process for Fiscal Year 2009-10, I invite you to help me develop my proposed budget by sharing your thoughts on how we should create a balanced budget that addresses City priorities and remains fiscally responsible.
To ensure that the needs of your neighborhoods are voiced, my office has created a
budget survey
to help guide the development of the City budget. This survey asks you to make very tough choices regarding real decisions that I will need to make. This year, the City of Los Angeles will be challenged by many issues, including the uncertain impact of the turbulent national economy, likely revenue shortfalls, and increased service demands.
Given these daunting challenges, it is important to hear from community members about their budget priorities and their thoughts regarding the City's revenues and expenditures. I urge you to participate by completing the budget survey. Your participation will help ensure that budget priorities encompass the most pressing needs of our City.
Very truly yours,
Antonio R. Villaraigosa
Mayor
Click
HERE
for the survey.
Quick Phones


Neighborhood Council
(818) 464-3511



West Valley Alliance (graffiti removal)


(818) 885-8885



Police Tipoff Line


(818) 832-0563



L.A. City Infoline


311


City Services
Zero Waste
The City has a Zero Waste team soliciting opinions on how to reduce solid waste. Find out how you can participate.
Zero waste brochure
.
Bureau of Sanitation
The BOS is working to convert our solid waste into renewable energy.
Read the brochure
.
Be Prepared for
the 'Big One'
This is the 150th anniversary of the last great San Andreas Earthquake. Dare to Prepare is a campaign to prepare for the next big quake. Find out what you can do at the
Dare to Prepare site
. Read the
LAFD letter
.
Free Shade Trees
You can get free shade trees through DWP.
Read about the Trees for a Green LA program
DWP Residential Energy and Water Saving Programs
The DWP offers incentives to recycle your old refrigerator and buy an energy efficient one. Other appliance incentives are available too. Receive $100 towards an ultra low flush toilet.
Read about DWP rebates
.
Online Service Requests
You can place service requests for street repair, tree trimming, downed trees or palm fronds in the street
online
.
This is a service provided by the
Bureau of Street Services
.
Property Activity Reports
Did you know that you can view all permit requests for a property online?
Click here
to access the City's online reporting system. Enter in the address and view the permits.
This is a service provided by the
Department of Building and Safety
.
--Adapted from the PRNC newsletter.

CNC Contact

Chatsworth Neighborhood Council
Post Office Box 3395
Chatsworth, CA 91313-3395

Ph: (818) 464-3511
Fax: (818) 464-3585

Email:


i

nfo@chatsworthcouncil.org
Web:
http://www.chatsworthcouncil.org

Complete CNC activities calendar:
http://www.chatsworthcouncil.org/activities.php

Complete community events calendar:
http://www.chatsworthcouncil.org/events.php


The air is so foul you can taste it on the back of your tongue. Rivers are running from your eyes. Once again Chatsworth has been slapped across the face.

"This is the sleepiest little town in the world," Cindy Todd said, "but I swear to God, there's a demon that's infested our little town."

Todd, who evacuated her home near Stoney Point Park in Chatsworth, told the Los Angeles Times that it was the third time she had done so in five or six years.

Just as the demon of the Sept. 12 Metrolink train wreck which killed 25 passengers was being exorcised, last week's wildfire brought another disaster to our streets.

Heavy winds blew down an electric line in a remote unincorporated area north of Porter Ranch, fire officials told the Times, sparking a 14,703-acre blaze that destroyed 15 homes and damaged six more, destroyed 47 outbuildings and may have contributed to the death of a motorist driving on the 118 Freeway.

Fire officials reported 100% containment Saturday afternoon.

More than 2,100 firefighters worked to fight the flames Monday and Tuesday. Saturday, several hundred doused remaining hot spots within the containment lines.

"We're not going to leave there until we are sure it's out," Los Angeles County Fire Capt. Greg Cleveland, told the Times.



Town Hall Meeting

Wednesday



First responders to the wildfire that threatened Porter Ranch, Chatsworth and Granada Hills, will talk about emergency response at a Sesnon Wildfire Town Hall
Meeting, 7:30 to 9:30 p.m. Wednesday, at Shepherd of the Hills Church, 19700 Rinaldi St., Porter Ranch.

Personnel from LAPD, LAFD, Crisis Response Team, California Emergency Mobile Patrol (CEMP), American Red Cross, Department of Transportation, Office of Public Safety, L.A. Unified School Police and California Highway Patrol will attend.

For more information, call Devonshire Police Station at (818) 832-0692.

Many residents who helped strangers after the train crash found themselves needing help from within the Chatsworth community as the winds whipped flames and embers through our neighborhoods.

There were mandatory and voluntary evacuations of homes, schools and stables. Some of our friends and neighbors lost their homes and all their possessions.

With the hillsides scorched, residents may see more wild animals seeking food and shelter and the community may face floods if there is a heavy rainy season.



Evacuations and Damage



Many horse-boarding stables in Chatsworth had to be evacuated and some sustained damage. People fleeing the Marek fire in Sylmar with their horses had come west seeking safety only to find the fire from Oat Mountain had spread quickly below the 118 Freeway.

Although the smokey air still reminds us a week later of how frightening a whirlwind of fire can be, it is comforting to know that once again,

Chatsworth Cares

. Friends and neighbors helped one another. And the incredible first responders were here again to show that they are the best in the world.

Councilman Greig Smith's office is planning a community get-together to honor the first responders and citizens who helped with the Metrolink aftermath and the firefighting efforts. The date is still to be determined.

"With the train accident and the recent fires, our communities have been through a great deal and I have never been more proud -- not just of our heroic police and firefighters, but the hundreds of neighbors helping neighbors and local businesses responding at the most critical times of need," Councilman Smith said.


"We truly live in the best community of the Valley because of the caring and compassionate people here."

Mayor Antonio Villariagosa agreed. On Oct. 11 he honored the Chatsworth Neighborhood Council for its effort to help the community and first responders to the Metrolink crash. The mayor presented a plaque during the Congress of Neighborhood Councils, which was held at City Hall and attracted more than 700 participants.



Wild Animals in Your Yard



Recognition is nice, but Chatsworth still faces challenges. The Wildlife Division of L.A. Animal Services warns that many animals driven out by the wildfire may appear more frequently around homes.

Exercise caution when seeing wild animals as they may be frightened, distressed or injured. Some of these animals may have suffered burns from the fire and some may have a condition known as Mange which leaves open sores and bald patches that resemble burns. Be patient with displaced animals as they will need to feel a sense of safety before moving on or returning to areas that have been burned.

Pets that are normally kept outside should be kept indoors to avoid conflict with wildlife and also to protect them from the particulate matter in the air caused by the smoke from the fire. Should a wild animal appear sick, injured or distressed please do not approach the animal; instead call (888) 452-7381 for assistance.



Be Wary of Contractors



Owners who suffered damage to their homes in the wildfires must now begin the daunting insurance claim and rebuilding process. Among immediate tasks will be fending off looters by boarding up and fencing the property, contacting their insurers and finding new places to live after leaving emergency shelters. Then they will begin the long process of working with claims adjusters and contractors.

The Times says to be wary of contractors who show up and offer to do repairs on the spot for a large cash deposit. Under state law, the down payment cannot exceed $1,000 or 10% of the price, whichever is less.

Always get a written contract that details the work and ask to see the contractor's state license and other identification. Get a minimum of three bids and check contractor references.

The Times suggests some resources for homeowners:





Horse rescued from smoke and flames is led along Topanga Canyon Boulevard. [Jonathan Alcorn's Blog]





Horses Turned Loose



Volunteers wearing paper masks fanned out looking for horses trapped in barns and stables in the area cut off from concerned owners by roadblocks and massive traffic snarls created by freeway closures. One person told the Times 100 to 150 horses had been turned loose in Browns Canyon as the flames neared because they could not be evacuated in time.

Domestic pets and farm animals were welcomed at Pierce College in Woodland Hills, the Los Angeles Police Department said.

County animal shelters also filled up as families fled with dogs, cats, birds, snakes and hamsters, the Times reported. At Chatsworth High School, one couple clutched 2-month-old Doberman pinscher puppies as they awaited word on the path of the blaze above Topanga Canyon Boulevard.

Dog owners evacuated during the wildfires can receive free dog food at the West Valley Animal Care Center, 20655 Plummer St.

Animal Rescue Resources Foundation has donated truckloads of dog food. For more information, call Linda Gordon at L.A. Animal Services at (213) 413-2367 or email Linda.A.Gordon@lacity.org.






Former Neighborhood Councilmember Anna Cox sorts through family photographs that she recovered from her burned home Tuesday in the Twin Lakes neighborhood of Chatsworth. [Al Seib / Los Angeles Times]





Scout Spirit Endures



Among those who lost their homes was Scout leader Les Salay of Troop/Pack 921. Not only was his Porter Ranch home lost, but all of the Scout camping gear burned. He emailed friends:


Despite the fact that we are going through a lot at this time regarding our own issues with the fire that destroyed our home, I still wanted very badly to do Scouting's 6th anniversary of the "Stoney Point Clean-Up," if for no other reason, then to try to bring some sense of normalcy of volunteering back into my own life by doing my own personal Scout Best in giving back to the community.

"However, as much as I wanted the "project" to go forth the Department of Public Works, whom I have to always coordinate this effort with, has stated that because Stoney Point is burned in totality there is nothing that anyone can do at this time to "Clean-Up."

"It was agreed with Department of Public Works and myself that

next year

, we will not only be "cleaning up" but we will be planting trees and various plants to restore Stoney Point to its natural habitat.

"Thanks in advance to all of you that were gearing up to do this community project but we will still have an opportunity to "Give Back" in the future. Be well and keep up your Scouting and environmental spirit and remember to "Leave No Trace" wherever you go! Forever a Scout.

IRRIGATION UPGRADE




Mason Park to Be Closed for 6 Months

Mason Park will be closed for a minimum of six months beginning as early as January to install a new sprinkler system, according to Megan Cottier, field deputy for Councilman Greig Smith.

This is the second major Chatsworth park to be shut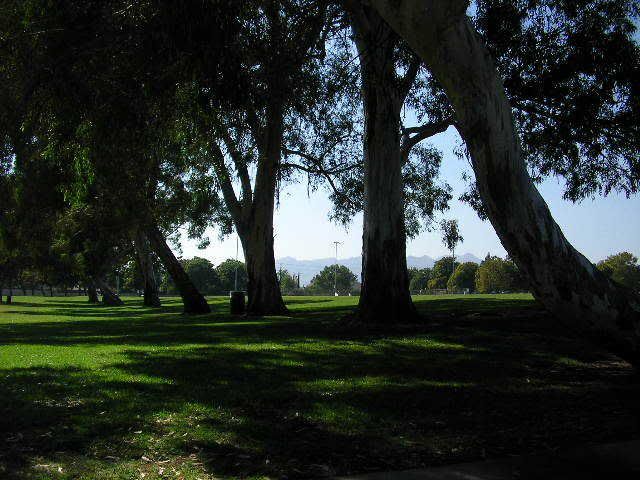 down. Chatsworth Park South has been off limits since last February because of lead contamination in the soil. Only the Historic Acre in the northeast corner of the park remains open. Chatsworth Park North is still in operation.

The City of Los Angeles is funding the Mason Park irrigation project with $760,000 in Proposition K funds with $572,000 going toward construction, Cottier said.

"We do not know yet what date portions the park will close, but we are expecting it early 2009. If the project moves forward as presented, it will be closed for approximately six months," she said.

However, the recreation center and childcare center will remain open while the construction is underway.

Juan Soto, the park director, will be rescheduling organized sports activities that will be affected by the closure, she said. Soto can be reached at (818) 998-6377 or juan.soto@lacity.org

The closure of Mason Park will not have any effect on speeding up the re-opening of Chatsworth Park South, Cottier said.

There are no plans to rotate construction to small sections, so much of the park can be kept open. "The community did ask the Bureau of Engineering to look at that as an option. Unfortunately due to the positioning of the main water valve, the project would take longer and would exceed our budget if it were done in two phases," Cottier said. "Also, AYSO soccer would be tremendously impacted. We have not ruled out this option, but it does present many challenges."

The Mason Park Irrigation Focus Group has met several times to go over the project. At the last two meetings, community members strongly objected to the closure of the entire park, when portions of the park could be closed in a rotating fashion. This idea has been met with resistance from the Bureau of Engineering, according to Steve Columbus, a member of the Focus Group as well as the Chatsworth Neighborhood Council.

Neighborhood Council members on the Focus Group include Chuck Knolls, Vicki Briskman and Steve Columbus, along with members of the community, AYSO, other sports organizations and representatives from Parks and Recreation plus Cottier of Councilman Smith's office.

Stakeholders who want to comment on the project can contact Ray Araujo of the Bureau of Engineering at (213) 473-1717 or Ray.Araujo@lacity.org.

GREAT CALIFORNIA SHAKEOUT
Are You Ready for the 'Big One'?

The Great Southern California ShakeOut is a week of special events featuring the largest earthquake drill in United States history, organized to inspire Southern Californians to get ready for big earthquakes, and to prevent disasters from becoming catastrophes.
What we do now, before a big earthquake, will determine what our lives will be like after. The ShakeOut drill will occur in houses, businesses, and public spaces throughout Southern California at 10 a.m. on Nov. 13.
Free registration at
www.ShakeOut.org/register
will pledge an individual's or a group's participation in this important preparedness event. Participants will receive information on how to prepare for the inevitable major earthquake in the region and what actions to take during and after the shaking.
EDUCATOR, MENTOR, COMMUNITY LEADER
Council Plants Oak for Jon Lauritzen
A California Coastal Oak was planted during Chatsworth's Pioneer Day on Oct. 5 to honor former School Board Member Jon Lauritzen.
When he died last year of a brain tumor, Chatsworth Neighborhood Council President Judith Daniels
suggested that a tree be planted in his honor.
"The Learning Tree" was planted at Chatsworth's Historic Acre at Chatsworth Park South. Lauritzen's family received a commemorative placque.
Lauritzen, right, spearheaded the Chatsworth Neighborhood Council organizing committee and was a teacher at Columbus Middle School and Canoga Park High School for almost 40 years. He died of a brain tumor in 2007.
Lauritzen was diagnosed the previous year, yet never missed a school board meeting, even after brain surgery. Once he had surgery on a Thursday and was at the school board meeting the following Tuesday.
Lauritzen was active with the Santa Susana Mountains Park Association and the Iris Society.
He came from a family of educators. Lauritzen started the computer science program at Canoga Park High, but earlier taught history and math. He was one of the first computer science teachers in the LAUSD. A graduate of CSUN (BA and MA) Lauritzen lived in Chatsworth for most of his adult life. Both his mother and his wife Jan, above, were teachers and his daughter is a science teacher at Lawrence Middle School.
He was elected to the L.A. Unified School Board in 2003 and served until 2007. He established a district office at the former Devonshire Elementary School. He held regular open houses at that office so parents and students could have local services instead of having to travel downtown to interact with a school board member.
Lauritzen was all about education. He was a champion of the average guy and had a great reputation as a teacher -- from students, other teachers and administrators.
"The Learning Tree" was donated by the Sierra Canyon School.
L.A. CULTURAL MASTER PLAN SURVEY




City Seeks Your Ideas



Help Shape the Cultural Landscape of Los Angeles and participate in the online survey as part of the Cultural Master Plan.

The survey will help the City learn more about the ways in which residents engage in arts and cultural activities in Los Angeles as part of the Cultural Master Plan. The Cultural Master Plan will be a common vision for how culture and creativity in all its forms can contribute to community and quality of life for residents and visitors.

Take the survey here.

There will also be a meeting, Wednesday, Oct. 29,
6:30 p.m. to 8 p.m. at Northridge Park, Devonshire House, 18300 Lemarsh St., Northridge.

For more information, please visit www.culturalplan.lacity.org or call (213) 202-5539.


ANIMAL ALERT
Mandatory Spay/Neuter Law in Effect
As part of the City's efforts to reduce the numbers of stray and abandoned pets and move toward the goals of the "No-Kill" policy, the City passed a new spay/neuter law.
As of Oct. 1, pet owners are required to spay or neuter cats and dogs older than four months. The fines for violations start at $100.
Pets that compete as approved breeds in recognized shows, as well as service, guide, police, military, and rescue dogs are exempt. Veterinarians can certify that an animal should not be spayed or neutered for health reasons.
For more detailed information, click
here
.
Free Gift

Bring this coupon to the next Neighborhood Council Meeting and receive a free

Be Safe, Be Seen

safety flasher. Wear it while jogging, cycling, walking the dog.

Name: ________________________________________

Email: ________________________________________

While supplies last 10.20.08