Greetings!
Chatsworth Cares.
It was incredible to see how neighbors responded after the MetroLink train crash. Ordinary people showed how important it is to be prepared. Ordinary people showed how much they cared about others that they didn't know. Ordinary people showed how willing they were to get involved. Ordinary people became heroes.
In the midst of hundreds of police, firefighters, ambulance crews and other first responders on our streets, ordinary people rallied to provide crucial support. Ordinary people donned the green CERT gear they had earned in emergency training courses and came out to help with whatever tasks they could. Ordinary people helped in big ways and small.
For our community, Friday's accident was a big deal. But in comparison to what we will face when there is a gigantic earthquake that devastates the entire region, this was a reminder of how important it is to be prepared.
Please take this opportunity to replenish -- or to start collecting -- emergency supplies for your family. Find the time to take a CERT class, CPR training or a first-aid class so you can help your family or others.
Chatsworth truly cares. We salute everyone who helped. The victims and their families remain in our thoughts.
Judith Daniels
President
Chatsworth Neighborhood Council
---


Here's the
Honor Roll
of local businesses that donated emergency food and supplies. When you patronize them, ask to see the manager and say "Thank You."
at Devonshire and Canoga
on Tampa Avenue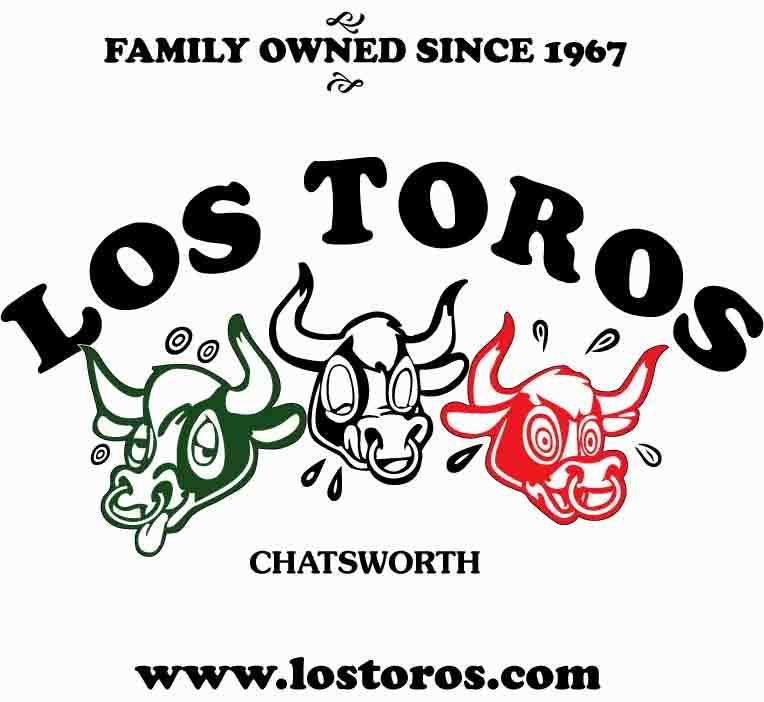 on Tampa Avenue
L.A. Lasagna Co.
And these good folks were able to offer a discount on purchased food:
on Mason Avenue
About the Council
The mission
of the Chatsworth Neighborhood Council is to provide an open forum for public discussion of issues concerning the Chatsworth community and to facilitate communication between the City of Los Angeles and Community Stakeholders.
Map
of Chatsworth Neighborhood Council boundaries. Click
here
.
When We Meet



All volunteer

committees meet monthly. Meetings begin at 7 p.m. at the Chatsworth Train Depot at 10038 Old Depot Plaza Road, Chatsworth, unless otherwise noted.


1st Wednesday:

CNC Board at Lawrence Middle School.


2nd Tuesday:
Beautification.


3rd Tuesday:
Equestrian.


3rd Wednesday:
Enhancement.


3rd Thursday:
Land Use.


4th Tuesday:
Outreach.

4th Wednesday:
Public Safety & Transportation at Rockpointe Club House, 22300 Devonshire St.


Election Committee, TBA

Check the CNC website for last-minute changes.


Quick Phones


Neighborhood Council
(818) 464-3511



West Valley Alliance (graffiti removal)


(818) 885-8885



Police Tipoff Line


(818) 832-0563



L.A. City Infoline


311


City Services
Zero Waste
The City has a Zero Waste team soliciting opinions on how to reduce solid waste. Find out how you can participate.
Zero waste brochure
.
Bureau of Sanitation
The BOS is working to convert our solid waste into renewable energy.
Read the brochure
.
Be Prepared for
the 'Big One'
This is the 150th anniversary of the last great San Andreas Earthquake. Dare to Prepare is a campaign to prepare for the next big quake. Find out what you can do at the
Dare to Prepare site
. Read the
LAFD letter
.
Free Shade Trees
You can get free shade trees through DWP.
Read about the Trees for a Green LA program
DWP Residential Energy and Water Saving Programs
The DWP offers incentives to recycle your old refrigerator and buy an energy efficient one. Other appliance incentives are available too. Receive $100 towards an ultra low flush toilet.
Read about DWP rebates
.
Online Service Requests
You can place service requests for street repair, tree trimming, downed trees or palm fronds in the street
online
.
This is a service provided by the
Bureau of Street Services
.
Property Activity Reports
Did you know that you can view all permit requests for a property online?
Click here
to access the City's online reporting system. Enter in the address and view the permits.
This is a service provided by the
Department of Building and Safety
.
--Adapted from the PRNC newsletter.

CNC Contact

Chatsworth Neighborhood Council
Post Office Box 3395
Chatsworth, CA 91313-3395

Ph: (818) 464-3511
Fax: (818) 464-3585

Email:


i

nfo@chatsworthcouncil.org
Web:
http://www.chatsworthcouncil.org

Complete CNC activities calendar:
http://www.chatsworthcouncil.org/activities.php

Complete community events calendar:
http://www.chatsworthcouncil.org/events.php


JOIN THE CANDLELIGHT VIGIL


Chatsworth Teens Plan Metrolink Memorial Friday

Two Chatsworth teens are organizing a candlelight vigil to honor the victims, survivors and heroes of the horrific Metrolink and Union Pacific train crash of last Friday.

The ceremony will begin at

6:45 p.m., Friday, Sept. 19

, at the Chatsworth train station, 10046 Old Depot Plaza Rd.

Haley Giz and Kristen Kiertzner met at Pepper Tree Ranch in Chatsworth as horseback riding partners when they were in the fourth and sixth grade. Haley, now 15, attends Chaminade College Preparatory as a sophomore and Kristen, 17, attends Opportunities for Learning Independent Study as a senior.

After the Metrolink tragedy of Sept. 12, Haley and Kristen were so devastated by the incident that they called each other and collaborated on an idea for a candlelight vigil. They handmade more than 200 tea light candles but realized that there was much more they wanted to do.

They decided to get the community involved. Soon friends and neighbors began donating their time and talent to make the vigil happen. Local businesses were quick to support Haley and Kristen by posting their flyers to inform the community of the candlelight memorial.


SIGN UP TODAY




Council Offers First-Aid Class



Will you be ready for the next earthquake or train derailment?

The Chatsworth Neighborhood Council is sponsoring a first-aid class on

Saturday, Oct. 25, from 9 a.m. to 12:30 p.m.

The class will be held at the Chatsworth Mobile Home Park Clubhouse, 21500 Lassen St.

The class is free to any Chatsworth Neighborhood Council stakeholder.

Space is limited and will be assigned on a first-registered-first-served basis, so please sign up ASAP. Call (818) 464-3511 or e-mail firstaid@chatsworthcouncil.org and leave your name, address, and either a phone number or an e-mail address.

This is the third in a series of emergency preparedness classes offered by the Chatsworth Neighborhood Council. Previously, the Council sponsored CERT and CPR instruction.



GIVE BLOOD TODAY

Red Cross Still Seeking Blood Donors

The American Red Cross continues to issue an urgent appeal for blood donations following the fatal Metrolink train tragedy.

Any person age 17 or older (age 16 if accompanied by a parent) and weighing at least 110 pounds may be eligible to donate blood. Eligible donors are asked to schedule an appointment to donate by calling 1-800-GIVE-LIFE (1-800-448-3543) or by visiting givelife.org. For Spanish, please call 1-866-POR-VIDA (1-866-767-8432).

The UCLA Blood and Platelet Center is also seeking donations of all blood types. Call (310) 794-7217, ext 2.

For family and friends of victims, the L.A. Fire Department has two hotlines to call for information on hospital patients: (213) 847-2117 and (213) 847-2118.


NOMINATIONS OPEN FOR 10 SEATS



You Can Run for Neighborhood Council



You may nominate yourself for the CNC Board elections to be held on Nov. 1, at the Chatsworth Train Depot from 10 a.m. - 3 p.m. We invite everyone to participate. It's your Council.

Here are the nomination forms:
-- Candidate Filing Form
-- Stakeholder Registration Form

Questions? Call (818) 464-3511.


HOMESTEAD ACRE DECLARED SAFE
Clock Is Ticking for Toxic Cleanup
of Chatsworth Park South
The Voluntary Cleanup Agreement for the oversight of Chatsworth Park South was signed and executed by the State Department of Toxic Substances Control (DTSC) Sept. 8. This officially starts the clock for the cleanup of the lead contamination at the park.
The exact time line for the site clean-up will not be known until a work plan is approved by DTSC.
Chatsworth Park South was closed in February as a health and safety precaution after lead bullet fragments were discovered on the site, which was an outdoor shooting range before it was a park.
Councilman Greig Smith's office has worked closely with the Department of Recreation and Parks to determine if the area around the historic Homestead Acre was safe. It was found to be safe, and the Virginia Watson Chatsworth Museum and the Minnie Hill-Palmer Cottage were re-opened for the public. They will be open for the annual Chatsworth Historical Society Pioneer Day festival on Sunday, Oct. 5.
For more information, please contact Jane Kolb at the Department of Recreation and Parks at (213) 928-9294 or email
Jane.Kolb@lacity.org
.
PRESERVING OPEN SPACE DISCUSSED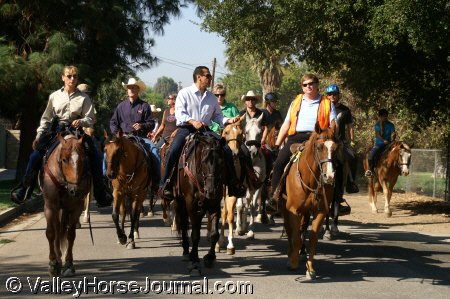 Mayor Antonio Villaraigosa, center, with members of the equestrian community. (Courtesy of Valley Horse Journal)

Mayor Rides the Trails in Chatsworth

By Steve Columbus


Chairman, Equestrian Committee



Mayor Antonio Villaraigosa came to Chatsworth to ride once again with our local equestrians.

We rode in cool, clear weather through Stoney Point Ranch, Stoney Point Park to the 118 freeway and along Canoga Avenue on Aug. 23. We returned to the starting point by way of Chatsworth Street.

I was able to discuss with the mayor our community's general plan and the need to preserve the last of the open spaces in the northwest part of Los Angeles.

The mayor agreed that unique areas such as ours need to be preserved and protected. We also discussed current development plans in Browns Canyon, and the need to preserve this open space and wildlife corridor located there. He asked Mitch Englander, Councilman Smith's chief of staff, who also rode with us, to work with our community on these issues.

Equestrian Committee members participating in the ride included Dorothy Allison, Allan Glazer, Jerry England, Mary Kaufman and myself. Also present to welcome the mayor were Chatsworth Neighborhood Council President Judith Daniels, and CNC Board Members Linda van der Valk, Vicki Briskman, and Jelena Csanyi who prepared a continental breakfast. Stakeholder Clara Woll showed the mayor the Indian pictographs at Coyote Pass.


PIONEER DAY IS OCT. 5

Step Back in Time at the
Historic Homestead Acre
The Chatsworth Historical Society's annual Pioneer Day will be
Sunday, Oct. 5, 11 a.m.-4 p.m.
,at the Homestead Acre in Chatsworth Park South, 10385 Shadow Oak Drive.
The event features tours of the Palmer-Hill historical cottage and the Virginia Watson Chatsworth Museum, which has displays of Indian artifacts and Chatsworth railroad history. Visitors can sample chili from the chili cook-off, and enjoy arts and crafts, music, blacksmith and railroad construction demonstrations and games for children.
Free parking is available at the Chatsworth Train Depot. Free shuttles going to Pioneer Day depart every 15 minutes. The Train Depot is located at 10038 Old Depot Plaza Road.
A $4 donation per adult,and $1 for children is requested. Children under 5 years old are free. All proceeds go to the upkeep of The Homestead Acre.
For more information call the Chatsworth Historical Society at (818) 341-3053 and leave a message.
SUNDAES ON A SATURDAY



The Great Los Angeles Ice Cream Party



Join the 11th annual Great Los Angeles Ice Cream Party at the Griffith Park Merry-Go-Round to celebrate Los
Angeles and its great communities,

Saturday, Sept. 27, 2

p.m. - 5 p.m .

There will be prizes, activities, merry-go-round rides, and

FREE

ice cream.

Any funds raised go to support LA Commons, an organization dedicated to building a sense of community in Los Angeles by promoting the diversity and sense of place within each distinct neighborhood. LA Commons encourages stronger ties between the people and places of Los Angeles.

The Griffith Park Merry-Go-Round is at 4730 Crystal Springs Drive. For more information and to RSVP, visit The Great LA, celebrating what is great about Los Angeles.


IT MAY LOOK LIKE A MUSEUM

Public to Hear About New K-8 School
A community meeting to discuss the Draft Environmental Impact Report for the new Porter Ranch K-8 span school is being held in Chatsworth. The new school will take enrollment pressure off Chatsworth's elementary and middle schools.
The meeting is on
Wednesday, Sept. 24 from 6:30 p.m. - 8 p.m.
at the Germain Elementary School auditorium, 20730 Germain St., Chatsworth.
The architects said their intent is to create a "large sculptural piece out of the entire campus." The design was made expressly to complement the residential community. It is not intended to look like a house or a shopping center, but more like a museum. The architect likened it to the Whitney Museum in New York or similar to the style of renowned Mexican architect, Luis Barragán.
The school is to be located on the southeast corner of Mason and Sesnon to serve 1,047 students kindergarten through 8th grade. It is planned for a fall 2012 opening.
For more information, please call Joseph Piña at LAUSD Community Outreach at (213) 893-6809, or Maria Cano at (213) 893-6823.
For more information on the DEIR, call John Moreno, LAUSD CEQA Project Manager at (213) 893-7425.
NEIGHBORS HELPING NEIGHBORS

Volunteer in Both North and South L.A.
The mayor's 18th Day of Service will focus on job opportunities for South L.A. residents and beautifying community centers and schools. The most recent Day of Service brought hundreds of volunteers to Chatsworth for a clean-up day.

The day will begin with a tree-planting along the Crenshaw-Jefferson Corridor at

8 a.m., Saturday, Sept. 20,

at Hope Memorial Church, 3401 Somerset Drive, Los Angeles.

In addition to mural-painting and community clean-ups, some project highlights include help for the victims and victims' families of the Chatsworth train crash.

For more information, contact Barri Worth at (818) 778-4990
or email Barri.Worth@lacity.org.


The North Valley clean-up day is

Saturday, Sept. 27, from 8:30 - 11:30 a.m.

, beginning with a kick-off at Northridge Park. For more information or to RSVP, please contact Megan Cottier at (818) 756-8501 or email Megan.Cottier@lacity.org.

Free Gift

Bring this coupon to the next Neighborhood Council Meeting and receive a free

Be Safe, Be Seen

safety flasher. Wear it while jogging, cycling, walking the dog.

Name: ________________________________________

Email: ________________________________________

While supplies last 9.17.08