Get your FREE
Prosperity Spells

to draw
business success and
financial ease!
At the "Lucky W"
Amulet Archive
you can read all about the Mexican
Snow Globe
Pyramid of Luck
for good luck and
good fortune.


Tarot Card Readings and Rootwork Consultation
A psychic reader can help you clarify your goals or prescribe spiritual supplies
appropriate to your
spell-casting needs.
Enter the
magical world of the
Lucky Mojo
Community Forums where more than 5,500
friendly hoodoo practitioners,
helpful Lucky Mojo
Staff Members,
HRCC graduates,
and professional members of the Association of Independent Readers and Rootworkers
share their spell-casting success stories, answer new user questions, and pass along traditional conjure craft and family rootwork techniques.
Featured Article
Follow us on Facebook!
Join 4,700+ other fans of
Lucky Mojo
on Facebook
and receive news, information and chit-chat about what's cooking at the shop!
Twitter
FRIDAY,


January 6, 2012:




MONTHLY

HRCC HOMEWORK GRADING PARTY!


More than 1,700 people have enrolled in
cat yronwode's
Hoodoo Rootwork Correspondence Course
-- and to graduate, they must turn in
8 pieces of homework. Every month we hold a work-party at which we look over incoming homework. All are welcome, whether students or not! We meet at 5:00 PM at the shop, and PIZZA IS FREE. See how hoodooers do their thing!

February's Homework Party is on the 10th.

March's is on the 9th.
HOODOO PSYCHICS



Who Ya Gonna Call for Hoodoo?




Call
1-888-4-HOODOO


Hoodoo Psychics is the only Live Psychic Reading Line operated by the ethical and authentic conjure doctors and spiritual root workers of AIRR, the Association of Independent Readers
and Rootworkers!

You can connect with a live hoodoo rootworker for $3.99 per minute through the
Hoodoo Psychics
web site
or by calling
1-888-4-HOODOO.

For updates and more information, go to the Hoodoo Psychics Facebook Page,
then "like" the page and say hello, so that Hoodoo Psychics updates will appear in your Facebook newsfeed.
Become an Authorized Reseller or Online Affiliate!
Cold and dry, warm and dry -- this is a Winter to remember. We have had no rain in ages and the sunny days alternate between the cold sparkle of Winters in the Missouri Ozarks and the warm brightness of Winters in Santa Monica. Either way, it's not yet a drought and not yet so dry that we need to perform a rain dance - but i will never forget that a rain dance was the first ritual my friend Dale Wilkins and i performed back in the early 1960s in Berkeley, California - and it worked, too!




Welcoming the New Year:

SPIRITUAL CLEANING, NEW EMPLOYEES, and the INVENTORY!




It is our custom at the Lucky Mojo Curio Company to begin each year with a full-scale Spiritual Cleaning of the shop, back offices, shipping area, and bathroom, working in the traditional manner, from back-to-front and from top-to-bottom, washing down all surfaces with scrub water into which we have blended that sovereign old-time spiritual cleaning supply, Chinese Wash.



This year, as always, the cleaning took about four days, as we dusted, wiped down, and attended to every surface in our tiny, but jam-packed store.

This year was different, though, because we have two new folks in the shop, and the cleaning helped serve as their deeper introduction to the minutiae of figural candles, Himalayan monastery locks, vintage fortune-telling tea cups, bulk herb storage jars, and tiny exquisite bottles of hand-made conjure oils.


LISA and DAVID, our newest team members, pitched in with good will, dusting, sweeping, washing, and praying with the rest of the group, and we are thrilled to have them on board, as they both are highly suited to the spiritual work at hand, and bring their own skills and talents to our eclectic outfit.

Cleaning time always is a good time to take inventory as well, and that is what NAGASIVA and CATHERINE did, assisted by ROBIN - we counted every single bottle of oil and foil packet of sachet powder, incense powder, and bath crystals in stock.

NAGASIVA and ERNIE have kept track of occult shop goods such as statuary, amulets, jewelry, books, and tarot cards via an inventory database for years now, but 2012, believe it or not, marks the very first year that we have created inventories our own goods, that is, the items we make by hand. We always took the attitude that, "Hey, no need to count them, we can always make more when we run out," but the company has grown so much during the past two years that we finally realized that we need a system that will tell us whether we have three bottles (or ten bottles, or no bottles) of Fast Luck Oil or two packets of Hot Foot Powder in-house when a customer calls.

Yes, it was overdue.... and yes, taking inventory is tedious work ... but WE DID IT! If you call the shop now and ask how many bottles of Stay With Me oil or how many foil-packs of Attraction Bath Crystals are on hand, LESLIE or DELLA will be able to answer that question! Amazing, huh? We've joined our passion for hand-crafted spiritual supplies to the mercantile world's standards of data management ... and it hardly hurt at all.




Plan Now for the May Workshops:

ADVANCE NEWS: MAY 5-6, 2012 ANNUAL HOODOO WORKSHOPS!




Every year our neighborly church, Missionary Independent Spiritual Church, sponsors a two-day festival of conjure workshops and a potluck party open to the public. Lucky Mojo contributes to the festivities with an Open House and lots of help by our experienced staff members.

Here are some of the events currently being planned. No specific costs or times-of-day yet, but that information will follow in due time.




The Weekend opens with SARAYEYE, an AFRO-CUBAN LUKUMI BLESSING AND ROAD OPENING CEREMONY performed by DR. E. and his assistants. This is free to all, and all are invited to attend.

CONJUREMAN ALI will be teaching SUPERNATURAL PROTECTION: How to Trap, Tame, and Drive Away Evil Spirits, Malicious Demons, and Wicked Djinns. Each student will learn authentic techniques from a variety of cultures and will then craft and take home a traditional Spirit Trap.

SINDY TODO and SUSAN DIAMOND will team up for a workshop on PROSPERITY SPELLS, and participants will be instructed in how to use and work with one of the oldest and least-known Money Drawing Spells found in conjure -- and the thing itself is included in the cost of the class, along with a take-home flyer of instructions.


ROBIN PETERSEN will present the ANNUAL CONJURE COOK-OFF, plus a new spiritual cookery workshop, GROCERY STORE MAGIC. Participants will learn how to work hoodoo spells of love, protection, and even cursing with simple fruits and vegetables! Fun for everyone, this class will give you a whole new outlook on food shopping! All materials and take-home produce supplied, plus a free flyer outlining all the spells, and, of course, a copy of the 2012 HOODOO FOOD! ROOTWORK RECIPE ROUND-UP AND CONJURE COOK-OFF COOKBOOK. (For which the deadline for recipe submissions to be printed is April 1, 2012.)

SUSAN DIAMOND AND SINDY TODO will team up again for a class on EGG CLEANSING AND THE MEDITATION OF SAINT MICHAEL. This powerful and transformational class will cleanse you -- and teach you how to cleanse others with an egg.

DR. E. will give his awesome MOJO MAKING class -- it's good for beginners, but filled with special tricks that even long-time practitioners may not yet know. Participants will craft, dress, and bless a mojo hand for love or money -- or both. All Roots, Herbs, and Oils are supplied, along with a free flyer.

CATHERINE YRONWODE will be introducing her brand new 96 page book on BONE READING and will individually coach all participants as they learn to throw and to interpret the bones in divination. A "bare-bones" starter set and the complete book on seership with bones are included in the cost of the workshop.

There's much more to come, and this program is still subject to changes and updates, but mark your calendars now -- MAY 5 and 6, 2012 in Forestville, California. We look forward to seeing you!



And for the Graduates of the HRCC:

APRIL 30th through MAY 4th:

FREE APPRENTICESHIP WEEK!




The Lucky Mojo Apprenticeship Program is a FREE three-week series of lectures, personal training, and hands-on guidance in the history, preparation, and use of conjure supplies. This is your chance to meet other graduates, hang out in a real hoodoo shop, work with your hands, and receive true training in the background, history, and actual work of conjure.




The Apprenticeship Program consists of nine lecture classes of 3 - 4 hours each, plus nine hands-on training sessions of 3 - 5 hours each, organized into three one-week training sessions.

Week One: Herbs, Candles, Special Waters

Week Two: Oils; Incenses; Mojo Hands

Week Three: Baths; Sachets; Jack Balls

Apprentices need not take the three weeks of sessions in order. The Apprenticeship Program is open to all graduates of catherine yronwode's Hoodoo Rootwork Correspondence Course.

Upcoming Apprenticeship Week

April 30 - May 6, 2012 - Week One Apprenticeship:

Monday: Herb Lecture, Identifying and Harvesting Herbs
Tuesday: Harvesting, Dehydrating, and Packing Herbs
Wednesday: Candle Lecture; Dressing Candles
Thursday: Labelling, Dressing, and Fixing Candles
Friday: Special Waters Lecture, Making Specials


Two party meals are supplied during the week and attendance is requested: a Potluck Lunch catered by the Lucky Mojo Staff and an Apprentices Dinner catered by Robin Petersen.






There is NO COST for Apprenticeship training because it is conducted strictly on the basis of labour-for-labour trade. Over the course of a five day Apprenticeship Week, Apprentices receive about 20 hours of lectures and hands-on training and in turn they perform about 20 hours of work for the shop. If you cannot sit or stand for a 40-hour work-week, you should NOT attempt to attend this apprenticeship.

To join in the Apprenticeship Program you must be a Graduate in good standing of my Hoodoo Rootwork Correspondence Course. Non-graduates are eligible for Apprenticeship training if they bring all of their Homework with them when they come.

Any Graduate may take the Apprenticeship training, but it is especially recommended for those who wish to go on to work for clients or who want to start their own occult shop and would like to know what the work is actually like.

Apprentices are required to sign a non-disclosure agreement, to provide their own room and board, and to attend all 40 hours of studying, learning, and making spiritual supplies.


Upon finishing all three weeks of Apprenticeship, a certificate is issued at no cost, signifying that the training was completed.

Space in the Apprenticeship Program is limited.



If you want to attend the May 2012 Apprenticeship, Week One, email Robin Petersen NOW at robin@luckymojo.com or telephone her at the shop -- 707-887-1521 -- Tuesday through Saturday, 9 to 5 PST.



HOODOO ROOTWORK HOUR
RADIO SHOW!

The Lucky Mojo Hoodoo Rootwork Hour, brought to you every week by catherine yronwode of luckymojo.com and ConjureMan Ali of conjuremanali.com, is a live call-in show, where we will read your fortune and prescribe down-home, old-school conjure and rootwork remedies!

Special Guest Readers and Rootworkers from AIRR, the Association of Independent Readers and Rootworkers, will be featured on January 8, 15, 22, and 29, 2012. Tune in and see who's up!

January 1, 2012 will be a rebroadcast of an earlier show, due to the New Year's Day Holiday.


Show Time:

* 3:00 PM Sunday, Pacific Time
* 4:00 PM Sunday, Mountain Time
* 5:00 PM Sunday, Central Time
* 6:00 PM Sunday, Eastern Time

Listen Live via the Web and get into the Live Chat Room at


The Lucky Mojo Hoodoo Rootwork Hour on BlogTalkRadio!


To get a FREE reading and rootwork advice, you must pre-register at the Lucky Mojo Forum, then call in by telephone during that week's LIVE broadcast and press '1' to request to be on the air.

Call-In Number for pre-registered applicants:

1-818-394-8535

________________________________________________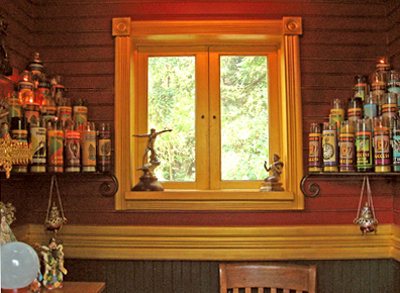 The January Discount Coupon is yours for simply opening and reading this newsletter, so take aim and claim your savings!


Cordially,