The vision of the Computer Science Collaboration Project is to efficiently increase participation of underrepresented groups in computer science opportunities and activities by effectively building collaborations between K-12, community-based organizations, higher education and industry.
Project Updates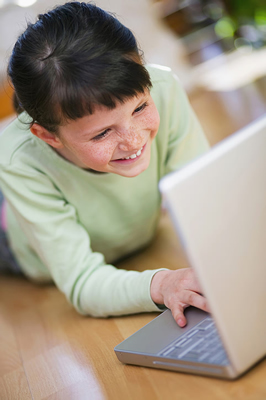 The Computer Science Collaboration Project uses the most successful elements of the National Girls Collaborative Project (NGCP) to connect K-12 outreach programs, professional organizations, and companies as well as alliances that are part of the Broadening Participation in Computing (BPC) community, specifically focusing on outreach to and collaboration with persons with disabilities, African Americans, Hispanics, American Indians, Alaska Natives, Native Hawaiians, Pacific Islanders, and women. We are working in partnership with the Computer Science Teachers Association, Computing Alliance for Hispanic-Serving Institutions, AccessSTEM, and will be adding additional partners as we create our collaboration networks.
Mini-grant Applications for Youth with Disabilities
In honor of National Disability Employment Awareness Month, the Computer Science Collaboration Project (CSCP) is pleased to announce the availability of mini-grant funding as an incentive for collaborative projects to efficiently increase the participation of K-12 youth with disabilities in computer science. These mini-grants are designed to build collaboration between participants from K-12 settings, community-based organizations, higher education, and industry to encourage youth with disabilities to explore and/or pursue computer science educational programs and careers. CSCP is accepting applications for mini-grants from October 14, 2011- November 30, 2011. Visit the CSCP website www.cscproject.org to download the application form and learn more about the mini-grants.
CSCP Collaboration Institute
The Computer Science Collaboration Project (CSCP) Collaboration Institute took place in Redmond, Washington on September 12-14, 2011. Members of the Youth with Disabilities Leadership Team and the Engaging Hispanic/Latino Youth Leadership Team traveled cross country to meet in-person to participate in project planning, learn more about the CSCP model, identify networks for dissemination, and tailor a mini-grant process designed to connect collaborators focused on engaging underrepresented groups. The Institute concluded with a tour of the Microsoft Inclusive Innovation Showroom, highlighting the latest technology innovations to address issues of accessibility. Leadership Team members are representative of K-20 education, informal science education, community based organizations, industry, and research. For more information about Leadership Team members visit the CSCP website.
We look forward to continuing our work with this dedicated group and to sharing upcoming events, exemplary practices, resources, and updates!
CSCP Webinar CSTA: Services and Resources to Engage Youth in Computer Science
Monday, December 12, 2011
11:00 AM - 12:00 PM Pacific
CSTA is the Computer Science Teachers Association, a membership organization of 10,000 educators, institutions, and companies dedicated to supporting and promoting the teaching of computer science and other computing disciplines in K-12. This webinar will focus on services that CSTA provides for formal and informal educators and the free resources it provides for helping young people, their families, and their educational community better understand the computing disciplines and the world of opportunities they provide.
Register: http://www.cscproject.org/webinars/dec11
Archived Webinars
CSCP Archived Webinar Making Programs More Inclusive and Accessible for Youth with Disabilities
This webinar provided an overview of various disabilities and strategies for enabling youth with disabilities to fully participate in your programs. Collaborations are key in making this happen easily and effectively. Exemplary programs and resources were highlighted. This webinar was a collaboration between the Computer Science Collaboration Project and the National Girls Collaborative Project.
Webinar archived at: http://www.cscproject.org/index.php?q=node/75
CSCP Archived Webinar Engaging Latino Youth in Computer Science: Current Research and Program Models
This webinar brought together research and practice to highlight effective strategies for engaging Latino youth in Computer Science activities, featuring Jill Denner of Education, Training, Research (ETR) Associates, Irene Lee of Growing Up Thinking Scientifically (GUTS), and Enrico Pontelli of New Mexico State University.
Webinar archived at: http://www.cscproject.org/index.php?q=node/75
CSCP Archived Webinar Collaboration Projects Engaging Youth with Disabilities in Computer Science
This webinar provided an overview of the Computer Science Collaboration Project (CSCP) resources and activities planned for K-12 youth with disabilities and provided examples of existing model programs.
Webinar archived at: http://www.cscproject.org/index.php?q=node/75
Computer Science Events
Special Interest Group on Information Technology Education (SIGITE) 2011 Conference
West Point, NY
October 20 - 22, 2011
The 12th Annual Conference is sponsored by the ACM Special Interest Group on Information Technology Education (SIGITE) and offers keynote lectures, paper sessions, panels, posters, and exhibits. The conference will provide a forum for sharing and developing ideas relating to information technology research, education, applications, IT-industry-academia relationships and the roles of professionals, educators, and advocates for the effective use of information technology.
Register: http://www.sigite.org/events/sigite-2011
2011 Independence Science Learning a New Direction Conference on Disability Conference on Disability (ISLAND)
West Lafayette, IN
October 28 - 29, 2011
The 2011 Independence Science: Learning a New Direction Conference on Disability
(ISLAND) will give participants the opportunity to learn about cutting edge research in accessible technology that promotes persons with disabilities in the science, technology, engineering, and mathematics (STEM) professions. ISLAND also seeks to be an opportunity for researchers in the field to learn what others are doing and to develop collaborations to further advancing STEM access to persons with disabilities. This event is open and free to all interested persons.
Register: http://www.independencescience.com/island.php
Calling All Digital Divas, Web Chix, and Coder Girls!
The National Center for Women & Information Technology (NCWIT) is seeking applications from young women (grades 9-12) for the NCWIT Award for Aspirations in Computing. Awardees are selected for their computing and IT aptitude, leadership ability, academic history, and plans for post-secondary education. National award winners will receive cash and prizes. Many states have local affiliates that also offer awards and recognition. Deadline: October 31, 2011.
Register: https://awardportal.ncwit.org/register.php
Grace Hopper Celebration of Women in Computing
Portland, OR
November 9 - 12, 2011
This conference is designed to bring the research and career interests of women in computing to the forefront. This year's theme What If?, explores the idea that innovation in technology arises from questions.
Register: http://gracehopper.org/2011/participate/registration
Computer Science Education Week
December 4 - 10, 2011
Designated by the U.S. House of Representatives as the week of Grace Murray Hopper's birthday, Computer Science Education Week (CSEdWeek) recognizes the transformative role of computing and the need to bolster computer science at all educational levels. CSEdWeek is a call to action to raise awareness about computer science education and computing careers. The website includes lists of events and resources for students, teachers, parents, community, administrators and counselors.
Computer Science Education: Innovation and Technology (CSEIT) 2011
Singapore
December 12 -13, 2011
As computing evolves so does computer science as a discipline. The CSEIT 2011 conference is designed to spark discussion among educators, researchers, consultants, training managers, policy makers, curriculum developers, and entrepreneurs in computer science education. This conference offers an opportunity to meet and discuss ideas, findings, and next steps.
Register: http://cseducation.org/Registration.html
SIGCSE 2012 Conference
Raleigh, North Carolina
February 29 - March 3, 2012
The Association of Computing Machinery (ACM) Special Interest Group on Computer Science Education (SIGCSE) provides a forum for educators to discuss issues related to the development, implementation, and/or evaluation of computing programs, curricula, and courses, as well as syllabi, laboratories, and other elements of teaching and pedagogy. The conference theme, "Teaching, Learning, and Collaborating," commemorates North Carolina's renowned "Research Triangle" where SIGCSE 2012 will be held.
Register: http://www.sigcse.org/sigcse2012
Computer Science Teachers Association (CSTA) Corner
December is not far away, which means it is time to start thinking about Computer Science Education Week (CS Ed Week). CS Ed Week will take place December 4-10, 2011. How are you going to celebrate and reach beyond your classroom, club, or organization to get young people and their parents involved? CS Ed Week is the perfect opportunity to raise awareness of the critical role computer science education has in preparing students for 21st Century careers and the transformative role computing plays in today's society.
The CSTA website provides a variety of resources that can help including: posters for classrooms and counselors, brochures for students and parents, and two minute promotional videos focusing on different areas of computing. Many corporations, colleges, and universities are also hosting events. To find an event near you, simply go to www.csedweek.org. To order posters: email cstephenson@csta.acm.org.
CSCP Program Directory - Register Your Program Today!
The CSCP Program Directory lists organizations and programs that focus on motivating underrepresented youth to pursue careers in computer science. (If your program is in the NGCP Program Directory, it has automatically been included in the CSCP Program Directory.)
The purpose of the CSCP Program Directory is to help organizations and individuals network, share resources, and collaborate on computer science related projects. The Directory contains Program descriptions, resources available within each organization, Program and/or organization needs, and contact information. Submitted entries undergo review and verification prior to publication. Register your Program today: http://www.cscproject.org/index.php?q=pd/newprogram
Resources
October is National Disability Employment Awareness Month
Congress designated each October as National Disability Employment Awareness Month (NDEAM). Various programs carried out throughout the month increase the public's awareness of the contributions and skills of American workers with disabilities and also highlight the specific employment barriers that still need to be addressed and removed. This effort to educate the American public about issues related to disability and employment began in 1945, when Congress enacted a law declaring the first week in October each year as National Employ the Physically Handicapped Week. In 1962, the word "physically" was removed to acknowledge the employment needs and contributions of individuals with all types of disabilities.
Disability Mentoring Day: October 19, 2011
The American Association of People with Disabilities' (AAPD) Disability Mentoring Day (DMD) program connects students and jobseekers with all types of disabilities to thousands of employers each year and currently takes place in more than 300 locations in every US State and Territory. DMD promotes career development for students and jobseekers with disabilities through hands-on career exploration, on-site job shadowing, and ongoing mentoring leading to internship and employment opportunities.
Our Ability
Our Ability's goal is to inspire youth with disabilities to achieve their education and employment dreams. Our Ability specializes in mentoring people with disabilities worldwide though video stories, social media, and peer-to-peer connection.
Computing Alliance of Hispanic-Serving Institutions (CAHSI)
The Computing Alliance of Hispanic-Serving Institutions (CAHSI) is a consortium of universities committed to increasing the number of Hispanics who earn baccalaureate and advanced degrees in computing. By fostering a community that shares resources, establishes research and curricular collaborations, and disseminates best practices, CAHSI is developing future Hispanic leaders while addressing the under-representation of Hispanics in computing. CAHSI is working with industry, private-sector partners, and faculty from research institutions who share its goals and support diversity initiatives. The CAHSI website houses information on upcoming relevant events, recent statistics and literature on Hispanics and STEM, as well as computer science education.
Bootstrap
Bootstrap is a free, standards-based curriculum for middle-school students, which teaches them to program their own videogames using purely algebraic and geometric concepts. Bootstrap works with numerous afterschool program partners, including Citizen Schools, Upward Bound, The Providence After School Alliance, and After School All-Stars.
Microsoft Accessibility Guide for Educators
Designed to empower students with disabilities and special needs this guide provides information about accessibility and computer accessible technology to help educators ensure that all students have equal access to learning. The guide, available in English and Spanish, provides an understanding of accessibility and how it impacts the classroom, definitions of impairment types, learning styles, and special education needs that can be addressed with computer accessibility solutions. The website includes "How-To" articles as a resource to make the PC easier for students to see, hear, and use.
http://www.microsoft.com/enable/education
Computational Thinking: A Problem Solving Tool for Every Classroom
Computational thinking is integrating the power of human thinking with the capabilities of computers. The essence of computational thinking is thinking about data and ideas, and using and combining these resources to solve problems. Teachers can encourage students to "think computationally" by moving technology projects beyond "using" tools and information toward "creating" tools and information.
http://csta.acm.org/Resources/sub/ResourceFiles/CompThinking.pdf
Culturally Situated Design Tools
Dr. Ron Eglash, Associate Professor for the Department of Science and Technology Studies at Rensselaer Polytechnic Institute in Troy, NY is known for his work in ethnomatics and ethnocomputing - two disciplines aimed at engaging underrepresented students in computer science and mathematics. He has created Culturally Situated Design Tools (CSDT) - software applications that allow students to create simulations of cultural arts. CSDT address African, African American, Native American, Latino and Youth Subculture themes and follows computer science curriculum standards. This webpage includes current CSDT lesson plans.
http://www.ccd.rpi.edu/Eglash/csdt
About the EdLab Group

The EdLab Group is a private, non-profit center with funding from federal and state governments, private foundations, corporations, and individuals. Our mission is to leverage the power of technology and diversity to transform teaching and learning.

If you have an article or a suggestion for an article, please forward it to: Newsletter@edlabgroup.org. We respect your privacy and do not sell, share or allow our list to be viewed by other individuals or companies.

For more information about the EdLab Group, visit our Web site: www.edlabgroup.org