Beginning the Season with A New Look
Check Out the New Website
During the winter we overhauled our web presence with a new website
. Don't worry, we've kept all the useful resources that were found on the old site but have improved the navigability of the site and added a great new photo gallery. There are so many new things to see so please take a look.
Spring Pond Clean Up
Getting Your Pond Up and Running
Now is the time to be asking yourself,
"Does my feature need a thorough clean out this year or just a little attention?" Having a layer of gunk at the bottom of your pond or water that is the color of dark tea are fairly good signs that it is time to do a full clean-out.
Pond clean-outs should be done before plant life begins to fully emerge and pond bacteria hasn't started colonizing, usually before the water temperature reaches 55°F. A full clean out replaces nutrient rich water with fresh clean water, a process similar to the way spring rains and snow melt naturally flush out our natural ponds and lakes. Click here to learn more about how to do a pond clean out.
Cedar Run Landscapes provides full pond services and will soon be starting our annual spring clean outs. Even if you think your pond just needs some tidying up we would be glad to assist you. To be added to our list of pond maintenance customers, contact us at info@cedarrunlandscapes.com.
We're on Facebook
Like us


Cedar Run Landscapes has joined Facebook. Check us out to learn about what we've been up to lately and to see our newest projects.


Get the Garden Ready
Spruce Up the Garden for the New Season
As March brings warmer weather, it's time to get our hands dirty and get out into the garden. Removing damaged plant material caused by winter weather and cleaning up debris piling up in the garden are import to freshening up our landscapes and minimizing disease and insect infestations.
Removing debris that have collected over the winter is one of the first steps to
integrated pest management
. Eliminating debris helps reduce decaying organic matter that may harbor disease as well as removing overwintering pests. Some of the diseases you will be preventing are leaf-spotting, rust, powdery mildew, bud and flower blight, and canker fungi.
Below are a few links to sites that give useful tips to help with this springs garden clean up:
Spring Lawn Maintenance
Getting a Good Start for A Green Season
Over time soil nutrients change, altering the performance of our lawn. Soil testing should be done every 2 to 4 years (2 for sandy soils, 4 for clay soils) to ensure adequate nutrients are available. Testing provides homeowners and landscape professionals with the information needed to apply the proper amount of fertilizer to promote healthy plant growth without increasing habitat destruction in our waterways due to runoff.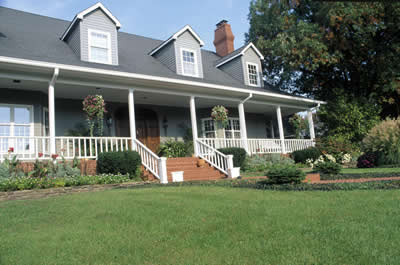 Adding a early spring fertilization to your lawn maintenance schedule will help give your lawn a healthy boost this season. Incorporating a pre-emergent weed control, which prohibits seed germination, along with this fertilizer will prevent unwanted weeds such as crab grass, nutsedge, or dandelions from taking root.
If you need assistance in getting your outdoor living room ready for the Spring please
contact us
. We'd be happy to help with any of your landscape chores, whether it be cleaning out your garden beds, improving your lawn, helping get your pond started up or revamping your whole back yard. Remember to check out our
new website
and
Facebook page
.
Sincerely,
Alden R. Zove

Cedar Run Landscapes