Greetings!

CHEMERS GALLERY is happy to introduce Steve Kell, an accomplished plein air artist. Kell's lively compositions and pleasing pallet make his award winning oil paintings very desirable. His appreciation and enthusiasm for our local scenery and lifestyle is apparent in every painting.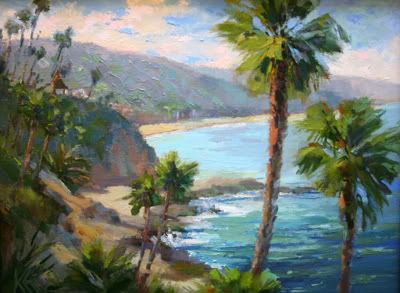 Whitewater
Laguna Beach
Steve Kell sold his first oil painting at age 18, following in his mother's footsteps, but his creative bent and runaway sense of humor quickly steered him toward cartooning. He is now a widely recognized magazine cartoonist with a long list of clients which include Cosmopolitan, Saturday Evening Post and Good Housekeeping. He also created the Universal Press syndicated comic strip, "The Captain and Mandy". Amazingly enough, Kell found time to succeed at a full career as a pilot, in the Air Force and commercial airlines!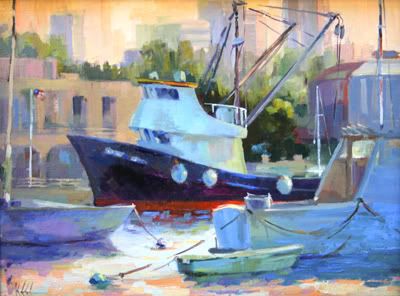 Workin' & Relaxin'
Balboa Park
Accepting an early retirement package, Kell has returned to the easel once again. His passion for painting the landscape, lugging the gear, searching for that perfect composition, has taken up most of his time for over eight years. Kell's goal is to lay something onto the canvas that embodies the spirit of the scene, as well as its beauty.

We have six new works by Kell along with our other fabulous plein air artists. You can click the link below to see more of his work, or better yet, come on by!


We've sent this email to you since you've shown an interest in plein air art, traditional landscape, seascape/marine, local art, or new art. If you've received it by mistake, your email preferences can be changed easily... just give us a call, send an email or if you'd like to do it yourself, click the "Join Our Mailing List" button on the sidebar to update your profile.
To search for other artists at
CHEMERS GALLERY
click HERE.
Your Friends at
CHEMERS GALLERY

in Enderle Center since 1978
17300 17th Street, Suite G, Tustin, CA 92780

714-731-5432 www.chemersgallery.com art@chemersgallery.com
BLOG
updated on mondays -check it out!
UPCOMING EVENTS



2008

8/1-8/31 20% OFF
all Bonnie Holmes Skincare Products



9/1 MON. CLOSED FOR LABOR DAY





9/6, 5p-8p

SAC Clay Artists' Opening Reception



9/6-20

SAC Clay: Student & Faculty Ceramic Show



9/17

Introducing
Jackie Kamin, traditional oil painting



10/25,26

International Car Show, Enderle Center



12/6

17th Annual Children's Book Illustration Show



2009





SPRING


CHEMERS GALLERY
30th Anniversary Celebration

or UPDATE PROFILE
NEW EMAIL PROFILE CATAGORIES

If you'd like to receive updates on any of these catagories, click the "Join Our Email LIst!" button, and follow the prompts.