Upcoming Summer Productions
June 12-14, 18-21

July 10-12, 16-19

August 7-9, 13-16
QCMG Brunch Tickets are Available!
The Annual QCMG brunch will be Sunday, August 9th at 10:00 am at the iwireless Center. Tickets are $5 and are available by calling the box office at 309-762-6610.
OVERTONES
Issue No 262
May 2009
A Message from Our President...

If you missed The Producers, you missed one of the best shows presented on the Music Guild stage. Not quite 2,200 persons attended the show, masterfully staged and directed by a team led by Kevin Pieper. The Producers featured an experienced, talented and enthusiastic cast and left the audience wishing for more. Congratulations to all involved.

Next up comes the audience favorite The King & I, June 12-14 and 18-21. You can order tickets now by calling the Guild box office at 762-6610. Guild veteran Bill Marsoun is leading the directing team. The show features a talented cast and some of the all-time, audience-favorite songs. Call now!
You're reading a "bonus" issue of Overtones made possible by technology and the dedication of Jen Sondgeroth, who's been editing overtones since December. Jen just finished a stint as assistant director of The Producers. And you can see her on the Guild stage as Anna in The King & I. Besides being an actress, director and editor, Jen's a grade school speech therapist, mom to Ryan, age 3, and wife of Nathan, another active Guilder.
Thanks, Jen (and Nathan and Ryan) for all you do for Quad City Music Guild.
Sincerely,

Jerry Taylor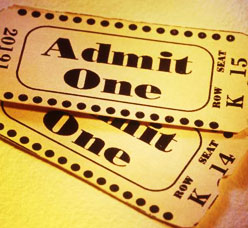 Box Office and Ticket Information
The Music Guild Box Office will be resuming regular hours starting Monday, May 18. Box Office volunteers will be available to answer your calls for ticket orders each weeknight from 5-7 pm. Of course, you can call and leave a message with your order information at any time and one of our volunteers will be happy to return your call! Don't forget that in addition to single show tickets, the Classic Summer Season Ticket package is still available for the 2009 season. You can complete a
ticket order form
on our website, or call the box office at 309-762-6610.
Volunteer Opportunities
The Annual Spring Clean Up Day at Music Guild will be this Saturday, May 16 from 9:00 am to 12:00 pm. Please consider coming to help us get the theater ready for our summer productions and patrons. We will be working inside and outside. Even if you can only come for a little bit, your help would be appreciated!
Sound Designers are still needed for two of our summer productions, The King and I and All Shook Up. We would prefer applicants to have experience running a sound board with multiple inputs. If you are interested, please contact the Producer for these productions, Jamie Bauschka, or Guild President Jerry Taylor by calling our Box Office at 309-762-6610 or emailing boxoffice@qcmusicguild.com.
If you are interested in ushering, working concessions, bus greeting, or helping with parking for any of our summer productions, please contact our volunteer coordinators, Jamie Bauschka jamiebauschka@hotmail.com or Jen Sondgeroth jenking27@hotmail.com.
Voting Member Information

The eligibility requirements to be a QCMG voting member have changed. You are now eligible to be a voting member if you do one of the following during the season:
partcipate in our Member/Patron Program
participate in one of our 2009 productions
complete five hours of other volunteer work such as helping in the concession stand, as a bus greeter, or helping with clean up day.
To receive voting member information ahead of the Annual Meeting, you must let us know that you qualify by filling out a registration form, available in the box office. Voting member notifications will only be sent to those individuals who have completed the form. Remember, you must be at least 16 years old to be a voting member.
Looking Ahead to December
Preparations are already underway for our December 2009 production of Babes in Toyland. There are still many opportunities to be a member of the directing staff. We are still in need of a producer, set designer, light designer, sound designer, and costumer. If you are interested in volunteering, please fill out the
application form
,and follow the instructions. Or, you can contact our President, Jerry Taylor, at
gjtaylor@qconline.com
.