Greetings!
Family first - that's the theme of this edition of Health e-News. As employers, we are wise to include our employees' families in our benefits and wellness planning. Health care costs are accrued not just by the people working in our offices and plants. For those with family coverage, we need to consider the health of the whole household, and take steps to equip our employees and their families with tools for healthy living.

Did you know? You are welcome and encouraged to share the articles in this newsletter with your employees. Our regular "Pass It On" feature is designed to impart to your workforce, but the news doesn't end there. If you find any of the stories or tips in Health e-News may benefit your employees, please feel free to repurpose our articles in your own employee newsletter or other forms of communication. Affinity Occupational Health is here to serve you - and that means spreading the news to the people you serve as well!
As always, if you have questions or feedback on how we can improve this newsletter, send us a
message
. We'd love to hear from you.
In good health,
Lisa Kogan-Praska
Director, Affinity Occupational Health
Spread Too Thin

Sandwich generation pulls double duty
Raising kids can be stressful. For an increasing number of Americans, being a kid is stressful, too. These are the members of the "sandwich generation" - adults stuck in the middle of dual responsibilities, caring for children or grandchildren as well as aging parents. According to sandwich generation expert Carol Abaya (thesandwichgeneration.com), elder care stress costs a company the equivalent of one full year's worth of productivity per 34 employees. You can take steps to ensure sandwich challenges do not seep into an employee's job performance or your bottom line.
In Their Shoes
First, it helps to understand what your employee is going through. "Care-giving of senior parents can be a daunting task, especially when families fall into the role by reaction rather than something that was planned or discussed ahead of time," says Donna Schmitz, Affinity EAP counselor. "Many caregivers feel confused and lonely in their role when they are solely relied upon to make decisions required for the continued care of an elderly parent."


Donna explains anger can surface toward siblings and other family members who feel free to criticize but don't offer to help. Some caregivers even resent the elderly parent because of the time and energy required - "Time that is needed by your own children, spouse and job," Donna says.


Invest in Elder Care Needs
In addition to the emotional and physical toll, elder care can carry a financial burden. If it is within your company's scope to provide an elder care benefit, similar to childcare benefits, consider adding this option to your employee compensation package. Calculate the number of employees facing sandwich struggles and the potential impact on your books, then determine what your company can invest to mitigate the risk of lost productivity. Even if you can't enhance your benefits, consider allowing employees to work flexible hours or from home when care-giving responsibilities require them to be in two places at once.


Tools for Coping
Sandwiched employees need skills to cope with stress, time management, and sometimes depression that can result from care-giving responsibilities. That's where your EAP can help. "Employers who offer employee assistance programs provide the support and outlet these individuals need to juggle the double-duty care-giving and continue to be successful at work," Donna says.
Top 5 Sports Injuries - Pass It On!

How to prevent and treat these common pains
Fall is around the corner, and that means high sports season. For student athletes and weekend warriors alike, this prime time of year brings a convergence of football, basketball, baseball, hunting, volleyball, golf and many more. Whatever your family's favorite sporting activities, keep in mind they all have this in common: a risk for pain. Here are the top five sports injuries, and how to keep them from striking your household.
1. Concussion
How it happens:
Concussions are caused by a blow to the head, such as a collision with another athlete or a fall.
How to prevent it:
Unlike other injuries, no type of muscle conditioning can ward off a concussion, but Affinity Health System licensed athletic trainer Kerrie Linsmeyer says you can hedge your bets by wearing proper-fitting equipment. This includes a helmet and mouth guard. "Make sure to check the helmet fit if anything changes such as a hair cut or more hair," Kerrie says, "and do not chew the mouth guard or cut it really small. Replace the mouth guard if it has lost its integrity."
What to do if it happens to you:
Student athletes should immediately talk to the school licensed athletic trainer and follow up with a doctor. For kids and adults, "Stay away from all physical activity until you're seen by a physician," Kerrie advises.
2. Muscle strain (hip flexor, quad, hamstring)How it happens:
Muscle strains, commonly called a "pulled muscle," are caused by lack of flexibility or strength, imbalanced strength in opposing muscle groups, and growing too fast.
How to prevent it:
Warm up before exercising with light stretches, walking or jogging. Wear supportive footwear and drink plenty of fluids during sporting activities.
What to do if it happens to you:
Kerrie recommends stretching in a pain-free range of motion. "Do not push through the pain," she says. Applying ice to the injury can help ease the ache.
3. Shoulder injuryHow it happens:
Shoulders can be hurt from falls, landing on an outstretched hand or arm, or landing directly on the shoulder.
How to prevent it:
Proper strengthening of the front, middle and back muscles surrounding the shoulder can make it less susceptible to injury. "Focus especially on the rotator cuff and the rhomboids or upper back muscles," Kerrie says, "since most people work out on the chest and deltoids already."
What to do if it happens to you:
If your pain is severe, see a doctor. A school coach or licensed athletic trainer can provide specific conditioning exercises to get the shoulder back in shape.
4. Ankle sprainHow it happens:
Ankle sprains can result from poor balance, weak ankles, or impact with an opponent or object.
How to prevent it:
During your conditioning workouts, focus on balance and strengthening exercises. Most importantly, Kerrie says, wear the right shoes. Avoid flip-flops and clogs for everyday use, because they can weaken your ankles.
What to do if it happens to you:
Apply ice - not heat - and see a doctor or licensed athletic trainer to rule out a fracture. Once you're sure the ankle is sprained and not broken, apply compression for swelling and do some light exercises to stretch the calf muscle and work on range of motion. Wear good supportive shoes while the sprain is healing.
5. Low back painHow it happens:
Low back pain is usually a muscle problem caused by improper lifting techniques, bad posture or chronic overuse.
How to prevent it:
"Work on using good posture all day long," Kerrie advises, and again, avoid flip-flops and clogs. For your athletic conditioning workouts, she suggests focusing on all-around core strength.
What to do if it happens to you:
Apply ice to the aching muscles, stretch in a pain-free range of motion, and stay away from activities that increase symptoms. If the pain persists, see a doctor.
Ice, Ice Baby
Do you know the right way to ice an injury? First, Kerrie says, stick with ice only - no heat - for the first three full days. "Heat can actually make the problems worse even though it feels good," she warns. Apply ice for 20 to 30 minutes for maximum effect. (Less than 20 is not as helpful, but longer than 30 minutes provides no added benefit.)
After three days, Kerrie says you can apply heat to the injury for 10 to 15 minutes at the beginning of the day and before activity. "But always make sure you ice after any activity and at the end of the day," she adds.
If this self-treatment doesn't produce any relief, seek medical attention.
Click
here
to print or forward this article to employees.
On-site athletic training for your workforce
Affinity Health System licensed athletic trainers work side-by-side with coaches and students in local schools to provide health, fitness and injury care expertise. They also offer integrated wellness services right at your workplace. If you are interested in bringing a licensed athletic trainer on-site to provide a customized program for your workforce, call Affinity Occupational Health at 1-800-541-0351 or click
here
for more information.
Healthy Eating on the Go
No matter how hectic your schedule is, you can feed your family healthy foods!
Carpool after school, soccer at 4, piano lessons at 5, grab a quick bite to eat before karate at 6:30... sound familiar? Families today are racing faster than a NASCAR lap, but mealtime doesn't have to be a pit stop. Consider these healthy approaches to eating on the go.
Pack a Sack
If you're already in the habit of packing sack lunches, it doesn't take much extra trouble to double the dose for supper on the run. Multi-grain rolls, veggie sticks, whole pieces of fruit and 100-percent juice boxes will stay fresh for a day outside the fridge, so simply keep these treats in a cooler in the trunk. That way, even if you can't stop home between school/work and after-hours activities, you can serve a nutritious dinner and save money, too.
Know Thy Drive-Thrus
The kids may crave Mickey D's, but it's wise to make the fries an exception rather than the rule. Lots of drive-through options offer healthier menu items such as veggie-packed subs, grilled chicken, baked potatoes and fruit smoothies. If you must go the burger route, choose the junior size and balance with a side of apple slices.
Snack and Wait
If you can find 10 minutes in the morning to toss some chicken and carrots in the crock pot, consider toting healthy snacks for after school sustenance and waiting until your family has reconvened at home to enjoy a peaceful and nutritious homemade meal. Great snack options include fruit, string cheese, whole-grain pretzels or trail mix.
Online Appointment and Refill Requests

Now available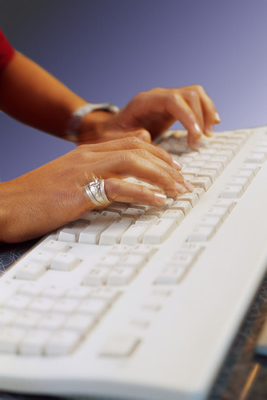 Affinity Health System is making it easier for families to get the care they need. Introducing online appointment requests and online prescription refills, now available at affinityhealth.org.
Request an Appointment Online
It's 9 p.m., the kids are in bed, and you just remembered little Sam needs a wellness checkup before kindergarten starts in a few weeks. No problem! Go to
https://www.affinityhealth.org/page/apprequest.html
and request an appointment at your convenience. An Affinity Medical Group scheduler will respond the next business day to confirm your appointment.
Online Prescription Refills
No need to wait for the clinic to open before you request a prescription refill. Simply visit us online at
https://www.affinityhealth.org/page/rxrequest.html
and your refill will be submitted to the pharmacy of your choice. (If we have questions about your refill, an Affinity staff member will call you.)
Two more reasons why Affinity is right here and always there!
What's Happening in Health Care?
In your neighborhood and around the globe, here's what's happening in health care.
National Immunization Awareness Month August 2010
Affinity Health System is committed to protecting the health of children and families in our community through regular immunizations. So much misinformation exists today, confusing parents as they seek to make informed choices about their child's health and well-being. The National Center for Immunization and Respiratory Diseases at the Centers for Disease Control and Prevention wants to set the record straight by sponsoring National Immunization Awareness Month, an opportunity for all Americans to learn the truth about the benefits of vaccinations. Visit
www.cdc.gov/vaccines/events/niam/default.htm
for more details.
After-Hours QuikScreen® Testing
We are pleased to announce that we are now able to offer after-hours Non-DOT QuikScreen® (rapid drug testing) at the Mercy Medical Center Emergency department for reasonable suspicion and post-accident testing. "After hours" is any time after 5 p.m. and before 7:30 a.m. Monday through Friday, weekends and holidays. This service is also currently available at the St. Elizabeth Hospital Emergency department for reasonable suspicion and post-accident testing situations. Due to patient volumes at the Emergency departments, we are not able to offer this service for pre-placement and random testing. However, these tests are offered at our Occupational Health clinics during normal business hours.
The Non-DOT QuikScreen® collection process is an alternative to the Non-DOT five-panel collection process and provides immediate negative test results. QuikScreen® is an FDA-approved product that has an affixed temperature strip, identification label, security seal, and built-in test control. In addition, the QuikScreen® test cup is configured with a built-in adulteration detection strip to test for pH, specific gravity, NBP (nitrite, bleach, pyridinium chlorochromate), and creatinine.
The employer will be advised if the test results are negative or non-negative. If non-negative, the specimen must be sent to our laboratory for confirmation testing and medical review.
If you need additional information or are interested in adding this drug testing service to your protocol, please contact Bonnie Johnson at (920) 727-8721 or
bojohnso@affinityhealth.org
. Please note that after-hours collection fees will apply.
Get to Know Our Physicians
Stephen Cruz, MD
, is a Family Medicine physician committed to caring for families and individuals at the Affinity Medical Group clinic on
Lincoln Street in Neenah
. He believes building relationships with people of all ages to provide personalized, long-term care is essential in helping them live a healthy lifestyle. Dr. Cruz provides care to newborns, children, adolescents and adults.
Dr. Cruz earned his medical degree from Loyola Stritch School of Medicine in Maywood, Ill. He served his internal medicine internship at the Naval Medical Center in Portsmouth, Va., and completed his residency at Naval Hospital Camp Pendleton in Oceanside, Calif.

Patient and Physician Teamwork

As a physician committed to his patients' well-being, Dr. Cruz is passionate about sharing the best information so that his patients can make the best decisions aligned with their own values. "I like for my patients to be active participants in their care," he says, adding that preventive care is an extremely important part of the care he delivers.

Family Medicine benefits the entire family. "It's very convenient for families to come together and have their health care needs addressed at the same location, close to home," Dr. Cruz explains. He also believes it's important for people to develop a good relationship with their family physician. "The patient should always feel that you have their best interests at heart. I want them to feel like we can treat both their long-term health care needs as well as their acute problems. I also want to make sure the patient feels comfortable enough to ask questions, especially if they feel like they do not understand why we are doing something. The patients should understand how our therapies will benefit them and should understand the risks as well," Dr. Cruz says.
Navy to Wisconsin
Dr. Cruz spent nine years in the U.S. Navy, where he served as a doctor for the Marine Corp with a helicopter squadron and at a naval hospital in California. While in the Navy, he met his wife Lisa on a beach in Mexico. "When we started having children, we knew that the best place to raise a family is in Wisconsin. That is one of the best decisions we ever made. We love Wisconsin and the Fox Cities," he says.
Family Man
Dr. Cruz and Lisa have three sons: Manny, age 10, Ethan, age 9, and Jack, age 6. Last year, Manny was diagnosed with Type 1 diabetes, a major adjustment for the family that Dr. Cruz believes has made them stronger. "It has also made me a better physician," he says. "I find I have more empathy for my patients and their families." Describing his boys as "bundles of wonderful energy," Dr. Cruz explains, "The one thing I did not anticipate was how Manny's disease impacted the other two boys. It adds an aspect to disease management that is not always appreciated but is very important."
When he's not seeing patients or chasing after three energetic kids, Dr. Cruz enjoys playing basketball, running, swimming, waterskiing, boating, fishing and photography.
Dr. Cruz welcomes new patients to his Family Medicine practice. To make an appointment, call (920) 727-5810.
Ask the Expert
Brian Harrison, MD,
Affinity Occupational Health
Q:
How much of my wellness program should incorporate the employee's family, and why is this a good idea?
A:
My dentist's waiting room displays a sign I enjoy: "Brush only the teeth you want to keep." Like everybody, I want to keep them all! So, how much of your wellness program should incorporate families? Only the parts you want to succeed!


Each component succeeds best when families participate. That goes for health risk appraisals (HRA), exercise promotion, tobacco cessation, alcohol misuse education, home safety, nutrition, depression awareness, stress management, incentive programs, health coaching, resiliency training, medical consumerism, self-care, and more. Wellness is a family affair.


Think of how family support can improve these four key metrics that define wellness program success:
·
Participation
- how many people showed?
·
Engagement
- how well did they complete the process?
·
Effectiveness
- what proportion of participants achieved goals?
·
Reach
- how well did the benefit penetrate the population you hoped to help? Note that Reach puts it all together, incorporating each of the other metrics.
Read more
.
Have a question for our experts? Click
here
.
Try This!
Workplace Wellness Tip
Family Wellness Challenges
How can you make wellness fun for the whole family? A little healthy competition is the key!

Can the Soda
"Soda is the single most unhealthy thing in Americans' diets," says Riley Leja, wellness specialist for Affinity Occupational Health. Challenge your house to quit drinking soda for one week. Set yourself up for success by having plenty of other options available "so you don't get bored with just water," Riley says. Good choices include 100 percent fruit juice, milk, and sugar-free flavor packets such as Crystal Light.

Guilty Pleasures
Ask each family member to identify his or her guilty pleasure (Snickers candy bars, ice cream, potato chips, Girl Scout cookies, etc.). Challenge each other to give it up for one week.

Toss the Fructose
High fructose corn syrup is a common ingredient in household kitchen items. Challenge your family to find a product in the fridge or cupboard that they are surprised contains high fructose corn syrup. Discuss how to cut this sneaky sugar from your meals and snacks.

Family Fitness
Each week, assign a different member of the family to be the "activity director." This person is responsible for devising a fun fitness activity for the whole family. Mini golf, scavenger hunting at a local park, biking to the ball game instead of driving - the possibilities are endless. Be creative!

Community Patrons
Make community events a family affair. Sign up for a local 5K walk and invite the whole family to participate.

Rewards
Set up a reward system for healthy behaviors. Give points for each 15 minutes of physical activity, or for each serving of fruits, vegetables or whole grains consumed. According to your family's lifestyle, choose other behaviors that are points-worthy, such as eating dinner without the television on, getting eight hours of sleep, reading a health book from the library, or bypassing video games for a day. Above all, make it fun! Before long, these healthy challenges may become healthy habits.
Meet Our Staff
When you visit the Affinity Occupational Health office in Menasha, you'll be greeted with a smile by one of these two patient service representatives.
Tina Sauer
has been with Affinity Health System for 11 years. She first served as a medical records professional, then as a certified nursing assistant at St. Elizabeth Hospital prior to joining the Occupational Health team.
Tina is married to Jack, and they are the proud parents of 17-month-old Stella and another baby girl on the way. Tina enjoys spending time with her family and their English bulldog, Boozer.
Angela Slomski
joined Affinity in June 2005 as a member of the Employee Assistance Program staff. Six months later, she moved to her current position as a patient service representative with Occupational Health, meeting and greeting patients as they come through the door.
Prior to working for Affinity, Angela spent four years in customer service with SC Johnson.

Angela is mommy to a 2-year-old daughter and her baby sister due in October. Angela loves spending time with family and friends. When she can find free time, she enjoys four-wheeling, yard work, scrapbooking and shopping - activities she describes as great stress relievers.
Welcome, New Providers
Occ Doc in a Box
Want more helpful tips and insight on workplace wellness? Check out Dr. Harrison's blog, "Occ Doc in a Box," which focuses on topics relevant to the health and safety of your workforce. Click
here
to follow it today.
Read Back Issues
Did you miss the last issue of Health e-News? Not to worry! All back issues are archived and available online. Click
here
for access!