Greetings!
Congratulations to the lucky winner of our March prize drawing, Gary Streich of Van Zeeland Oil Co. in Appleton.
You asked for it!
Due to the great response from you, our loyal readers, we're offering the prize drawing again!
Register to win a $25 gift card from Affinity Occupational Health.
Prize winners will be drawn by May 1. Click
here
to enter!
Why Wellness?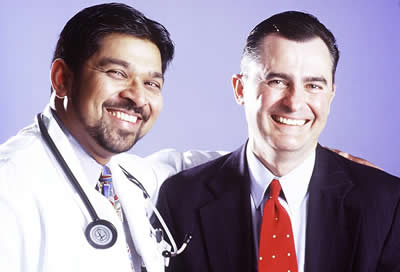 Times are tough. But you can't afford NOT to invest in wellness. Why? "Workplace wellness initiatives are a cost-effective form of early intervention," says Brian Harrison, MD, medical director of Health and Productivity Management for Affinity Health System. "A dollar spent today can save money by preventing health issues down the road. That's especially important for forward-thinking organizations that want to be in the best position once the economy recovers."
The Danger of Cutting Corners
In today's climate, many employees are worried about their household budgets. This might lead them to scrimp on health care, even when they really need it. "Eventually, some conditions reach a point where they can't be ignored anymore. By that time, the illness or injury - whether it's a chronic condition or the common cold - may cost far more than it would have if you'd gotten it checked out earlier," Dr. Harrison says.
You can help employees be wise health care consumers. When out-of-pocket expenses increase and finances are tight, Dr. Harrison recommends offering the following resources to "back fill" the void:
Employee Assistance Program for early, inexpensive intervention of mental health issues
self-care guidebooks, nurse help lines and workplace presentations by a doctor, nurse practitioner, pharmacist or health plan
on-site nurse practitioner for immediate attention to injuries and illness
on-site screenings including cholesterol, blood pressure, glucose and PSA
on-site intervention and prevention programs such as smoking cessation, weight management and pharmacy reviews to ensure employees are using their medications correctly
health risk assessments, which Dr. Harrison says are "appealing to employees now more than ever, if they get the message that this preventive service can help them control future health care expenses."
Aging Workforce
Are you in a hiring freeze? Have you lain off less-senior employees? These factors contribute to the aging phenomenon affecting the workplace today. In 2008, 13 percent of the U.S. workforce was over age 55. In 2013, it's expected to reach 20 percent. "As workers age, they will consume more health care benefits. But the rate of benefit consumption is affected more by employee health risk status than by age alone," says Dr. Harrison.

Some people seem to age gracefully and have lower health care spending. These are generally the people who exercise, watch their weight and blood pressure, and steer clear of tobacco. Although aging is inevitable, Dr. Harrison says a proactive approach can help manage associated health care costs. "The opportunity to do something exists right now, through smart wellness and preventive programs."

No Time Like the Present
It's not just about waiting for tomorrow. According to Dr. Harrison, "Wellness investments can pay for themselves now through managing and preventing disability from work." Improvement in absenteeism and presenteeism (i.e., lost productive time while at work) happens in a matter of months once employees begin a healthy lifestyle. "If your organization has healthy habits, your company will have a competitive advantage both now and when the economy improves."
More Bang for Your Buck
In the long run, wellness programs save money. And who isn't looking for a good deal these days? "Wellness programs take a smaller bite out of your budget than the cost of treating the health issues they manage. And the disability cost associated with these issues can really be considered waste. Act now to limit this," Dr. Harrison says.

Today and tomorrow, wellness programs give belt-tightening employees an economical option for keeping a watch on their health while employers mitigate the risk of employee negligence and related high health costs. Dr. Harrison says, "It's a win-win situation."

For more information on how you can put wellness programs to work for your bottom line, call Affinity Occupational Health at (920) 727-8700 and ask for Lisa or Holly in the Sales department.
Battling Corporate Change Monsters
The only thing we have to fear is fear itself.
Franklin D. Roosevelt, 1933


It's the middle of the night. A sleepy 3-year-old peers over your pillow, claiming he spotted a monster in his room. You lead him by the hand to the scene of the trauma, searching under pillows and inside closets for the elusive beast. After aiming a few squirts of an empty spray bottle into the air to ward off repeat offenders, you tuck the little warrior back into bed.
"Grown-ups have monsters, too," says Bob Carroll, Affinity EAP counselor. Layoffs, corporate restructuring and budget cuts are all cause for workplace anxiety. "Even when no actual threat exists to your job, the fear is still real. It has to be acknowledged before it can be alleviated."
In order to boost employee confidence and maintain productivity in an uncertain economy, employers must slay these common corporate change monsters.
Fear of Job Loss
In the midst of an economic downturn, the question looms over every cubicle - will I lose my job? This fear, whether real or imagined, can cause plummeting morale and stress among employees.
Carroll suggests management holding group meetings not just to inform but to respond. A town hall format, where employees are invited to ask the hard questions and expect honest answers, can help build trust and loyalty.
When jobs must be cut, break the news in an honest, direct and compassionate manner. "Always tell the affected employees first. Do not let them find out through the grapevine," says Carroll. Offering job placement resources and extended access to the company's EAP can help soften the blow.
Of utmost importance, Carroll advises, "Never, ever use the threat of layoffs as a motivator for stepping up performance. This will backfire, costing you more in poor morale and weakened loyalty than you could ever hope to gain in short-term productivity."
Departing Perks
When budgets get tight, perks are often the first thing to go. Employees who are accustomed to bonuses, incentives and rewards may grumble when asked to give up the goods. While most workers understand the need to cut inessentials for the sake of salvaging salaries, job satisfaction is often tied to these extras.
For that reason, says Carroll, "Acknowledge the impact these cuts may have on day-to-day enthusiasm and, if possible, offer affordable alternatives." For example, if you can't swing the annual company baseball game this year, organize an afternoon tailgate party in the company parking lot. "The actual reward may not be as glamorous, but it still makes the statement that your hard-working staff deserves a few hours of company-sponsored recreation."
Jumping Ship
Star employees are especially valuable in lean times. Ironically, fear of losing a job may prompt your top performers to seek other opportunities. "Even in a tight job market, there are still jobs open for great candidates. Sometimes just the fact that a competitor is hiring may make it appear more stable," Carroll says.
The trick is to assure your key workers that their contribution is needed and appreciated. Devise creative incentives. If you can't offer a raise, give them an extra week of vacation. Put them in charge of essential projects so they know their efforts are tied to the company's success.
"Eventually, economies turn around - even this one," says Carroll. "Employers who can retain morale and encourage strong employee performance during the tight times will be that much closer to capitalizing on the upswing when it comes."
Pass It On!

News to share with employees
Keep Your Green by Going Green
Looking to save a few bucks? Want to be good to the environment? Do both! Here are some tips for saving the earth and your pocket change, too.
At Work
Carpool.
Sharing rides can cut gas expenses and carbon dioxide emissions. Even if you can't carpool to and from work, try riding with colleagues to mid-day meetings or lunch appointments. While you're at it, obey the speed limit. You'll save money on gas, not to mention speeding fines.
Print on both sides.
Print those drafts on used sheets and cut your paper costs in half.
Optimize computer settings.
Only 10 percent of desktop owners bother to take this simple step. By optimizing the energy settings on your computer and shutting down when the computer is not in use, you can cut PC energy drain in half.
Meet by phone.
Spare travel expenses and vehicle pollution by scheduling meetings over the phone or video conference.
BYO dishes.
Rather than buying bottled water and brown bags, pack your H20 and daily lunch in a reusable water bottle and lunch bag. Landfills and grocery bills will thank you.
At HomeSkip the dry cleaning.
Traditional dry cleaning uses toxic chemicals (perchloroethylene) and can ring up a hefty bill. Instead, use a water-based hand steamer to smooth wrinkles.
Turn off the lights.
Save on utilities by flipping switches when you leave a room, washing laundry in cold instead of hot water, and unplugging idle appliances.
Use the library.
Why shell out a wad of cash for stacks of books and DVDs you'll use only once? Support your local library and save not just trees, but a good chunk of change.
Grow your own food.
Homegrown vegetable gardens are cheap, healthy and surprisingly easy to maintain. Don't have your own yard for digging? Team up with landowner friends, offering to plant and weed in exchange for a portion of the harvest.
Your grandma was right.
Vinegar and baking soda really can clean just about anything. Forego expensive cleaners for the dirt-cheap, all natural kind. And enjoy the spring sunshine by hanging your clothes to dry outside.
Choose rechargeable batteries.
They'll release fewer toxins than the conventional kind and spare our landfills the extra junk, while requiring fewer trips to the store for replacements.
Buy consignment.
If hand-me-downs are good enough for the kids, they're good enough for you. Many consignment stores offer barely-worn, top quality professional clothing for a fraction of the price. It saves textile resources, too.
Freecycle.
One man's trash is another man's treasure. Check out freecycle.org for local listings of used items - anything from furniture to clothing to tools to toys, you name it - all up for grabs without paying a penny. Freecycling lightens our landfills and pads your wallet.
Source: thedailygreen.com
Click
here
to print or forward this article to employees.
Tetanus Vaccine Update
Tetanus, diphtheria and pertussis are all caused by bacteria. Diphtheria and pertussis are spread from person to person. Tetanus enters the body through cuts, scratches or wounds. The United States averaged more than 1,300 cases of tetanus and 175,000 cases of diphtheria each year before vaccines. Since vaccines have been available, tetanus cases have fallen by more than 96 percent, and diphtheria cases by more than 99.9 percent.
Before 2005, only children younger than age 7 years could get pertussis vaccine. In 2004 there were more than 8,000 cases of pertussis in the United States among adolescents and more than 7,000 cases among adults.
The Centers for Disease Control and Prevention (CDC) advise the following:
Adults under 65 who have never received the Tdap (tetanus, diphtheria and pertussis) vaccine should substitute it for the next booster dose of Td (tetanus and diphtheria).
Affinity Occupational Health will offer both vaccines to our patients.
Ask the Expert
Dr. Christopher Westra, Affinity Occupational Health
Q.
What are the top three occupational health programs I should never cut from my budget?
A.
At my public health alma mater, West Virginia University, a very seasoned head of the public health department was retiring. In his retirement remarks he had a number of comments to an auditorium of public health students and faculty. As a young gooey-eyed physician, I was anticipating a strong emphasis on good medical care, proper regular exercise and sound nutrition - maybe something on the importance of good sanitation and clean water. In one of his summarizing statements he said, and I paraphrase, "if you give people good jobs, good health will follow."
Read more
.
Have a question for our experts? Click
here
.
Occ Doc in a Box
Have you checked out "Occ Doc in a Box" yet? If not, you're missing out! This new blog by our own Brian Harrison, MD, medical director of Health and Productivity Management for Affinity Health System, focuses on topics relevant to the health and safety of your workforce. Follow it today at:
Try This!
Workplace Wellness Tip
Power of Laughter in the Workplace
Got stress? A little laughter goes a long way toward relieving tension and boosting creative energy. Here are some ways to infuse kicks and giggles into the workplace.

Laughing Lunch. Play a slapstick comedy DVD over a series of a couple lunch hours. Book a conference room or other common area where employees can congregate, chuckle and munch popcorn.

She Said What? Keep a running quote board of funny comments co-workers make. Quips that made sense in context ("Has anybody seen my eyeball?") can be fodder for silliness for weeks to come.

Jump Start with Jokes. Start each meeting with a joke or funny story. If blood pressures rise during the meeting, try ending with a joke, too.
Meet Our Staff
As a nurse practitioner for Affinity Occupational Health, Lisa Kasperek performs Department of Transportation physicals, pre-employment physicals and Workers' Compensation injury care. She is a member of the Marian University of Fond du Lac Nursing Honor Society, Fox Valley Health Professionals Association, and one of the leaders of the Affinity Health System Advance Practice Providers group.

Prior to joining the Affinity team more than three years ago, Lisa served as an independent field nurse case manager and legal nurse consultant for various companies. She also worked at St. Elizabeth Hospital for two years as an oncology nurse. Before launching her nursing career, Lisa spent 15 years as an insurance claims adjuster in multi-lines including health, dental, liability and workers' compensation.

Lisa and her husband Kevin have been married nearly 28 years. They have two grown children and two grandsons. Outside of work, Lisa enjoys traveling, reading, exercising and riding ATV. She also volunteers as a nurse practitioner twice a week at a local community health center.
Upcoming Breakfast with the Experts
May 6, 2009

7:30 - 9:30 a.m.


Bridgewood Resort and Conference Center

1000 Cameron Way

Neenah, WI

Tobacco-Free Workplace Solutions

Presented by Brian Harrison, MD, Affinity Occupational Health


It is very likely that Wisconsin law will soon require indoor workplaces to be smoke free. In fact, if the governor's proposed budget were passed by the legislature today, all workplaces would have only 60 days to comply! Will your organization be ready?

As always, Affinity Occupational Health is here to help! Start by attending this presentation at Breakfast with the Experts on May 6, 2009. You'll hear the how's and why's of an effective policy. You'll learn the easy and the hard ways from networking with other company representatives, both those who have done this already and those who are just now rising to the occasion. And you'll hear of a new and exciting low-cost service we are offering, Tobacco Free Workplace Solutions or TFWS, which will literally transform the culture of your company in terms of tobacco. It is a one-of-a-kind solution to the challenge and opportunity this law will create for
every employer!

.
Read Back Issues
Did you miss the last issue of Health e-News? Not to worry! All back issues are archived and available online. Click
here
for access!