Greetings!
Register to win a $25 gift card! Lucky prize winners will be drawn by March 1. It's our way of saying thanks for reading each info-packed edition of Health e-News. Click
here
to enter!
Pass It On!

News to share with employees
Who ARE These People?
Relating to other generations at work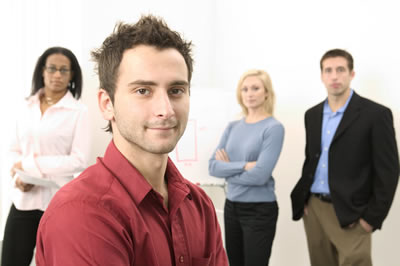 Generations have long misunderstood each other. If you've ever bemoaned your kids' loud music, sat bored through the Lawrence Welk Show, or wondered how people communicated before e-mail, you know what it means to trip over the generation gap. Differences between age groups can cause both friction and excitement in the workplace. By understanding the general characteristics of each generation, you can bridge the chasm.
Veterans:
Veterans were born before 1946. They're defined by an "old-fashioned" commitment to family and community, working for security and livelihood. Among the four generations, veterans are most fiercely loyal to their companies.
How to relate:
Respect their knowledge and experience. They are mentors, not dinosaurs. Take advantage of opportunities to learn from their successes and mistakes.
Baby Boomers:
Boomers are the largest population group in the United States - those born between 1946 and 1964. They have a traditional work ethic (long hours and loyalty) motivated by money and status. Boomers value success above all else.
How to relate:
Boomers define themselves by their work. Respect their competitive nature and workaholic tendencies as the impetus behind their success - even if you don't subscribe to it yourself.
Generation X:
Born between 1965 and 1979, Gen Xers are the next crop of leaders. They're more focused on productivity than reaping long hours, aiming to do more in less time. Gen X wants to enjoy what they do for a living, and may job hop to find the right fit. Work/life balance is the key.
How to relate:
Give them room for family. That might mean taking a sick day for an ill child or an afternoon off to attend the school play. Realize that leaving the office at 4:30 doesn't mean a Gen Xer isn't committed; in fact, he's probably done more in those eight hours than many other workers. Reward Xers for productivity, not face time.
Generation Y:
The newest group to join the workforce, Gen Yers (also called Millennials) were born between 1980 and 2000. They want flexibility. Virtual technology is a major part of their lives, and they believe they should be able to work anywhere, anytime, with more emphasis on output than presence. They value their individuality and freedom.
How to relate:
Gen Y works best in networks or teams, especially with friends. Get on board with their electronic messaging and relaxed attitude. Just because they're chilled out doesn't mean they aren't working hard. Provide challenges but keep work fun. Rather than criticizing their lack of experience, encourage their fresh perspectives.
Where do you fall in the generation spectrum?

Do you have your own Web page? (1 point)
Have you made a Web page for someone else? (2 points)
Do you IM your friends? (1 point)
Do you text your friends? (2 points)
Do you watch videos on YouTube? (1 point)
Do you remix video files from the Internet? (2 points)
Have you paid for and downloaded music from the Internet? (1 point)
Do you know where to download free (illegal) music from the Internet? (2 points)
Do you blog for professional reasons? (1 point)
Do you blog as a way to keep an online diary? (2 points)
Have you visited MySpace at least five times? (1 point)
Do you communicate with friends on Facebook? (2 points)
Do you use email to communicate with your parents? (1 point)
Did you text to communicate with your parents? (2 points)
Do you take photos with your phone? (1 point)
Do you share your photos from your phone with your friends? (2 points)
0-6 points- Baby Boomer
6- 12 points - Generation X
12 or over - Generation Y
Source: Penelope Trunk, blogger

Click
here
to print or forward this article to employees.
Bye, Bye, Boomers
How will losing a generation of veterans impact the workplace?

America is facing a mass exodus. Baby Boomers - 76 million strong - will start retiring over the next five years, leaving a gap the size of the Red Sea. "Boomers account for the majority of workplace leaders today," says Sue Edminster, director of Human Resources for Affinity Health System. "When they leave, their experience and knowledge go with them. We need to ensure the generation coming behind is prepared to take over, both in terms of training and workload."
How can your organization take steps now to survive the transition?
Know Your Demographics:
Generations have retired before, but never on this scale. When 76 million Boomers head for the exit door, only 46 million Gen Xers are poised to fill their shoes - leaving a deficit of 30 million workers. "In effect, there will be two jobs open for every one Gen Xer available to fill it. Companies need to examine the roles their Boomers play and decide how to consolidate responsibilities so they're manageable for fewer people," says Edminster.
Edminster recommends sitting down with your HR team and mapping out exactly how many Boomers are currently working in the company. For example, are all of your middle managers scheduled to retire within a five-year period? Will three key sales reps be leaving all at once? Will your assembly line shrink to half its size? Know what you're up against so you can develop a strategy for the future.
Document, Document, Document: Succession planning starts with copious record-keeping. Have your older workers document the how-to's and why's of their responsibilities. Then go a step further and develop a strategy for transferring the information to younger workers. "This will not only help groom the younger folks, but also give leadership a clear picture of how things get done in the organization - and possibly identify areas for consolidating or outsourcing when the time comes," says Edminster.
Mentor New Leaders: True mentoring doesn't happen in a 90-day orientation period. It takes years. Begin now matching Boomers with promising younger employees. Upcoming leaders can glean 40 years of wisdom and experience from older workers, positioning the next generation for success when those mentors hit the road. "Besides," says Edminster, "investing in younger workers will likely help them feel valued and build their loyalty to the organization so that when the time comes to step up the ladder, they're not just ready but willing."
Retain Older Workers: Not everyone is ready to hit the golf course as soon as they turn 65. Many Boomers may want to stay involved on a part-time or volunteer basis. Take advantage of opportunities to retain their knowledge through consulting, mentoring or other flexible options.
"Older workers are a wealth of knowledge in the workplace, and their loss will be deeply felt," says Edminster. "But a little planning will go a long way toward keeping your company healthy throughout the shift."
Coaching New Managers
Joe was a shining star. From the day he walked through the doors, his brilliant ideas and fierce enthusiasm for the job helped boost the bottom line and won your executive hearts. Naturally, you decide to reward him by promoting him to manager. Surely he'll take the company to new heights. But soon his team is in uproar. Everything is falling apart. Joe doesn't have a clue how to communicate, they tell you. He tries to take over everything and doesn't let us do our jobs, they say. We have no direction and no clear goals, they lament.
Sound familiar?
"Often people are promoted because they're good at managing their jobs, but that doesn't necessarily mean they're good at managing people," says Patrick Hauer, Affinity EAP counselor.
So what's a company to do? Try these five tips for coaching new managers.
All God's children got a place in the choir. "There are many ways to approach a job, and just because someone does it differently doesn't make it wrong," Hauer says. Diversity in how team members think and perform can actually be an advantage. Conduct a work style assessment on the whole team, such as the Myers-Briggs Type Indicator or DiSC profile. Teach new managers to direct each person's strengths toward the goal.
Turn the tables. Remember when you worked for the boss? For many new managers, it wasn't that long ago. "Success has a tendency to shorten our memories," says Hauer. "Encourage new managers to consider the qualities they admired or disliked in their supervisor when they were in their staff's shoes. Then advise them to be the boss they really wanted."
Be a role model. Pair up new managers with an experienced manager in the organization who can serve as a mentor. Learning from another person's mistakes can help prevent mishaps.
Fill their tool box. Make sure new managers are trained in all administrative and leadership responsibilities of the job. Whether it's how to utilize employee rewards programs, guidelines for conducting performance reviews, or the right way to file HR paperwork, set them up for success by giving them the tools they need.
Back off. Just like employees need space to do their jobs well, managers also need some freedom to find their groove. Give them guidance, then step back and support them as they learn, shine and occasionally stumble. "The leap from team member to manager may be one of the biggest changes in a person's career," says Hauer. "A little grace goes a long way when training the next generation of leaders."
Myths About Older Workers
Think you've got your veterans pegged? Not so fast. Consider the truth behind these common myths.
Myth: You can't teach an old dog new tricks.
Truth: The fastest growing group of Internet users is the 50+ set. While older workers may take longer to absorb new ideas or instructions, they have better study attitudes and more experience to draw from, which actually results in less training time.
Myth: Old-timers are short-timers. They won't stay on the job long.
Truth: Older workers are more loyal than younger generations. Employees in their 40s and 50s actually stay with a company longer than workers in their 20s and 30s. And, for workers over 50, their remaining tenure usually exceeds the life of the technology for which they're trained.
Myth: Older workers take more sick days.
Truth: Older workers actually have better attendance records than their younger counterparts. They have fewer acute illnesses and sporadic sick days.
Myth: Older workers cost more.
Truth: While benefits costs for individuals (health, disability and life insurance) do rise with age, they're offset by lower costs due to fewer dependents. Moreover, older workers take fewer safety risks, which means fewer accident-related expenses.
Myths: Older workers resist change.
Truth: Over the years, veteran workers have seen a lot of ideas fail in the workplace. Consequently, they're more likely to ask why. If you can explain the rationale behind a new initiative, they'll adapt to change as well as any younger employee.
Myth: Older workers aren't as creative as the young folks.
Truth: Eighty percent of the most feasible new production ideas come from employees over 40.
Myth: Older workers are less productive.
Truth: Productivity doesn't dwindle with age. Just the opposite - experience makes the older worker more accurate, dependable and better at making on-the-spot judgments.
Sources:
American Business and Older Employees. AARP. Washington DC: 2000; Bureau of Labor Statistics
Institute of Electrical and Electronics Engineers - USA
February Is Heart Month
February is American Heart Month, and throughout the country concerned people are blowing the whistle on heart health issues. Did you know? Heart disease is the nation's top killer. Yet in many cases, heart disease can be prevented through healthy eating, exercise and regular screenings.
You can help stop the spread of heart disease. Affinity Occupational Health's Corporate Wellness and Preventive Services arms employees with the tools they need to take care of their tickers, including:
health risk assessments
wellness programs tailored to the specific needs of your workforce
a corporate wellness specialist dedicated to your team.
To speak with an Affinity Occupational Health expert about wellness programs, call 1-800-541-0351.
Know your risks!
Affinity offers heart scans, a painless test that measures the amount of calcium in the coronary arteries, a major risk factor in developing heart disease. For more information, click
here
.
Not sure if a heart scan is right for you? Talk with your doctor or take our free online heart test at
www.affinityhealth.org/heartaware
. It takes just ten minutes and could save your life.
Ask the Expert
Dr. Charles Capasso, Affinity Occupational Health
Q. How can I prevent work injuries in an aging workforce?
A.
The U.S. workforce continues to age. The Federal Bureau of Labor Statistics employment outlook for 2006-2016 notes that the labor force component of older workers is expected to grow at a rate five times faster than the growth of the labor force overall. By 2016, it is expected to reach 42.8 percent, up from 38 percent in 2006.
With this fact comes a growing prevalence of chronic medical problems with the older worker. Strength and flexibility of the musculoskeletal system slowly erode with age. Any medical disorder that can compromise endurance and recovery associated with physical activity may increase the frequency and severity of injuries and illness.
Preventing occupational injury or illness in most job settings requires a dual strategy:
1. Remove, contain and/or reduce potentially hazardous job exposures
2. Promote individual worker health and fitness for duty.
It is essential to address both with the older worker. Optimizing workplace ergonomics, while promoting healthy lifestyles, is a winning formula for both employers and employees. Read more.

Have a question for our experts? Click
here
.
Occ Doc in a Box
Introducing "Occ Doc in a Box," a new blog by our own Brian Harrison, MD, medical director of Health and Productivity Management for Affinity Health System. Each week, Dr. Harrison invites you to explore a fresh topic relevant to the health and wellness of your workforce. Check it out today at:
http://affinityocchealth.blogspot.com/
Want a preview? Here's an excerpt from the first blog post:
Good eye health is an important part of work place safety! Think about people whizzing around the plant on tow motors. These drivers need good vision for good public safety, just like drivers on the streets do. For example, the Department of Transportation requires that truck drivers be able to see 20/40 in each eye, or better, and have 70 degrees of side vision in each eye. Safe tow motor driving requires good vision too. If you drive a tow motor, your side vision ought to be good enough that when you are in your car, looking straight ahead through the windshield, you should be still able to see things pass by through the side windows, without needing to turn your head or your gaze. If you can't see as well as that, then have a full exam by your eye care provider.

Try This!
Workplace Wellness Tip
Team-Building for All Ages
Build bridges across generations with these team-building activities.
Common Ground.
In groups of three to eight people, have team members identify at least three traits they all have in common. For example, everyone has traveled out of state, held more than one job, swam in the ocean, etc.
Survival Strategies. In groups of five to ten people, everyone chooses a single object he or she would bring if stranded on a desert island. Discuss why. Then determine how team members could benefit one another if they combined objects.
Photo Hunt. Groups of three to five people scavenge the office or other venue for digital photos of specified items. To encourage creativity and discussion, offer vague descriptions. "Something that makes a grown woman cry" might be a greeting card, an onion, etc.
Bigger and Better. Teams are given small objects (such as paperclips) and must trade and upgrade their objects for the biggest objects possible until time expires. Watch as creativity and collaboration turn paperclips into guitars or SUVs.
Source: group-games.com

Meet Our Staff
As a wellness specialist for Affinity Health System,
Christine Pongratz
works with employers throughout Northeast Wisconsin to develop effective worksite wellness initiatives. Her role involves conducting health screenings, planning annual wellness programs tailored to each client's cultural needs, and serving as a wellness consultant to area businesses.
Christine earned a bachelor's degree in Exercise Science and Health Promotion from the University of Wisconsin Oshkosh. Her professional background includes ten years of experience in the medical and wellness fields, the last three of which have been with the Affinity team. Christine is certified through the American College of Sports Medicine as a health and fitness specialist. She has a special interest in health coaching and education, helping employees help themselves through a creative approach to wellness programming.
An avid sports enthusiast, Christine enjoys softball, volleyball, biking and hunting. When she isn't working, she devotes her time to her husband of a year and a half, Erik, and their family and friends.
Upcoming Breakfast with the Experts
March 11, 2009

7:30 - 9:30 a.m.

Bridgewood Resort and Conference Center

1000 Cameron Way

Neenah, WI

DOT Update

Presented by Barbara Koehler, Safety Investigator with the Department of Transportation

and

Julie Peterson, Controlled Substance/Compliance Specialist with Affinity Occupational Health


To register for this free seminar, contact Jill Hernandez at (920) 727-8717 or jhernand@affinityhealth.org.
Read Back Issues
Did you miss the last issue of Health e-News? Not to worry! All back issues are archived and available online. Click
here
for access!