What is an Occupational Therapist?
An occupational therapist develops a patient's fine motor skills by teaching him to tie his shoes.
When you hear the term occupational therapy, you may think of an adult who has suffered an injury and needs rehabilitative services in order to return to work. However, the term occupation refers to any activity that may support one's health and well-being or occupy one's time. For a child, that occupation is playing, learning, and developing life skills such as eating and dressing.
While there are similarities between physical and occupational therapy, the two differ. Physical therapy deals with pain, strength, endurance, gross motor function, and range of motion. Occupational therapy addresses fine motor delays, poor hand-eye coordination, visual perception or visual motor delays, difficulty with self care skills, and sensory processing problems. These issues may be the result of illness, injury or a congenital condition.
The Therapy & Learning Center provides occupational therapy in a variety of settings such as schools, its child care facility, the outpatient clinic, and through its hippotherapy program. Some of the goals occupational therapists might work with children to achieve include:
grasping and releasing toys in order to develop handwriting skills
working on hand-eye coordination skills such as batting a ball or copying from the blackboard
teaching coordination skills needed to use a computer or feed oneself
helping improve focus and social skills for children with sensory issues
If you think your child may need occupational therapy, contact the Therapy & Learning Center for more information at (731) 664-3670.
Talking About Bad News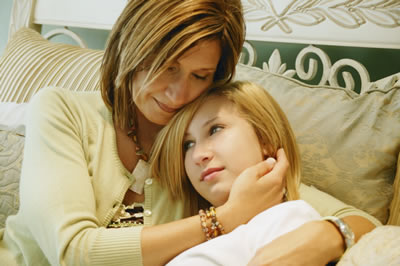 When tragic events unfold, children need reassurance that they're protected from harm. Child experts suggest these tips when youngsters ask about a disaster, an accident or other painful news:
· Communicate your love to them, first and foremost.
· Assure them that you'll do everything necessary to protect them.
· Control your emotions in your children's presence. Outbursts of fear, anger or worry will undermine your youngsters' sense of security.
· Talk over the event, letting your kids tell you their concerns first. Never dismiss their worries with comments like "Don't be silly."
· Show them the difference between good and evil in what's occurred.
· Distract them with "bonding" activities such as a board game, a car ride for ice cream, a Frisbee toss or an afternoon at the zoo.
· Shut off the TV so kids won't see upsetting news footage over and over.
· Emphasize tolerance so kids don't stereotype other people based on the actions of a few.
When bad news happens, watch closely for changes in your children's behavior. Some children might act out their anxiety with tantrums, withdrawal, clinging, or disrupting class. Others may have upsetting dreams, stomachaches or fatigue.
Usually, these changes pass in a couple of weeks. However, if your children still seem affected a month or two after the event, seek help from your doctor. And continue to show your love - letting your children know they aren't all alone.

The first Saturday in May is a special day when southern belles and gents gather to celebrate the "greatest two minutes in sports".
The Kentucky Derby is a southern tradition dating back more than a century. This year, you can be a part of this excitement at the Derby Party. Experience all the southern food and fare, from the hot browns to the mint juleps. A hat parade will be held with prizes awarded for Most Chic and Most Original.
Proceeds from the event benefit the Rein-Bow Riding Academy, which provides hippotherapy to children served by the Therapy & Learning Center. Funds raised will be used to provide scholarships for riders so that they may ride at no cost.
Festivities begin at 4 p.m. at Miss Ollie's in downtown Jackson. Hat parade begins at 4:30 p.m.
Tickets are $50 each. For more information, call (731) 984-2144.
Staff Make Wish Come True
Thanks to the generosity of the employees of West Tennessee Healthcare, six-year old Abi's wish for a trip to Disney World was granted.
On a recent Friday, Abi, along with her mother, grandmother, and aunt arrived at Chili's (Abi's favorite restaurant) for a special lunch. When it came time for dessert, Cinderella appeared with a special cake and personally invited Abi and her family to visit Cinderella's castle at Walt Disney World.
In addition to the big announcement, Abi received many special gifts to take on her trip. Best Buy provided the family with a new digital camera to capture those special memories. And, the Chili's staff presented Abi with a gift certificate to the Bippity Boppity Boutique so that she could be given the royal princess treatment during her visit.
Each year, Hospice of West Tennessee and the West Tennessee Healthcare Foundation sponsor Camp WINGS, the good grief children's camp. This camp is designed for children ages 7-14 who are grieving the loss of a loved one.

The camp includes recreational activities, meaningful healing moments, and important opportunities for growth. Camp will be held August 12-14, 2011. Activities include swimming, challenge course, talent show, arts and crafts, and music.

Camp WINGS is staffed by trained counselors and volunteers to ensure that children are offered a safe and supportive environment. Each child is paired with a trained adult buddy who spends the weekend with them having fun, laughing, and working through the bereavement process.

If you know a special child who could benefit from the Camp WINGS experience, or for additional information, please call (731) 664-4220.
Union University


May 6
Woodland Hills Golf & Country Club
May 7
Miss Ollie's
June 9
Coyote Blues
Ayers Receives Funds from Charity Gala
The West Tennessee Healthcare Foundation recently presented the Ayers Children's Medical Center with a check for
$45, 991.17. These funds were the result of the Foundation's Charity Gala held in November 2010.
The Alice and Carl Kirkland Cancer Center was also presented with a check in the same amount.
Ayers Children's Medical Center
620 Skyline Drive
Jackson, TN 38301
(731) 541-6448