We wish you and your family a Happy Easter and Happy Spring!
Dr. Philip Hornseth, Dr. Erin Curless and Dental Team
Email confirmation If you would like you and your family's appointments confirmed by email, forward us your email contact information to hornsethcurless@new.rr.com.
Q & A I just found out I'm pregnant. Should I cancel my appointment until after the baby arrives?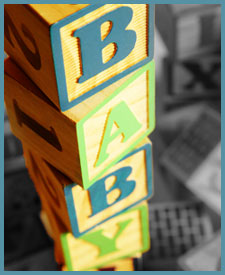 Congratulations! This is the time to take extra-goodcare of yourself and keeping your dental visits. Please make us aware of your pregnancy before we start your appointment, in case we need to alter your treatment or x-ray schedule. Pregnant woman have an increased risk of inflammed gums due to increases in estrogen and progesterone.
Attention to dental hygiene and regular cleanings keep the teeth and gums clean and prevent plaque from forming. If plaque is not removed it can lead to gingivitis and turn into periodontal disease if left untreated.
April FooIs...
That's what our patient Pat said when she played an April Fool's Joke on her husband, Charles. He has a great sense of humor and told Pat that we were going to use a reciprocating saw to cut off her old crown. He described in detail the sounds and discomfort; she would be going through. Well, we turned the joke on Charles. Pat's appointment went so smoothly she willing played a joke on him. You can see above, what Charles saw when Pat arrived home.
Beware of the Bling!
recession-lip ring
All of us at the office love jewelry. However, if you or someone you know is considering a lip ring or tongue piercing learn the "hole" truth about oral piercing before taking the plunge.
One of the most important differences between the mouth and other piercings, is that the mouth contains millions of bacteria, so the risk of infection is much higher.
Tongue jewelry can not only get in the way of talking and eating, but can also damage the teeth sometimes leading to chips or fractures. Mouth jewelry can also contribute to gum recession where it rubs on the gums.
If you decide to follow your passion for piercings, be sure to maintain your dental appointments so we can keep an eye on any jewelry related oral issues so that they do not become big problems.
Tooth Fairy News...
What Happens When a Child Loses a Tooth in Spain... "I tuck my tooth under my pillow. While I am asleep, the little mouse called Ratoncito Perez will take my tooth and leave me money or candy in return."
Meet Kellie, Our Treatment Coordinator
Hometown: Menasha
Current Residence: Darboy
Family: Husband Rich, Son Tyler UW-Oshkosh-business age 20 and Trevor 17 Kimberly High School.
Recent Vacation: Cozumel
Traumatic Dental Experience: My senior year of high school I visited the dentist and I was having pain with my wisdom teeth. When they took the x-ray they found a cyst in my jaw. They took out my wisdom teeth and the cyst. Then, I had to have scar tissue and bone removed at an oral surgeon in Milwaukee and lost the tooth in front of it. The good thing was the cyst never came back!